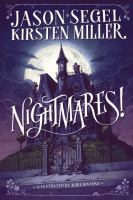 We have THREE copies of the brand-new book Nightmares! by Jason Segel (who you might know from The Muppets movie) to give away to some lucky readers! All you have to do to enter is tell us how you would fight off this nightmare. I'll start it, you put your imagination to the test and tell me how it's going to end. Ready? Here we go…
You stand in front of an old, spooky, abandoned house. The door is falling off its hinges but you push it open and step forward. The door slams shut behind you and it is pitch black inside. You feel in your pocket for a flashlight, take it out and turn it on. You walk down the hallway to the door at the end and push the door open. Right in front of you is an enormous three-headed monster with giant, sharp teeth ready to pounce at you! Quick, what do you do next?
Comment on this post with your answer to be in to win! Please also include the name of your local library so that we know where to send your prize if you win!
To help get your thinking caps on, here's a teaser of what Nightmares! is all about:
"Charlie Laird has several problems.
1. His dad married a woman he is sure moonlights as a witch.
2. He had to move into her purple mansion, which is NOT a place you want to find yourself after dark.
3. He can't remember the last time sleeping wasn't a nightmarish prospect. Like even a nap.
What Charlie doesn't know is that his problems are about to get a whole lot more real. Nightmares can ruin a good night's sleep, but when they start slipping out of your dreams and into the waking world–that's a line that should never be crossed. And when your worst nightmares start to come true . . . well, that's something only Charlie can face. And he's going to need all the help he can get, or it might just be lights-out for Charlie Laird. For good."
Thank you to Random House for supplying us with these great books!
Fine print: You must be a Wellington City Libraries member aged 5-12 years old to be eligible for a prize. Winners will be drawn at 5pm on September 19th, 2014.