Here's what's happening today: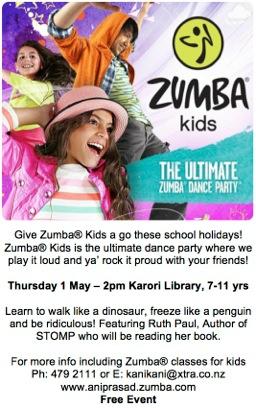 Zumba Kids!
Zumba Kids with Ani Prasad and author Ruth Paul
Give Zumba Kids a go these school holidays! Zumba Kids is the ultimate dance party where we play it loud and ya' rock it proud with your friends! Learn to walk like a dinosaur, freeze like a penguin and be ridiculous!
Featuring Ruth Paul, author of STOMP who will be reading her book.
FREE event best suited for 7-11 year olds.
Karori Library at 2pm
Baby Rock & Rhyme
Johnsonville Library at 9.30am
Karori Library at 10.30am
Preschool Storytime
Miramar Library at 10.15am
Island Bay Library at 10.30am