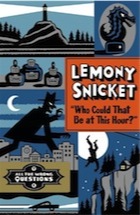 Lemony Snicket's new series, All the Wrong Questions, is his first authorised account of his childhood.
Drawing on events that took place during a period of his youth spent in a fading town, far from anyone he knew or trusted, Snicket chronicles his experiences as an apprentice in an organisation nobody knows about. While there, he began to ask a series of questions – wrong questions that should not have been on his mind.
The first volume, Who Could That Be at This Hour? – Snicket's account of the first wrong question – will be published on 23 October but, for one week only, you can read the first chapter exclusively here
We'll be buyin copies of this book as soon as we can. Look out for it on the library catalogue around November this year.
Thanks to The Guardian for this info.