Dragon's Den.
Shark Tank.
Many readers will be familiar with these reality television shows in which fledgling entrepreneurs pitch their business start-up idea to experienced business people, seeking their investment.
In 2020 Roscoe Price-Moor stood in front of a group of potential investors and pitched his idea for an app, Roady.
Roady began in 2017 as bespoke itinerary planning business for independent international travellers.
Roscoe worked with clients to design a self-drive road trip taking in aspects of Aotearoa that appealed to independent travellers.
It was though, a labour intensive process. Taking inspiration from Pokemon Go Roscoe began thinking about a similar app style that could be used by tourists, whereby they could use the app to devise their own itinerary while adding a game element to a road trip.
Originally trained as a Physical Education teacher, Roscoe worked on his business and kept thinking about potential app development whilst continuing to work as a relief PE teacher.
Then in early 2020 along came Covid and no one was road-tripping anywhere.  Two years on Roscoe says, with hindsight, that Covid was a good thing because it forced him to consider his options and "Put the old model to bed".
With his travel app idea still very much a concept, Roscoe signed up for a Creative HQ incubator course.
The Incubator is a 6-month hybrid programme open to startups based in Te Whanganui-a-Tara, Wellington.
The Creative HQ programme allows participants time to concentrate exclusively on the development of their idea, whilst providing them with the information required to start a business alongside mentoring from experienced business people.
An invitation followed to participate in a development accelerator programme specifically for tourism at the end of which Roscoe's idea was refined and he then pitched the concept to a group of Angel HQ investors.
"Raising capital was completely new to me.  It was certainly something Creative HQ and the mentors in the programme helped with … making me aware of the options out there …
… you really need to be confident and have a clear plan.  You really need to be able to articulate to these investors what their money is going to get them as a result of the funding…" 
The resulting funding allowed Roscoe to get Roady off the ground, employ a staffer and formally launch the business in August this year.  Free to download, Roady is now tracking at 18, 000+ downloads with more expected as the summer holiday period approaches and inbound tourism numbers increase.
Following the successful uptake in New Zealand the company is now planning expanding into the Australian market.
Learn more about the Roady journey and development plans in Wellington City Libraries' interview with Roscoe.
If you want to know more about how to successfully seek investor funding we've collated some resources for you.
Online resources and articles
Callaghan Innovation has created and made available, "Capital education resources to help businesses understand the equity capital raising process in New Zealand. No matter what age or stage your company or innovation is at, these resources offer expert advice on how to raise the capital needed to build a thriving business – even in a COVID-19 impacted environment.  You can find them here
Late last year the University of Auckland published research "documenting the experiences women entrepreneurs have had when trying to raise capital has revealed the challenges they face navigating entrepreneurial ecosystems".
Dr Janine Swail's research Raising Capital in Aotearoa New Zealand: Insights From Women Entrepreneurs provides insights from 26 female entrepreneurs.
Business.govt.nz outlines what lenders look for if you are Applying for a Loan
"Lenders want to see good financial habits, a clear vision for the future, and a funding proposal supported by processes and a strong team. See what else they look for and how you can improve your chances of getting finance".
Samantha Novak's article 7 Creative Financing Options for New Businesses and Startups looks at some of the alternative, less traditional routes to raising investment to help develop your fledgling business.
Jason Yeh, Adamant Ventures, shares some of the lessons learned from over 15 years in business in How to Avoid Your Biggest Fundraising Mistake and Successfully Raise Capital
8 Things to Know Before Raising Startup Capital offers advice from business owners and lending experts to those seeking startup capital for new ventures.
Books in the WCL collection
Pitch like Hollywood : what you can learn from the high-stakes film industry / Desberg, Peter
"A clinical psychologist and writer/producer share secrets to overcoming presentation anxiety and crafting the perfect "award-winning" pitch-no matter what industry you work in! From impromptu elevator pitches to full-board presentations, sales and marketing professionals face an "audience" daily-often with make-or-break consequences. No matter what business you're in, you can up your game substantially by incorporating elements of a classic Hollywood pitch: driving emotion, piquing curiosity, and ultimately winning over decision makers with top-notch persuasion and performance. Pitch Like Hollywood, clinical psychologist Peter Desberg and writer/producer Jeffrey Davis take you on an insiders' tour of the entire process, from defining the fundamentals to smart strategies for overcoming stage fright (pitch panic). They also include a step-by-step guide so that you can adapt the Hollywood Pitch for your next board meeting or sales call…"– Provided by publisher." (Adapted from Catalogue)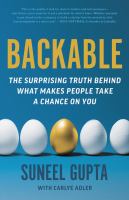 Backable : the surprising truth behind what makes people take a chance on you / Gupta, Suneel
"No one makes it alone. But there's a reason why some people can get investors or bosses to believe in them while others cannot. And that reason has little to do with experience, pedigree or a polished business plan. Backable people seem to have a hidden quality that inspires others to take action. We often chalk this up to natural talent or charisma…either you have "it" or you don't. After getting rejected by every investor he pitched, Suneel Gupta had a burning question: could "it" be learned? Drawing lessons from hundreds of the world's biggest thinkers, Suneel discovered how to pitch new ideas in a way that has raised millions of dollars, influenced large-scale change inside massive corporations, and even convinced his 8-year old daughter to clean her room. Inside are long-held secrets from producers of Oscar-winning films, members of Congress, military leaders, culinary stars, venture capitalists, founders of unicorn-status startups, and executives at iconic companies like Lego, Method, and Pixar. Backable reveals how the key to success is not charisma, connections, or even your resume, but rather your ability to persuade others to take a chance on you. This groundbreaking book will show you how." — Goodreads." (Catalogue)
The entrepreneur's guide to raising capital / Nour, David
"Ask any established business owner to identify his or her toughest challenge when just starting out, and you'll likely get this answer: raising capital. Most aspiring entrepreneurs know far too little about the sources of money that can help start a business or fuel its growth. Where do you get capital? What are investors looking for? How do you ask for money in a way that gets results? This book answers these and many other critical questions… The Entrepreneur's Guide to Raising Capital, designed to help entrepreneurs navigate the money-raising maze, shows how to attract financing to fund the start-up and growth phases any business moves through. It answers the most common_and the most perplexing_questions entrepreneurs have about financing a business: How do I put together a credible request for funds? How do I choose wisely from among the plethora of financial and strategic investors, consultants, investment bankers, and other intermediaries? How do I identify and avoid the risks associated with various sources of capital? How do I plan for the right kind, amount, and source of smart capital as the business evolves? How do I get the highest return on invested capital? How do I avoid the biggest mistakes entrepreneurs make when raising capital? This book provides real-life, pragmatic advice from entrepreneurs who have raised money from friends, family, angel investors, and banks, as well as institutional investors such as venture capitalists and private equity firms. It details the process from start to finish while spotlighting the danger spots and ways to avoid them. It will be especially useful to those who are uncomfortable making important financial decisions, and to those who are confused by all the conflicting opinions offered by advisors_both well meaning and otherwise. By showing readers the financing ropes, Nour removes a major source of stress for budding entrepreneurs and moves them closer to their dream come true: a successful business." (Catalogue)
Funded : the entrepreneur's guide to raising your first round / Hague, Katherine
"The venture capital world is often intimidating and hard to navigate, even for the most seasoned entrepreneurs. But it doesn't have to be. Entrepreneurs who run effective fundraising processes don't do it by accident. With this book, you'll learn what it takes to successfully raise a round of funding for your company. Author Katherine Hague explains how the venture capital industry works, and walks you through each step necessary to plan, execute, and optimize your own fundraising round. Packed full of exercises, checklists, and templates, this book guides you through the process from start to finish. It's ideal for entrepreneurs raising later rounds of capital, as well as those just starting out.
Gain an understanding of core venture capital concepts and standards
Learn how to develop and hone an investor pitch
Come away with a plan to hit the fundraising trail for your company
Develop the confidence you need to negotiate key terms in a funding deal
Understand best practices in fundraising, and learn how to avoid the top 10 fundraising mistakes" (Catalogue)
Building wealth through venture capital : a practical guide for investors and the entrepreneurs they fund / Batterson, Leonard A.
"Venture capital demystified, for both investors and entrepreneurs Building Wealth Through Venture Capital is a practical how-to guide for both sides of the table–investors and the entrepreneurs they fund." (Catalogue)
Angel : how to invest in technology startups-timeless advice from an angel investor who turned $100,000 into $100,000,000 / Calacanis, Jason
"One of Silicon Valley's most successful angel investors shares his rules for investing in startups. There are two ways to make money in startups: create something valuable-or invest in the people that are creating valuable things. Over the past twenty-five years, Jason Calacanis has made a fortune investing in creators, spotting and helping build and fund a number of successful technology startups-investments that have earned him tens of millions of dollars. Now, in this enlightening guide that is sure to become the bible for twenty-first century investors, Calacanis takes potential angels step-by-step through his proven method of creating massive wealth: startups… He guides you step by step through the process, revealing how leading investors evaluate new ventures, calculating the risks and rewards, and explains how the best startups leverage relationships with angel investors for the best results. Whether you're an aspiring investor or a budding entrepreneur, Angel will inspire and educate you on all the ins of outs. Buckle up for a wild ride into the world of angel investing!" (Adapted from Catalogue)
Crowdfunding intelligence : the no-nonsense guide to raising investment funds on the Internet / Buckingham, Chris
"Crowdfunding's time has arrived! Through the power of the Internet, it represents one of the most exhilarating ways to raise investment funds for your dream project. It enables you to get exposure in the public domain and can mean a seal of approval being given to your ideas by the masses. Developed from crowdsourcing – where people get together to generate ideas and solve problems – crowdfunding is an extension of this, only now the crowd add money (funding) to a project. It offers investment solutions to project needs in all sorts of fields, from apps to zoos. This book provides unrivalled explanations and frameworks to help any entrepreneur or business to prepare and execute a successful crowdfunding campaign and raise the capital they need. It contains expert insights and advice from the major players in the sector, including the leading crowdfunding sites, on how success can be achieved."–Amazon website." (Catalogue)
Last, but not least, if you are interested in tourism development this new publication from Bridget Williams Books may interest.
100% Pure Future: New Zealand Tourism Renewed
Sarah Bennett (ed).  Contributors: Dave Bamford, Susanne Becken, Hugh Logan, Rod Oram, Raewyn Peart, David Simmons, Erna Spijkerbosch, Te Ngaehe Wanikau and Tony Wheeler.
Covid-19 has had a devastating effect on New Zealand tourism, but the industry was already troubled by unchecked growth and questionable governance that has put pressure on the environment, infrastructure and communities. In this urgent collection of essays, nine writers outline their vision for sustainable tourism, the barriers to achieving it and how they can be overcome. This BWB Text is a rallying call for a genuine tourism 'reset' that puts the environment first and creates more meaningful exchanges between visitors and their hosts.
If you need more information please contact the Prosearch team at the library.  We can help you find information across a range of perspectives and resources.  All enquiries are treated in confidence.