In the last week I've read about several interesting and diverse new business ventures throughout the country.

Radio NZ profiled Linde Olivier Louwe – a former office manager – who has taken up snail farming. 
Wellington record shop owner Benjamin James has taken his shop on the road with a mobile record store

In Christchurch, Anthony Gardiner has turned an idea to get his fussy dogs to eat cheaper cuts of meat into a profitable small business while in Queenstown, Kelsey Powell has founded a unique online relocation service that helps people from the moment they decide to leave home until they are settled in New Zealand.

What all these ideas have in common is that the instigators have identified a niche, researched their idea and responded with a product, then marketed accordingly.

They are entrepreneurs with startup companies.

There are many resources in the Wellington City Libraries collections that can assist you expand that idea into the reality of a business.

Here's some of the most recent additions available to WCL members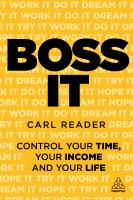 Boss it : control your time, your income and your life / Reader, Carl
"Do you dream of ditching the day job, doing your own thing and being your own boss? Are you ready to Boss It? In this invigorating and highly practical book, serial entrepreneur Carl Reader provides exactly the fire and guidance you need to get started. Designed to cut through the business jargon, this handy guide will take you through everything you need to establish and run your own business – from the mindset it takes to turn a dream into a plan, to the need-to-know practical stuff for running and growing a business. Featuring case studies, templates and exercises to help you put what you read into action, and turn that dream into a reality, this motivational book will enable you to be your own boss, to take control of your income, your time and your life… and Boss It"– Provided by publisher." (Catalogue)

Silver linings : Kiwi success stories in the time of Covid / Downs, David
"The Covid-19 lockdown in New Zealand caused fear, hardship and loss. Through this time of unprecedented national hardship, however, there emerged incredible stories of hope and optimism. Businesses innovated and found new ways to create value, communities came together in new ways online, and families reconnected through time spent together"–Publisher information." (Catalogue)


Why startups fail : a new roadmap for entrepreneurial success / Eisenmann, Thomas R.
"Presents information how to spot and sidestep roadblocks on the entrepreneurial journey and sets readers on a path to startup success." (Catalogue)


Survive & thrive : entrepreneurship frameworks that work : easy to follow how-to-guides, to create your entrepreneurial initiative / Kewene-Hite, Paul
"This book is designed for entrepreneurs, and hopeful entrepreneurs, of all ages, education levels, and backgrounds. The frameworks in this book have been used successfully in coaching and training individuals and groups in high schools, business schools, governments, and companies of all sizes across industries around the world. The frameworks have also been used successfully by individuals on their own at home. This book will shine a light onto various entrepreneurial paths, helping you see a way forward so that you can create a startup; build around science & technology; plan software; launch inside corporate, family business, school, and government; explore acquisitions; puzzle through turnarounds; lead during a crisis; evaluate your career; shift into a lifestyle career; positively impact people and the planet with a social venture; lead volunteers; strategize sales; and document your ideas for technology. Use these frameworks as power tools to help you do more than survive… learn to thrive!" (Catalogue)


On entrepreneurship and startups.
"The best entrepreneurs balance brilliant business ideas with a rigorous commitment to serving their customers' needs. If you read nothing else on entrepreneurship, read these 10 articles by experts in the field. We've combed through hundreds of articles in the Harvard Business Review archive and selected the most important ones to help you build your company for enduring success. Leading experts and practitioners such as Clayton Christensen, Marc Andreessen, Steve Blank, and Reid Hoffman provide the insights and advice you need to: Build a business from the ground up Adopt lean startup practices like business model experimentation Be realistic about how prescient your business plan can truly be Focus on the most important part of your business: the people Connect powerfully with your audience of investors and customers – Understand where companies with the most impact are launching now– Provided by publisher" (Catalogue)

If you need more information please contact the Prosearch team at the library. We can help you find information across a range of perspectives and resources. All enquiries are treated in confidence.