Have you considered a side hustle as an extra income generating stream?
A side hustle is defined as a way to make money alongside one's main form of income or employment.
A side hustle can be an entrepreneurial way to test a business idea on a small scale without giving up the security of your day job. Then, if it looks like it's going to work out, you can transition more easily to a client base that is already partially established.
What kind of things can you do as a side hustle, whether to develop a business or just earn a bit of extra cash?
Within the WCL audiobook collection best selling author Chris Guillebeau presents an ideabook featuring 100 stories of regular people launching successful side businesses that almost anyone can do.  Check out : 
100 side hustles : unexpected ideas for making extra money without quitting your day job / Guillebeau, Chris
"… This unique guide features the startup stories of regular people launching side businesses that almost anyone can do: an urban tour guide, an artist inspired by maps, a travel site founder, an ice pop maker, a confetti photographer, a group of friends who sell hammocks to support local economies, and many more. In 100 Side Hustles , best-selling author of The $100 Startup Chris Guillebeau presents an "idea book" filled with inspiration for your next big idea. Distilled from Guillebeau's popular Side Hustle School podcast, these case studies feature teachers, artists, coders, and even entire families who've found ways to create new sources of income. With insights and takeaways that reveal the human element behind the hustles, this playbook covers every important step of launching a side hustle, from identifying underserved markets to crafting unique products and services that spring from your passions. Soon you'll find yourself joining the ranks of these innovative entrepreneurs—making money on the side while living your best life." (Catalogue)
Although American in focus this article from Entrepreneur distils this idea further into a list of  50 profitable side hustle ideas while Moneyhub narrows down the 50 to a list of 8 profitable side hustles they consider suitable for New Zealand.
So now you have an idea – how do you develop it?  WCL have a number of resources to assist.  Amongst the resources are books in both hard copy and audiobook format also by Chris Guillebeau.
Side hustle : from idea to income in 27 days / Guillebeau, Chris
"For some people, the thought of quitting their day job to strike out on their own as an entrepreneur is exhilarating. For many others, it's terrifying. After all, a stable job that delivers a regular paycheck is a blessing. And not everyone has the means–or the desire–to take on the risks and responsibilities of working for themselves. But what if we could quickly and easily create an additional stream of income without giving up the security of a full-time job? Enter the side hustle. Chris Guillebeau is no stranger to this world, having launched more than a dozen side hustles over his career. Here he offers a step-by-step guide that takes you from idea to income in just 27 days. Designed for the busy and impatient, this detailed road map will show you how to select, launch, refine, and make money from your side hustle in under a month. You'll learn how to: brainstorm, borrow, and steal to build an arsenal of great side hustle ideas (Day 3); apply "Tinder for Side Hustle" logic to pick the best idea at any time (Day 6); learn, gather, or create everything you need to launch your hustle, then set up a real-life way to get paid for it (Days 13-14); start raking in the money by channeling your inner Girl Scout (Day 18); master the art of deals, discounts, and special offers (Day 21); raise your game: improve, expand, or make more money off your hustle (Days 24-26). A side hustle is more than just another stream of income; it's also the new job security. When you receive paychecks from different sources, it allows you to take more chances in your "regular" career. More income means more options. More options equal freedom. You don't need entrepreneurial experience to launch a profitable side hustle. You don't have to have an MBA, or know how to code, or be an expert marketer. You don't need employees or investors. With Chris as a guide, anyone can make more money, pursue a passion, and enjoy greater security–without quitting their day job."–Jacket." (Catalogue)
Also in hardcopy is Bec Evans'  How to have a happy hustle : the complete guide to making your ideas happen
How to have a happy hustle : the complete guide to making your ideas happen / Evans, Bec
"How to Have a Happy Hustle shares the secrets of innovation experts and startup founders to help you make your ideas happen. If you're looking for fulfilment outside the day job, have an idea but don't know where to start, or are held back by a lack of confidence, experience, time or money, Bec Evans will help you get off the starting blocks with this complete guide to making your ideas happen. There's no getting away from it – hustling is hard work – but with practical tools, inspiring stories, science-backed research and guidance every step of the way, you'll find what makes you happy as you build your side hustle." — Provided by publisher." (Catalogue)
If it's taking it to the next level that interests you,  Susie Moore asks and answers the question  What if it does work out? : how a side hustle can change your life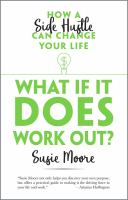 What if it does work out? : how a side hustle can change your life / Moore, Susie
"In What If It Does Work Out? life coach and professional side-hustler Susie Moore offers expert tips and guidance to help you earn an extra source of income by doing something you love. In her energetic and encouraging style, she guides you through all of the planning stages and potential obstacles, showing how to overcome any hesitation or fear, create multiple revenue streams, and more. Susie also presents inspiring stories from fellow side hustle successes, including the founders of Spanx and MindBodyGreen. Recommended by Entrepreneur magazine as a book "entrepreneurs must read to dominate their industry," What If It Does Work Out? features all you need to take the practical steps toward living the life of your dreams"–Amazon.com." (Catalogue)
Finally The Side Hustle Show offers a series of podcasts across a range of related topics and Side Hustle School also provides daily podcasts.
If you need more information please contact the Prosearch team at the library.  We can help you find information across a range of perspectives and resources.  All enquiries are treated in confidence.