Last week the posts focused on the older demographic in the workplace.  Today, because it's still school holidays, its a good time to encourage the kids' creativity and entrepreneurial skill set.
Does Miss 14 see her career path including making millions as a Tiktok influencer?  Is Mister 10 talking about ways to make money to upgrade his playstation?  Seize the opportunity to harness that energy and get the kids learning about how to run a business.
WCL has a collection of books aimed at the children and young adult demographic that will provide them with money making ideas as well as teaching how to develop and market their product.  It's never too soon to be entrepreneurial.
For the younger members of the family who keen on cooking check out :
How to make money from cooking and baking / Storey, Rita
"Do you have a fantastic business idea but don't know where to start? Or perhaps you love cooking and baking and want to make some money from something you enjoy doing. This book is a fantastic guide containing all the tips and tricks you need to your cooker into a profitable enterprise and become a young entrepreneur (a Kidpreneur!). Sample areas covered include: designing brand images, conducting market research, writing a business plan and understanding restrictions and the law. If you simply want to make some money for charity there's a guide to this area as well. There is a strong emphasis on how to keep safe and what dangers to be aware of, for example in dealing with people in your money-making enterprise. It is part of the How to Make Money series – books that turn young people into young entrepreneurs, whether they're into cooking, computers, upcycling or simply using their spare time profitably! (Publisher's website)" (Catalogue)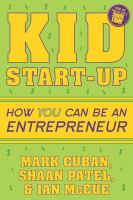 Kid start-up : how you can be an entrepreneur / Cuban, Mark
"The stars of ABC's Shark tank explain how a kid can discover a great business idea and get it off the ground." (Catalogue)
For some inspiration from those who have been there and done that have a look at :
Brilliant businesskids : young entrepreneurs with global ambitions / Burston, Jo
"This book follow the stories of young entrepreneurs from around the globe who have grown their Simple Ideas into businesses and social enterprises that span their own countries, and even The World. Eleven incredibly talented young founders describe in their own words the challenges and opportunities they faced designing, launching and marketing their products, and driving change through their social initiatives. They explain their journey from startup, revealing how their entrepreneurial journey has shaped them personally. This book shows that by encouraging children and teenagers to start businesses and social enterprises when they're still at school, teachers and parents can equip them with business skills and practical knowledge that could stay with them for life. For children and teenagers globally, who dream of turning their entrepreneurial ideas into reality, this book is designed and illustrated especially for you! It's packed with insights from kids who dared to believe in themselves. If these Brilliant BusinessKids can do it, then so can you!" (Catalogue)
For the older age group there is inspiration to be found in Henry Patterson's book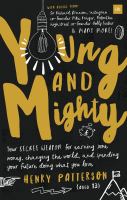 Young and mighty : your secret weapon for earning some money, changing the world, and spending your future doing what you love / Patterson, Henry
"You can turn your passion into more than just a hobby. When he was 9 years old, Henry Patterson (now aged 14) turned his sweet stall into a story book and children's brand, which led to an international business that took him around the world, meeting fantastic people along the way – including Sir Richard Branson and the co-founder of Instagram, Mike Krieger. In Young and Mighty, Henry not only shows how to start your own business at any age, he also shares 30 tried-and-tested ways to earn some money right now, as well as 20 fun methods for fundraising for causes that matter to you. Young and Mighty is for those who want to find what makes them tick, for those who want to change the world, for those who just want to have fun. Grab it and go make your unique mark on the world!" (Catalogue)
Although an older publication there is still good advice to be found in
The young New Zealander's guide to entrepreneurship / Hunter, Ian
"… an inspirational and practical guide to starting your own business. Fully endorsed by the Young Enterprise Scheme, the book is filled with great advice from winning teams, business mentors and hot tips from some of New Zealand's leading business people" — Cover." (Catalogue)
And remember the Prosearch team doesn't have an age limit for customers.
If you need more information please contact the Prosearch team at the library. We can help you find information across a range of perspectives and resources. Or call 021 596 274