The days of retiring at 65 are long gone and many older workers choose to remain on in the workplace.
There are many positives to employing an older person – their wealth of knowledge, their life and people skills, their loyalty to the company.  Yet many also face ageism or discrimination due to their years.  At times there may also be friction between different generations and the employer needs to have the skills to negotiate this and bring out the best in all employees in order to benefit the business.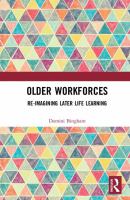 Older workforces : re-imagining later life learning / Bingham, Domini
"We are all going to become old. Many countries are ageing demographically with ageing workforces. Despite anti-discrimination and equality laws, older workers are routinely left out from learning opportunities even unconsciously so, suffer stereotyping or they simply do not participate. Why is this so? This book looks to understand the background to this and re-imagine older workplaces to capitalise on older workers. The author explores what learning and development offers a best fit for older workforces through literature, research and case studies with organisations and individuals. She considers how an organisation might shift its strategic processes to offer a holistic workforce opportunity of value to both employee and employer, as it is cognitive skills that will be needed in future workforces. Emphasising the area of work agency and the human right to learning, this book turns ageing and learning in workplaces on its head, seeing older workers as vessels of untapped potential. It re-imagines their possibilities in a time of intense demographic and digital change. This book will be a pragmatic guide to academics, researchers and practitioners in the fields of workplace learning, human resource development, social policy and diversity." (Catalogue)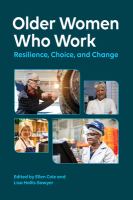 Older women who work : resilience, choice, and change
"Older Women Who Work: Resilience, Choice, and Change provides one of the first in-depth examinations of women age 65 and older who have delayed retirement, exploring personal and career identity, social roles, and quality of life concerns. The fifteenth book in APA's Division 35 Psychology of Women series, this edited volume presents a rich array of qualitative and quantitative research on older women's experiences in the workplace. Chapter authors share insights about how organizational leaders can change societal structures to better support the motivations and needs of diverse older women in the workplace. The book also describes how consultants, educators, and mental health professionals can encourage development of personal grit, to help the growing numbers of older women exercise their right to opportunities and be adaptable in the face of employment challenges"– Provided by publisher." (Catalogue)
Counter mentor leadership : how to unlock the potential of the 4-generation workplace / Riggs, Kelly
"This book is the result of over twenty-five years of combined experience from Kelly and Robby Riggs-dynamic, occasionally irreverent, always insightful, father (Boomer) and son (Millennial), who work with organizations grappling daily with multi-generational conflict. Through their collaboration, Kelly and Robby share their very different perspectives on the same problems most companies are STILL dealing with, but haven't had the courage or the tools, to address. Issues such as: a shocking lack of leadership skills; the culture-killing generational divide that is demolishing many companies; and the stunning, often unrecognized impact of technology on the workplace." (Catalogue)
If you need more information please contact the Prosearch team at the library. We can help you find information across a range of perspectives and resources. All enquiries are treated in confidence.