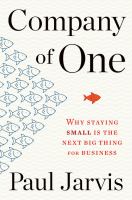 Company of one : why staying small is the next big thing for business / Jarvis, Paul
What if the real key to a richer and more fulfilling career was not to create and scale a new start-up, but rather, to be able to work for yourself, determine your own hours, and become a (highly profitable) and sustainable company of one? Suppose the better–and smarter–solution is simply to remain small? This book explains how to do just that. What if the real key to a richer and more fulfilling career was not to create and scale a new start-up, but rather, to be able to work for yourself, determine your own hours, and become a (highly profitable) and sustainable company of one? Suppose the better–and smarter–solution is simply to remain small? This book explains how to do just that.
Company of One
is a refreshingly new approach centered on staying small and avoiding growth, for any size business. Not as a freelancer who only gets paid on a per piece basis, and not as an entrepreneurial start-up that wants to scale as soon as possible, but as a small business that is deliberately committed to staying that way. By staying small, one can have freedom to pursue more meaningful pleasures in life, and avoid the headaches that result from dealing with employees, long meetings, or worrying about expansion.
Company of One
introduces this unique business strategy and explains how to make it work for you, including how to generate cash flow on an ongoing basis. In
Company of One,
Jarvis explains how you can find the right pathway to do the same, including planning how to set up your shop, determining your desired revenues, dealing with unexpected crises, keeping your key clients happy, and of course, doing all of this on your own." (Catalogue)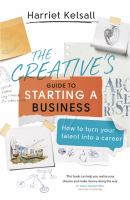 The creative's guide to starting a business / Kelsall, Harriet
"'A book to devour from start to finish – easy to do as it is accessibly-written and oh so fascinating – and then to dip into later for reference.' – Joanna Reeves Do you have a passion for making beautiful objects? Are you wondering whether you can take the next step and turn your creativity into a career? This inspirational guide offers easy-to-follow advice from talented and creative industry experts. There are practical exercises that will help you sell your creations, choose the right time to start your business, and guide you through as you do so. With The Creative's Guide to Starting a Business, you will discover the best way to create pieces that sell, write a business plan, identify and reach customers, research the competition, price products and test the market and promote the business successfully. Packed with interviews, encouraging real life stories, and tips from successful entrepreneurs who started with a passion and turned it into their own successful, creative business, this practical guide will take you through the very first steps of defining creative and financial success to ultimately establishing a rewarding start-up." (Catalogue)
From hire to fire : & everything in between : managing the employee life cycle – hire, manage, welleing & exit / Hawker, Natasha
"The barrier to start a business is at its lowest but the task to start, build and run one is as difficult as it has ever been. There are legal challenges to be faced within employment law; there's the cost of hiring and managing employees, whilst trying to avoid and prevent sexual harassment, bullying and terminations – to name just a few. From Hire to Fire & Everything In Between reveals Natasha's 9 Step Employee Life Cycle, which shares everything you need to know about Human Resources and makes managing your employees' career journey easier. Doing the right thing by your employees is good for them and for business." (Catalogue)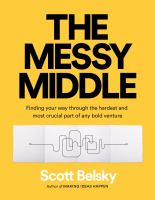 The messy middle : finding your way through the hardest and most crucial part of any bold venture / Belsky, Scott
"Silicon Valley is full of start-up success stories; every day stories emerge of a new company with the potential for a billion-dollar valuation and plans for global domination. But what can we really learn from these stories? How many of these start-ups are genuinely successful in the long term? When nine out of ten start-ups end in spectacular burnout, how can we ensure our own success story? While most books and press focus on the more sensational moments of creation and conclusion, The Messy Middle argues that the real key to success is how you navigate the ups-and-downs after initial investment is secured. It will give you all the insights you need to build and optimize your team, improve your product and develop your own capacity to lead. Building on seven years' of meticulous research with entrepreneurs, small agencies, start-ups and billion-dollar companies, Scott Belsky offers indispensable lessons on how to endure and thrive in the long term." (Catalogue)
The Art of Communication: How to be authentic, lead others and create strong connections [hardback] / Apps, Judy
"Bring nuance, depth, and meaning to every conversation you have The Art of Communication is for anyone who senses that they could be communicating on a deeper level. Perhaps you are a confident communicator but suspect there may be more to the art of conversation that you have not yet been able to access. Or perhaps you feel that your conversations lack depth and meaning and that you'd like to enrich your relationships with others, if only you knew how. This book will address your concerns and show you how to engage wholeheartedly with others. There's more to conversation than just clear, rational thinking. Left-brain rationality is important, of course, but neuroscience increasingly shows that the right-brain skills of creativity, intuition and spontaneity are essential in good communication. In this guide, you'll discover ways of tapping into the full conversational potential that lies dormant within you, adding a level of nuance and watching the result as your relationships blossom. You may even find that untapped value in the form of new insights, ideas and creative thoughts, emerges from your daily conversations.
Access the more nuanced arts of conversation to create strong connections and tangible results
Build cross-disciplinary, cross-cultural connections to communicate effectively with people from different backgrounds
Activate your whole mind — not just your intellect — to bring creativity and depth to communication
Learn to be open-hearted, spontaneous, vulnerable, intuitive, and captivating in every conversation you hold
From communication guru and bestselling author Judy Apps, The Art of Communication will show you how to breathe life into your relationships and produce powerful new thinking enabling you to transform the world you live in." (Catalogue)
The business models handbook : templates, theory and case studies / Hague, Paul N.
"Benefit from a reliable collection of the most valuable business models, including detailed coverage of each model, expertly explained theory, as well as case studies and supporting templates. Business frameworks are extraordinarily valuable professional tools. They add structure and clarity to business problems, and can help practitioners overcome the everyday challenges they face. The Business Models Handbook brings together the most helpful and widely used templates and frameworks into a single, invaluable resource. Each chapter focuses on an individual business framework, giving an overview of its purpose and details of how it will help an organisation grow and be profitable. Each model is supported by a real world case study, and enhanced by a handy visual graphic that the reader can use as a template for their own day-to-day work. Meticulously prepared and researched, The Business Models Handbook covers 50 of the best known and most widely used frameworks, including the Ansoff matrix, Price-Quality-Strategy model, Stage-Gate model, Service Profit chain and many more. Authored by Paul Hague, a leading global market researcher with a background working on over 3,000 different research projects, this is a truly invaluable resource for any student or professional." (Catalogue)
The purpose revolution : how leaders create engagement and competitive advantage in an age of social good / Izzo, John B.
"We're in the midst of a purpose revolution. Customers, employees, and investors are making it clear that they want companies to do more than provide good products, good prospects, and good profits–they want companies to do some social good too. Ironically, as this extremely timely book demonstrates, purpose-driven companies do better on nearly every traditional metric: greater customer loyalty, higher retention, more innovation, and a healthier bottom line. But how do you become a purpose-driven company? Just crafting an inspiring new mission statement and starting a CSR program won't cut it, says John Izzo, who predicted the purpose revolution in his 1994 book Awakening Corporate Soul. Purpose must pervade every part of your organization. In this thoroughly researched hands-on guide, Izzo and Jeff Vanderwielen provide a tool kit for deeply embedding purpose into your leadership and organizational culture. Using scores of real-world examples and practical exercises, Izzo and Vanderwielen help leaders find a truly authentic purpose, one that is a natural fit for them and their organization. They describe concrete actions leaders can take to ensure that employees own it, customers and recruits connect with it, and every corporate action and activity reflects it. They show leaders how to avoid common pitfalls on the path to purpose and how to use purpose to guide all their decision making. In an increasingly crowded economic landscape, purpose gives you a powerful competitive advantage. But it does more than that. Finding and communicating an inspiring purpose will revitalize the entire organization, top to bottom. Purpose makes business more rewarding in every sense"– Provided by publisher." (Catalogue)
Brand the change / Miltenburg, Anne
"In a perfect world, great changemaking ventures would grow purely based on their own merit. In the real world, we have to be creative and strategic about how we brand our initiatives and get the support we need to help them grow into effective, sustainable organisations. Creating a strong brand is crucial to getting the audience you deserve and, ultimately, increasing your impact. With over twelve years of experience as a brand developer, Anne Miltenburg has worked with organisations and people as diverse as tech companies, scientists, women's rights activists and bankers, from Zambia to Ireland and from the USA to Saudi Arabia. To help her clients comprehend the branding process and think more like brand strategists, Anne developed tools and exercises which became the foundation for a training format used in over 15 countries to support starting and scaling social enterprises. This book opens up the method for everyone looking to build or strengthen their brand for change." (Catalogue)
The excellence dividend : principles for prospering in turbulent times from a lifetime in pursuit of excellence / Peters, Thomas J
"Management guru Tom Peters shows that nothing beats a high-quality product or service, designed and delivered by people who are as dedicated to each other as they are to their shared goal. With his unparalleled expertise and inimitable charisma, Peters offers brilliantly simple, actionable guidelines for success that any business leader can immediately implement, punctuated by incisive quotes from some of today's leading lights in business." (Catalogue)
Me and my mentor : how mentoring supercharged the careers of 11 extraordinary women / Breekveldt, Norah
How important is mentoring in accelerating my career success and helping me realise my potential? Why are men more likely to have mentors than women? How do I proactively pursue a mentoring relationship? What is more effective – formal mentoring programs or informal mentoring relationships?
Me and My Mentor explores these and other questions mentors and mentees face in their working life. Eleven mentor and mentee couples talk openly about their experiences, the professional and personal friendships that evolved, the challenges they worked through, the career and learning opportunities that opened up for them and the mutual benefits they received from the relationship. Each story provides practical tips and insightful lessons from which men and women can learn and apply to their own mentoring journeys.
If you've ever been curious about how mentoring can advance your career, or how you can apply mentoring to achieve true diversity in your workplace, then Me and My Mentor is a must read!" (Catalogue)
Scrum for dummies / Layton, Mark
"Scrum is an agile project management framework that allows for flexibility and collaboration to be a part of your workflow. Primarily used by software developers, scrum can be used across many job functions and industries. Scrum can also be used in your personal life to help you plan for retirement, a trip, or even a wedding or other big event. Scrum provides a small set of rules that create just enough structure for teams to be able to focus their innovation on solving what might otherwise be an insurmountable challenge. Scrum For Dummies shows you how to assemble a scrum taskforce and use it to implement this popular Agile methodology to make projects in your professional and personal life run more smoothly–from start to finish…No matter your career path or job title, the principles of scrum are designed to make your life easier. Why not give it a try?"–Amazon.com." (Catalogue)
The healthy workplace nudge : how healthy people, cultures and buildings lead to high performance / Miller, M. Rex
"Discover how healthy buildings, culture, and people lead to high profits Organizations and employees now spend an average of $18,000 per year per employee for health costs, a 61% increase in 10 years. These are direct costs, but the hidden costs of time out of the office, distraction, disengagement, and turnover far exceed the direct costs. The Healthy Workplace Nudge explains the findings of research on 100 large organizations that have tackled the problems of employee health costs and disengagement in four fresh ways: Happiness leads to health and performance Behavioral economics to nudge healthy employee behavior Healthy culture Healthy buildings In addition to proving highly effective, these approaches represent a fraction of the cost sunk into traditional wellness and engagement programs. The book explains how to create a workplace that is good for people, releases them to what they do best and enjoy most, and produces great and profitable work. Find actionable strategies and tactics you can put into use today Retain happy, productive talent Cut unnecessary spending and boost your bottom line Benefit from real-world research and proven practice If youre a leader who cares about the health and happiness of your employees, a human resource professional, or a professional who develops, designs, builds, or outfits workplace environments to improve employee health and wellbeing, this is one book youll want to have on hand."– Provided by publisher." (Catalogue)
The mind of the leader : how to lead yourself, your people, and your organization for extraordinary results / Hougaard, Rasmus
"Most leaders think they're effective at motivating their employees, but study after study shows that employees are more disengaged and uninspired than ever. The solution lies not in more management training or fun off-sites but in looking within–into the mind of the leader. Based on their years-long research and practice, Rasmus Hougaard and Jacqueline Carter, of the Potential Project, have conclusively found that three qualities stand out as being foundational for leaders today: mindfulness, selflessness, and compassion–what they call the MSC Leadership Mind, the ideal mind of the leader. Mindfulness addresses the distractedness that kills our focus, stunts our productivity, and makes us action-addicted multitaskers. Selflessness addresses the general lack of fulfillment in work life by helping us–and the people we lead–find true happiness and meaning. And compassion addresses today's social disintegration by enhancing true human connections, followership, and engagement. While some think these traits are innate, Hougaard and Carter, together with hundreds of their associates working with thousands of leaders around the world, have developed a system to help leaders of all kinds learn and cultivate the MSC Leadership Mind. By addressing their own needs first, then those of their people, and finally the culture of their organization, every leader can learn to embody what makes for great leadership in today's challenging organizational environment.– Provided by publisher." (Catalogue)
How women rise : break the 12 habits holding you back from your next raise, promotion, or job / Helgesen, Sally
"Ready to take the next step in your career … but not sure what's holding you back? Read on. Leadership expert Sally Helgesen and bestselling leadership coach Marshall Goldsmith have trained thousands of high achievers–men and women–to reach even greater heights. Again and again, they see that women face specific and different roadblocks from men as they advance in the workplace. In fact, the very habits that helped women early in their careers can hinder them as they move up. Simply put, what got you here won't get you there … and you might not even realize your blind spots until it's too late. Are you great with the details? To rise, you need to do less and delegate more. Are you a team player? To advance, you need to take credit as easily as you share it. Are you a star networker? Leaders know a network is no good unless you know how to use it. Sally and Marshall identify the 12 habits that hold women back as they seek to advance, showing them why what worked for them in the past might actually be sabotaging their future success. Building on Marshall's classic best seller What Got You Here Won't Get You There, their new book How women rise is essential reading for any woman who is ready to advance to the next level." (Catalogue)
Soulpreneurs : live your purpose, lift your platform and leap into prosperity / Luciano, Yvette
"Whether you wish to start up (or supercharge) your business, create your blog or book, attract abundance as an artist, or transition from your day job to your dream career, Soulpreneurs is the blueprint you've been waiting for. Learn how to: get clear on your purpose and vision, identify your key strengths and values, build your confidence, grow your brand sustainably, and stay on track when things don't go to plan." (Catalogue)
The CEO next door : the 4 behaviours that transform ordinary people into world-class leaders / Botelho, Elena L.
"Based on an in-depth analysis of over 2,600 leaders drawn from a database of more than 17,000 CEOs and C-suite executives, as well 13,000 hours of interviews, and two decades of experience advising CEOs and executive boards, Elena L. Botelho and Kim R. Powell overturn the myths about what it takes to get to the top and succeed. What those who reach the top share are four key behaviors that anyone can master: they are decisive; they are reliable, delivering what they promised when the promise it, without exception; they adapt boldly, and they engage with stakeholders without shying away from conflict. Based on this breakthrough study of the most successful people in business, Botelho and Powell offer career advice for everyone who aspires to get ahead." (Catalogue)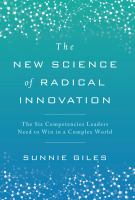 The new science of radical innovation : the six competencies leaders need to win in a complex world / Giles, Sunnie
"Following Sunnie Giles's Harvard Business Review article ""The Most Important Leadership Competencies, According to Leaders Around the World,"" this book uses solid scientific principles to help leaders in any organization navigate successfully through the increasing speed and interdependence in today's market." (Catalogue)
Digital transformation : build your organization's future for the innovation age / Herbert, Lindsay"Digital Transformation is a wonderful read and provides fantastic insights…Digital Transformation is a wonderful read and provides fantastic insights. More than that, it provides the 'How' together with practical guidance on undertaking the journey to digital transformation. This book should be on the '2018 must read list' for anyone who wants to gain a greater understanding of, or embark on, digital transformation. I will be highly recommending this book to my colleagues and industry peers.(Amazon reviewer)
Counter mentor leadership : how to unlock the potential of the 4-generation workplace / Kelly Riggs and Robby Riggs.
"This book is the result of over three decades of combined experience from Kelly and Robby Riggs-dynamic, occasionally irreverent, always insightful, father (Boomer) and son (Millennial), who work with organizations grappling daily with multi-generational conflict. Through their collaboration, Kelly and Robby share their very different perspectives on the same problems most companies are STILL dealing with, but haven't had the courage or the tools, to address. Issues such as: a shocking lack of leadership skills; the culture-killing generational divide that is demolishing many companies; and the stunning, often unrecognized impact of technology on the workplace. In their "shamelessly funny, brilliantly written" debut book, Kelly and Robby:
· Discuss today's workplace dynamics, including the changes in communication modes, the influx of technology, and the impact of Millennials and Digital Natives
· Explain how a one-sided approach to leadership focused on "managing" Millennials is grossly insufficient, resulting in an inability to attract and retain critical young talent
· Explore the new challenges of leadership inherent with the explosion of technology-time compression, distractions, complexity and the pace of change
· Reveal how old leadership challenges persist, and explore how the younger generation will expose those challenges more than ever
· Detail the CounterMentor leadership model and prescribe specific tactics and techniques for addressing both old and new leadership issues. (Syndetics Summary)
Management starts with you / Alan Hester.
"Management Starts With You is a wise, honest and practical guide to success in this challenging but fascinating role. Among many powerful insights we learn that: Before we can successfully manage others we first need to manage ourselves. Most of us do not naturally know how to manage, but we can learn.
· Life as a manager is easier when we stop thinking about the effect of our actions on ourselves and think instead about their effect on others. People don't want to be managed, but they absolutely need the security of being led.
· Being respected is much more important than being liked!
· Traditional time management techniques don't work for managers, so we need to rethink our approach to this most precious of all resources.
· What we focus on we get more of; so we need to focus on the right things." (Syndetics summary)
The one-percent edge : small changes that guarantee relevance and build sustainable success / Susan Solovic with Ray Manley.THE ONE PERCENT EDGE: SMALL CHANGES THAT GUARANTEE RELEVANCE AND BUILD SUSTAINABLE SUCCESS
"Want to stay competitive? Keep evolving. Solid profits, a strong brand, steady customers–all of these can vanish when market shifts disrupt business as usual. So how do you keep from losing ground? How do you stay a step ahead of competitors? The solution is surprisingly straightforward: innovate tweak by tweak. By making incremental adjustments to every aspect of the business–marketing, customer service, finances, products, people–then repeating the process, fixing weaknesses and spotting opportunities becomes a winning habit. Entrepreneur Susan Solovic, an expert in business survival tactics, explains how to continually grow, improve, and move the business forward. With hundreds of strategies, examples, and a six-step process, The One-Percent Edge explains how to: Put energy into profitable areas and trim dead weight * Raise prices by selling value instead of things * Access new markets by adapting products or services * Hire the right team players * Turn customers into brand ambassadors * Find your own niche and avoid imitating * And more. When change happens swiftly and often, even successful brands are vulnerable. Businesses with the edge are constantly evolving . . . and pulling ahead of the pack."(Syndetics summary)
Disenchantment : managing motivation and demotivation at work / Adrian Furnham and Luke Treglown.
"Workplace disenchantment can cause major issues for organisations – productivity decreases, employees can turn actively destructive and individual health and well-being can deteriorate. Most people start a job happy enough and determined to do a good job – if they are lucky, they have found a job which suits their skills and values. They may be eager, hopeful and willing to be engaged. So when and why do they become disenchanted and demotivated? In this new book, Adrian Furnham and Luke Treglown look at several theories into job satisfaction and workplace motivation. They explore how much of a motivator money really is, and which personality profiles are more likely to lead to a disruptive, disenchanted employee. Disenchantment discusses the related and identifiable behaviours that very clearly lead to disenchantment, and how individuals and organisations can work to prevent this and boost motivation and engagement in a way that is practicable and sustainable. Keeping employees motivated takes more than just ensuring they're not unhappy, and Disenchantment outlines some of the ways that organisations can manage this."(Syndetics summary)
The science of intelligent achievement : how smart people focus, create and grow their way to success / Isaiah Hankel.
"Smart strategies for pragmatic, science-based growth and sustainable achievement. The Science of Intelligent Achievement teaches you the scientific process of finding success through your most valuable assets: Selectivity – how selective are you with who and what you let into your life? Ownership – how dependent are you on others for your happiness and success? Pragmatism – how consistent and practical are you in your progress? First, this book will show you how to develop your focus by being very selective with where you spend your mental energy. If you've failed to reach an important goal because you were distracted, misinformed, or overcommitted, then you know the role focus and selectivity play in achievement. Second, you will learn how to stop allowing your happiness and success to be dependent on other people and instead, start taking ownership over your life. Finally, you will learn the art of changing your life through pragmatic decisions and actions. Self-improvement is not the result of dramatic changes. Instead, science has shown that personal and professional change is initiated and sustained by consistent, practical changes. To grow, you must leverage the power of micro-decisions, personality responsibility, and mini-habits. Your own biology will not let you improve your life in any other way.
What do you currently value? What are working to attain? Have you been taught to value your job title or your relationship with some other person above all else? Have you been convinced that the most valuable things in life are your paycheck, the number of people who say 'hello' to you at the office, and the number of people who say 'I need you' at home? Or, have you become so passive in what you value that you let anyone and anything into your life, as long as whatever you let in allows you to stay disconnected from the cold hard truth that when things really go wrong in your life, the only person who will be able to fix it and the only person will be responsible for it is you. If so …welcome to fake success . Passivity, dependence, and the sacrifice of realism and personal responsibility to whatever fuzzy, grandiose ideal is currently trending in the ether or your mind–these are markers of fake success.
Intelligent Achievement , on the other hand, is not a moving target. It's not empty either. Instead, it's sturdy, full, and immovable. It's not something that's just handed to you. It's not something you're nudged to chase or coerced into wanting. Intelligent Achievement comes from within you. It's a collection of values that are aligned with who you are–values you have to protect and nurture. These values do not increase your dependence on other people and things. Instead, they relieve you of dependence. This kind of achievement is something that you have a part in building from the ground up–you know what's in it–you chose it, someone else didn't choose it for you.
Achieving real success means you must be selective, take ownership over your life, and above all, be willing to make consistent, pragmatic changes to move forward. The Science of Intelligent Achievement shows you how. (Syndetics summary)
Win win : when business works for women, it works for everyone / Joanne Lipman.
" A FINANCIAL TIMES BUSINESS BOOK OF THE MONTH 'Urgently needed' Charles Duhigg, bestselling author of THE POWER OF HABIT and SMARTER 'Attention, good guys: this book is for you' Adam Grant, bestselling author of ORIGINALS and OPTION B with Sheryl Sandberg 'I know what you're thinking: 'Not another career guide-cum-manifesto, telling us to "woman up" and demand more money.' But that isn't what Lipman says. Instead, she uses data, reams of it, to expose how the system is rigged against women. She then calls for men to join the fight to make the workplace more equal' SUNDAY TIMES STYLE MAGAZINE
Women spend their working lives adapting to an environment set up for men, by men: from altering the way they speak to changing the clothes they wear to power posing. But still the gender gap persists. And once you see it – women being overlooked, interrupted, their ideas credited to men – it's impossible to ignore. But it needn't be this way. Diving deep into the wide range of government initiatives, corporate experiments and social science research Joanne Lipman offers fascinating new revelations about the way men and women work culled from the Enron scandal, from brain research, from transgender scientists and from Iceland's campaign to 'feminise' an entire nation. Packed with fascinating and entertaining examples – from the woman behind the success of Tupperware to how Google reinvented its hiring process – WIN WIN is a rallying cry to both men and women to finally take real steps towards closing the gender gap. Published in the US as THAT'S WHAT SHE SAID.(Syndetics summary)