The Oxford Learners Dictionaries define Trust as :
1 : to have confidence in somebody; to believe that somebody is good, sincere, honest, etc.
2 : to believe that something is true or correct or that you can rely on it 
"Trust" is a hot topic in the management and business literature at the moment.  Trust in leadership, trust in business, trust in teams .  What all agree on is that trust is an extremely important component in a workplace.
Some recent quick reads on Trust include :
In leaders we trust : how to build and inspire trust in 2022
Good leadership is about trust. Trust is the essential factor for success and is foundational for an organization to evolve, flex, pivot, adapt, and ultimately thrive in times of continuous change.
In the HBR's How business can build and maintain trust author Tim Ryan,  U.S. chair of PwC and founder of the Trust Leadership Institute, writes that … "trust is fragile and businesses must manage it as carefully as they do their balance sheets… He details where consumers and business leaders agree on which actions drive trust and offers three takeaways for the business community: 1) It's time for business to galvanize around trust and transparency; 2) To build trust, leaders must communicate the why behind their decisions; and 3) Leaders need to act with integrity, courage, and vulnerability."
Leadership behaviors that diminish trust outlines "… four leadership behaviors that diminish trust and what to do instead."
For longer reads, check out the following in the WCL book collection :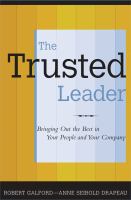 The trusted leader : bringing out the best in your people and your company / Galford, Robert M.
"Based on highly specific research and experience that covers a wide spectrum of managers and organizations, The Trusted Leader identifies the three critical types of trust that leaders need to master: strategic trust, organizational trust, and personal trust. It introduces a practical and effective formula for building organizational confidence, and provides a unique analysis of the obstacles to trust and the sources of resistance to the building of trust inside organizations. Through a series of interactive exercises, executives will learn how to determine where trust is missing and how it can be supplemented in people, departments, and even whole companies. Perhaps most timely are the book's series of diagnostic tools and skills that help executives rebuild trust that has been broken or betrayed."–BOOK JACKET." (Catalogue)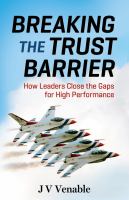 Breaking the trust barrier : how leaders close the gaps for high performance / Venable, JV
"For former US Airforce Thunderbirds' commander and demonstration leader JV Venable, inspiring teamwork was literally a matter of life and death. On maneuvers the distance between jets was just 18 inches. Closing the gaps to sustain that kind of separation requires the highest levels of trust. On the ground or in the air, from line supervisor to CEO, we all face the same challenge. Our job is to entice those we lead to close the gaps that slow the whole team down – gaps in commitment, loyalty, and trust. Every bit of closure requires your people to let go of biases and mental safeguards that hold them back. The process the Thunderbirds use to break that barrier and craft the highest levels of trust on a team with an annual turnover of 50% is nothing short of phenomenal. That process is packaged in this book with tips and compelling stories that will help you build the team of a lifetime." (Catalogue)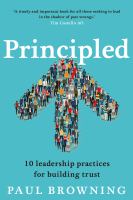 Principled : 10 leadership practices for building trust / Browning, Paul
"When trust is destroyed in the workplace, how do you restore it? In the era of #metoo, 'fake news' and 'alternative facts' few would dispute that we face a global crisis around trust in the workplace and more broadly in society. When the CSIRO released its Australian National Outlook 2019, it identified trust as one of the future key challenges the nation faces in relation to governments, business, non-government organisations and the media. It is less likely that a company will be able to innovate and remain competitive if trust is low or absent. Prominent Australian educator Paul Browning faced this situation when the school he led became embroiled in The Royal Commission into Institutional Responses to Child Sexual Abuse. Principled draws on Browning's first-hand experience of navigating an organisation through this highly public ethical crisis and outlines the challenges he faced as a leader. Bringing together evidence-based research and over 20 years of management experience, Paul Browning offers timely advice on the 10 key practices that can help executives build and develop skills to become more trustworthy leaders." (Catalogue)
Digital body language : how to build trust & connection, no matter the distance / Dhawan, Erica
"From Erica Dhawan, co-author of Get Big Things Done, the definitive guide to communicating and connecting wherever you are. Email replies that show up a week later. Video chats full of 'oops sorry no you go' and 'can you hear me?!' Ambiguous text-messages. Weird punctuation you can't make heads or tails of. Is it any wonder communication takes us so much time and effort to figure out? How did we lose our innate capacity to understand each other? Humans rely on body language to connect and build trust, but with most of our communication happening from behind a screen, traditional body language signals are no longer visible — or are they? In Digital Body Language, Erica Dhawan, a go-to thought leader on collaboration and a passionate communication junkie, combines cutting edge research with engaging storytelling to decode the new signals and cues that have replaced traditional body language across genders, generations, and culture. In real life, we lean in, uncross our arms, smile, nod and make eye contact to show we listen and care. Online, reading carefully is the new listening. Writing clearly is the new empathy. And a phone or video call is worth a thousand emails. Digital Body Language will turn your daily misunderstandings into a set of collectively understood laws that foster connection, no matter the distance. Dhawan investigates a wide array of exchanges–from large conferences and video meetings to daily emails, texts, IMs, and conference calls–and offers insights and solutions to build trust and clarity to anyone in our ever changing world"– Provided by publisher." (Catalogue)
If you need more information please contact the Prosearch team at the library.  We can help you find information across a range of perspectives and resources.  All enquiries are treated in confidence.