Today, 8 March, marks International Women's Day and this year the UN Women's theme for the day is DigitAll : Innovation and technology for gender equality.

We delve into what that means for wāhine here in Aotearoa.
Entering into kōrero with us is Aleisha Amohia (Te Ātihaunui-a-Papārangi), tech expert at Catalyst IT and co-president of the Wellington branch of the National Council of Women.

As a woman in the tech industry Aleisha is advocating for the IT industry to be a more representative space, mentoring younger women and addressing the digital divide that sidelines a percentage of our population.  
"There are also real-world consequences for a tech industry lacking diversity. The products and services around us are all powered by tech or have technological aspects – tech touches everything. It can cause problems and possibly become dangerous if engineers and developers neglect to consider and include the needs and experiences of all potential users into their tech solutions"  Source 
Watch our interview with Aleisha here.


If you would like to know more about the work of the National Council for Women you can find details about the local branch and their meeting times on the website.

"Since 2017 we have been actively raising national consciousness about gender equality in twenty-first century Aotearoa New Zealand. The campaign is supported by a wide-range of people and organisations. Find out more on our Gender Equal NZ website".
Join us at Fourth-Wave, a festival which aims to celebrate intersectionality and empower women through kōrero and performance.
Fourth-Wave is named after the most recent feminist movement, characterised by intersectionality, internationalism, solidarity, and the use of technology and the Internet. The fourth wave of feminism seeks greater gender equality by focussing on gendered norms and the marginalisation of women in society.
As discussed in the video, Wellington City Libraries also offers a range of services and programmes to assist in addressing the digital divide. 
Among the offerings are : Free
computer and internet
use,
Digital catchup
sessions for adults,
Techtime
and
Code club
for children and young people. (Refer to our
events calendar
for more details about these sessions). 
For those who meet the criteria, Newtown, Kilbirnie and Arapaki branch libraries offer assistance to sign up to
Skinny Jump.
Skinny Jump is flexible prepaid broadband: Only $5 for 35GB of data, no contracts or credit checks, and the modem comes free of charge. You may be eligible for Skinny Jump if you are a family with children, are a job seeker, senior, live with a permanent disability, or live in social housing. Your address must also be covered by the Skinny network.   


You can also join via the Linden, Tawa, and Newlands community centres, who can sign you up and give you a modem.
Some of the resources we have to help understand the digital divide and gender inequity.

How to recognize privilege – and uplift those without it (TED talk)
Depending on your lot in life, you may see the status quo as a result of unearned privilege or a simple reflection of merit. Backed by statistics and personal stories, lawyer Mariam Veiszadeh offers a much-needed perspective check on the quasi-equality touted in business today, calling for real change in workplace diversity and inclusion that routs out biases rather than replicating them.
Shouting zeros and ones : digital technology, ethics and policy in New Zealand
"This vital book is a call to action: to reduce online harm, to protect the integrity of our digital lives and to uphold democratic participation and inclusion. A diverse group of contributors reveal the hidden impacts of technology on society and on individuals, exploring policy change and personal action to keep the internet a force for good. These voices arrive at a crucial juncture in our relationship to fast-evolving technologies"–Publisher information." (Catalogue)
More zeros and ones : digital technology, maintenance and equity in Aotearoa New Zealand
"Many of today's digital technologies inadvertently amplify the power structures and prejudices of wider society. By examining the way digital tools and platforms are designed, built, and maintained, this BWB Text aims to identify how we can do better for everyone in Aotearoa. Following on from the success of Shouting Zeros and Ones (BWB Texts), this fresh collection includes writers with specific expertise in applying topics such as environmental science, law and Te Tiriti o Waitangi to recent developments in technology. More Zeros and Ones continues the exploration of emerging issues for digital technology and society in Aotearoa New Zealand." (Catalogue)
Girls who code : learn to code and change the world / Saujani, Reshma
"Introduces the relevance of coding and shares down-to-earth explanations about coding principles and real-life stories of women programmers who work at such places as Pixar and NASA." (Catalogue)
Ada Lovelace cracks the code
"Growing up in nineteenth century London, England, Ada is curious about absolutely everything. She is obsessed with machines and with creatures that fly. She even designs her own flying laboratory! According to her mother, Ada is a bit too wild, so she encourages Ada to study math. At first Ada thinks: Bleh! Who can get excited about a subject without pictures? But she soon falls in love with it. One day she encounters a mysterious machine, and from that moment forward Ada imagines a future full of possibility."–Back cover." (Catalogue)
The future of tech is female : how to achieve gender diversity / Branson, Douglas M
"An accessible and timely guide to increasing female presence and leadership in tech companies Tech giants like Apple and Google are among the fastest growing companies in the world, leading innovations in design and development. The industry continues to see rapid growth, employing millions of people: in the US it is at the epicenter of the ……" (Catalogue)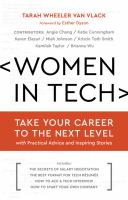 Women in tech : take your career to the next level with practical advice and inspiring stories / Van Vlack, Tarah Wheeler
""Jam packed with insights from women in the field," this is an invaluable career guide for the aspiring or experienced female tech professional (Forbes) As the CEO of a startup, Tarah Wheeler is all too familiar with the challenges female tech professionals face on a daily basis. That's why she's teamed up with other high-achieving women within the field–from entrepreneurs and analysts to elite hackers and gamers–to provide a roadmap for women looking to jump-start, or further develop, their tech career. In an effort to dismantle the unconscious social bias against women in the industry, Wheeler interviews professionals like Brianna Wu (founder, Giant Spacekat), Angie Chang (founder, Women 2.0), Keren Elazari (TED speaker and cybersecurity expert), Katie Cunningham (Python educator and developer), and Miah Johnson (senior systems administrator) about the obstacles they have overcome to do what they love. Their inspiring personal stories are interspersed with tech-focused career advice. Readers will learn: – The secrets of salary negotiation- The best format for tech resumes- How to ace a tech interview- The perks of both contracting (W-9) and salaried full-time work- The secrets of mentorship- How to start your own company- And much more BONUS CONTENT: Perfect for its audience of hackers and coders, Women in Tech also contains puzzles and codes throughout–created by Mike Selinker (Lone Shark Games), Gabby Weidling (Lone Shark Games), and cryptographer Ryan "LostboY" Clarke–that are love letters to women in the industry. A distinguished anonymous contributor created the Python code for the cover of the book, which references the mother of computer science, Ada Lovelace. Run the code to see what it does!" (Catalogue)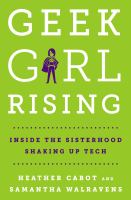 Geek girl rising : inside the sisterhood shaking up tech / Cabot, Heather
"This book "isn't about the famous tech trailblazers you already know, like Sheryl Sandberg and Marissa Mayer. Instead, veteran journalists Heather Cabot and Samantha Walravens introduce readers to the … female entrepreneurs and technologists fighting at the grassroots level for an ownership stake in the revolution that's changing the way we live, work and connect to each other"–Amazon.com."Meet the women who aren't asking for permission from Silicon Valley to chase their dreams. They are going for it–building cutting-edge tech start-ups, investing in each other's ventures, crushing male hacker stereotypes, and rallying the next generation of women in tech. With a nod to tech trailblazers like Sheryl Sandberg and Marissa Mayer, Geek Girl Rising introduces readers to the fearless female founders, technologists and innovators fighting at a grassroots level for an ownership stake in the revolution that's changing the way we live, work and connect. Readers will meet Debbie Sterling, inventor of GoldieBlox, the first engineering toy for girls, which topples the notion that only boys can build; peek inside YouTube sensation Michelle Phan's ipsy studios, where she is grooming the next generation of digital video stars while leading her own mega e-commerce beauty business; and tour the headquarters of The Muse, the hottest career site for millennials, and meet its intrepid CEO, Kathryn Minshew, who stared down sexism while raising millions of dollars to fund the company she co-founded. These women are the rebels proving that a female point of view matters in the age of technology; as a woman, you can rock big returns if you have a big idea and the passion to build it."–Jacket." (Catalogue)
Whose global village? : rethinking how technology shapes our world / Srinivasan, Ramesh
"In the digital age, technology has shrunk the physical world into a "global village," where we all seem to be connected as an online community as information travels to the farthest reaches of the planet with the click of a mouse. Yet while we think of platforms such as Twitter and Facebook as open and accessible to all, in reality, these are commercial entities developed primarily by and for the Western world. Considering how new technologies increasingly shape labor, economics, and politics, these tools often reinforce the inequalities of globalization, rarely reflecting the perspectives of those at the bottom of the digital divide. This book asks us to re-consider 'whose global village' we are shaping with the digital technology revolution today. Sharing stories of collaboration with Native Americans in California and New Mexico, revolutionaries in Egypt, communities in rural India, and others across the world, Ramesh Srinivasan urges us to re-imagine what the Internet, mobile phones, or social media platforms may look like when considered from the perspective of diverse cultures. Such collaborations can pave the way for a people-first approach toward designing and working with new technology worldwide. Whose Global Village seeks to inspire professionals, activists, and scholars alike to think about technology in a way that embraces the realities of communities too often relegated to the margins. We can then start to visualize a world where technologies serve diverse communities rather than just the Western consumer." (Catalogue)
Credible threat : attacks against women online and the future of democracy / Sobieraj, Sarah
"This book argues that the rampant hate-filled attacks against women online come are best understood as patterned resistance to women's political voice and visibility that coalesce into an often-unrecognized form of gender inequality that constrains women's use of digital public spaces, much as the pervasive threat of sexual intimidation and violence constrain women's freedom and comfort in physical public spaces. What's more, the abuse exacerbates inequality among women, as women of color, and Muslim, immigrant, and/or LBTQ women of all races, are disproportionately targeted. Drawing on in-depth interviews with women who have been on the receiving end of digital hate, Credible Threat shows that the onslaught of epithets and stereotypes, rape threats, and commentary about their physical appearance and sexual behavior come with great professional, personal, and psychological costs for the women targeted, but also with underexplored societal level costs that demand attention. The women's accounts show that when effective, identity-based attacks undermine their contributions to public discourse, create a climate of self-censorship, and at times, push women out of digital publics altogether. Given the uneven distribution of toxicity, those women whose voices are already most under-represented (e.g., women from historically undervalued groups, those in male-dominated fields) are particularly at risk. In the end, identity-based attacks online erode civil liberties, diminish public discourse, limit the knowledge we have to inform policy and electoral decision-making, and teach all women that activism and public service are unappealing, high-risk endeavors to be avoided"– Provided by publisher." (Catalogue)
If you need more information please contact the Prosearch team at the library.  We can help you find information across a range of perspectives and resources.  All enquiries are treated in confidence.