Friends. 
 
Plenty of songs have been written about them; buddy movies are a popular genre and in the 90s a long running sitcom immortalised a group of them. 
As kids we probably had a gaggle of them.  As adults we are possibly more discerning, with a core of close friends and a wider network of acquaintances. 
But is it important to have friends at work? 
In recent years concerns have been raised about people in society generally, but specifically in workplaces, feeling lonely and isolated.  Over the last few months as a result of research, a number of articles have been published that indicate there are benefits to having work friends for both the individual and the workplace.
As an employee, having a collegial relationship with workmates provides you with support and encourages happiness. For the employer the benefits of a happy, stable employee include employee retention, increased profitability and productivity along with improved safety adherence. 
 
In an article for the Telegraph, drawing on research for her recently published book  BFF? : the truth about female friendship (2022) author Claire Cohen provides a female perspective to business friends.   (Full article available via  Gale In Context: Global Issues,) 
BFF? : the truth about female friendship / Cohen, Claire
"From the time we start school, we are fed a diet of 'Best Friends Forever' – the idea that you should have a female soulmate to whom you tell all your secrets and who always has your back. It's the stuff of Hollywood films, but for most of us it isn't achievable. We spend years striving for a vision of female friendship that isn't realistic instead of searching for what suits us best or appreciating what we've already got. BFF? is an agenda-setting, personal and humorous book that pulls back the cover on the most underappreciated relationships in our lives to interrogate what modern friendship means, why we need it and what we can do to get the most from it." (Catalogue)  Available in hard copy, e-book and e-audiobook formats
Meanwhile in the New York Times writer Emma Goldberg celebrates The Magic of your first work friends  and examines the benefits of these relationships.  (Full article available via  Gale In Context: Global Issues,) .  In the article Goldberg references Mollie West Duffy and Liz Fosslien's recent publication, Big feelings : how to be okay when things are not okay.
Big feelings : how to be okay when things are not okay / Fosslien, Liz
"From the duo behind the bestselling book No Hard Feelings and the wildly popular LizandMollie Instagram, an insightful and approachable illustrated guide to handling our most difficult emotions. We all experience unwieldy feelings. But between our emotion-phobic society and the debilitating uncertainty of modern times, we usually don't know how to talk about what we're going through, much less handle it. Over the past year, Liz Fosslien and Mollie West Duffy's online community has laughed and cried about productivity guilt, pandemic anxiety, and Zoom fatigue. Now, Big Feelings addresses anyone intimidated by oversized feelings they can't predict or control, offering the tools to understand what's really going on, find comfort, and face the future with a sense of newfound agency. Weaving surprising science with personal stories and original illustrations, each chapter examines one uncomfortable feeling-like envy, burnout, and anxiety-and lays out strategies for turning big emotions into manageable ones. You'll learn: How to end the cycle of intrusive thoughts brought on by regret, and instead use this feeling as a compass for making decisions How to identify what's behind your anger and communicate it productively, without putting people on the defensive Why we might be suffering from perfectionism even if we feel far from perfect, and how to detach your self-worth from what you do Big Feelings helps us understand that difficult emotions are not abnormal, and that we can emerge from them with a deeper sense of meaning. We can't stop emotions from bubbling up, but we can learn how to make peace with them"– Provided by publisher." (Catalogue)
 Writing for MIT Sloan Management Review author Lynda Gratton also drew on research for her recently published book Redesigning work in her article Why you should make friends at work
"Friendships at work matter. When so many hours are spent working, having someone who understands our situation — the players involved, the office dynamics, and the general organizational culture — can help buffer routine stress. When we share our experiences, it often reminds us that others have gone through similar ones".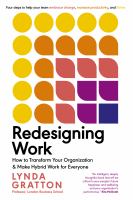 Redesigning work : how to transform your organization and make hybrid work for everyone / Gratton, Lynda
"How companies can use the recent shifts in business norms and culture to reset work for the coming decade and beyond"– Provided by publisher." (Catalogue)
In October the Harvard Business Review posted The Power of Work Friends giving some tips on how a manager can "… create and maintain a friendship-friendly workplace". 
Also newly published and an interesting read is Marisa Franco's Platonic.
Platonic : how the science of attachment can help you make–and keep–friends / Franco, Marisa G.
"How do we make and keep friends in an era of distraction, burnout, and chaos, especially in a society that often prizes romantic love at the expense of other relationships? In Platonic, Dr. Marisa G. Franco unpacks the latest, often counterintuitive findings about the bonds between us–for example, why your friends aren't texting you back (it's not because they hate you!), and the myth of "friendships happening organically" (making friends, like cultivating any relationship, requires effort!). As Dr. Franco explains, to make and keep friends you must understand your attachment style–secure, anxious, or avoidant: it is the key to unlocking what's working (and what's failing) in your friendships. Making new friends, and deepening longstanding relationships, is possible at any age–in fact, it's essential. The good news: there are specific, research-based ways to improve the number and quality of your connections using the insights of attachment theory and the latest scientific research on friendship. Platonic provides a clear and actionable blueprint for forging strong, lasting connections with others–and for becoming our happiest, most fulfilled selves in the process." (Catalogue)
For a look inside the power a work friendship can unleash check out :
The undoing project : a friendship that changed our minds / Lewis, Michael
"Forty years ago, Israeli psychologists Daniel Kahneman and Amos Tversky wrote a series of breathtakingly original studies undoing our assumptions about the decision-making process. Their papers showed the ways in which the human mind erred, systematically, when forced to make judgments in uncertain situations. Their work created the field of behavioral economics, revolutionized Big Data studies, advanced evidence-based medicine, led to a new approach to government regulation, and made much of Michael Lewis's own work possible. Kahneman and Tversky are more responsible than anybody for the powerful trend to mistrust human intuition and defer to algorithms.The Undoing Project is about a compelling collaboration between two men who have the dimensions of great literary figures. They became heroes in the university and on the battlefield–both had important careers in the Israeli military–and their research was deeply linked to their extraordinary life experiences. Amos Tversky was a brilliant, self-confident warrior and extrovert, the center of rapt attention in any room; Kahneman, a fugitive from the Nazis in his childhood, was an introvert whose questing self-doubt was the seedbed of his ideas. They became one of the greatest partnerships in the history of science, working together so closely that they couldn't remember whose brain originated which ideas, or who should claim credit. They flipped a coin to decide the lead authorship on the first paper they wrote, and simply alternated thereafter.This story about the workings of the human mind is explored through the personalities of two fascinating individuals so fundamentally different from each other that they seem unlikely friends or colleagues. In the process they may well have changed, for good, mankind's view of its own mind." (Catalogue)
If you need more information please contact the Prosearch team at the library.  We can help you find information across a range of perspectives and resources.  All enquiries are treated in confidence.