"Your family aren't supposed to be your colleagues" said a co-worker returning to the office after an extended period of working from home, whereas a friend recently grumbled that "They want us to come back into the office more often!".
For some people setting up a workspace at the end of the kitchen table is fine if it's just you and the cat at home, but when you have to share that same workspace with the requirements of a partner and a couple of kids, home can become a bit small and cramped.
It's not just the idea of sharing space it's also the efficiency and productivity of the working day that has changed for many.
An acquaintance found the work challenges brought about by Covid to be ultimately positive for his organisational practices.  At short notice his team were forced to rapidly upskill their familiarity with technology, in order for the business to continue operating.  This they did and now have a more efficient and flexible way of operating that works well for his team.
Another friend noticed that when she worked from home she was more productive, despite sharing her work space with family.  Without having to travel to work she had flexibility to begin work at 6.00 am and get many of her daily tasks ticked off her list, before the kids started their online learning.  Later in the day she returned to "work" and worked into the evening.  My friend noted that had she been in the office her days would have been full of interruptions along with impromptu, and often lengthy, chats with colleagues.
Remote working, virtual teams, telecommuting, hybrid work, flexi-work, or work-from-home.  Whatever you call it, a version of it is here to stay with many workplaces now offering a flexible policy around working from home.
So how do you make it work for everyone involved and how can you successfully manage teams from a distance.  Managing the technology productively is only part of the equation.  A large part is making sure people feel connected to the office and the rest of the team.  As a manager how can you effectively lead a team if you don't see them?
We've compiled a list of resources that anyone leading a remote team, or working remotely might find helpful.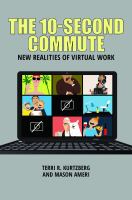 The 10-second commute : new realities of virtual work / Kurtzberg, Terri R.
"Widespread remote work is now possible, but it comes with its share of frustrations. Virtual work has changed our lives in ways big and small, from trying to balance our time to what we wear and where we sit and from how we communicate to where we should look during a videoconference. It's also fundamentally changed what kinds of jobs we can now do. Grounded in research and including lively personal anecdotes, The 10-Second Commute provides a thoughtful and comprehensive scan of the nature of virtual work. The authors, both researchers in management and technology, explore the current questions of our virtual lives, such as: Why Zoom instead of Skype? Why are emoji so useful? Why is videoconferencing so exhausting? How does diversity at work both help and hinder productivity? Virtual work is more than just work-it permeates our whole lives, and it will continue to do so as hybrid work arrangements become the new normal. Helping readers better understand the virtual work experience, this book will engage and inform everyone who is still trying to make virtual work work"– Provided by publisher." (Adapted from Catalogue)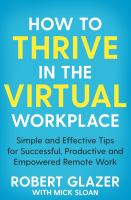 How to thrive in the virtual workplace : simple and effective tips for successful, productive and empowered remote work / Glazer, Robert
"The business world was already gravitating toward virtual workplaces, even before COVID-19 created the largest remote work experiment in history. Suddenly organisations as big as Twitter were learning their employees didn't need an office in order to get great results. This is something Robert Glazer has known for over a decade. In the highly actionable How to Thrive in the Virtual Workplace, Glazer taps into his experience managing a virtual office – and winning twenty "best places to work" awards – while providing leaders with a step-by-step playbook on how to intentionally build a remote workforce and culture by developing core values that provide guidance in hiring talent who work well remotely, creating comprehensive onboarding plans, using technology to communicate and connect with remote employees, and more. This goes way beyond a typical HR strategy book. By employing these specific strategies, leaders can build a remote environment that thrives and make it one of their key competitive advantages. The remote work revolution is here – the leaders who will build the future are the ones who can lead top performing virtual teams. Learn how to build a world-class organisation – office no longer required." (Catalogue)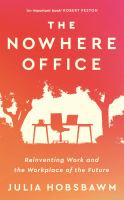 The nowhere office : reinventing work and the workplace of the future / Hobsbawm, Julia
"Analysing the current remote-based workforce created by the pandemic, one of the foremost thinkers in business and organization voices the problems that beset work and advocates for using this moment to initiate the biggest transformational change in the workplace in a century." (Catalogue)
Redesigning work : how to transform your organization and make hybrid work for everyone / Gratton, Lynda
"How companies can use the recent shifts in business norms and culture to reset work for the coming decade and beyond"– Provided by publisher." (Catalogue)
Remote, Inc. : how to thrive at work . . . wherever you are / Pozen, Robert C.
"You can thrive and excel when you're working remotely, if you adopt the mindset, habits and tech tools of professionals who are even more productive outside the office: Learn to think like a "business of one," and that entrepreneurial mindset will transform your experience of remote work. Remote work can be satisfying and productive—once you craft a strategy that taps into the unique advantages of working from home. After a year in which many of us plunged into remote work overnight, we finally have a chance to make thoughtful choices about how to combine remote and office work, and how to make the most of our days at home. Remote, Inc. gives you the strategies and tools you need to make remote work a valuable part of your renewed working life. Remote, Inc. takes you inside the mindset and habits of people who flourish while working outside the office some or all of the time: people who function like a "business of one". That's how productivity experts Robert C. Pozen and Alexandra Samuel describe the mindset that lets people thrive when they're working remotely, whether full-time or in combination with time at the office. You can follow their lead by embracing the work habits and independence of a small business owner—while also tapping into the benefits of collegiality and online collaboration. — Provided by publisher." (Catalogue)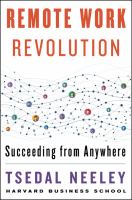 Remote work revolution : succeeding from anywhere / Neeley, Tsedal
"A Harvard Business School professor and leading expert in virtual and global work provides remote workers and leaders with the best practices necessary to perform at the highest levels in their organizations. The rapid and unprecedented changes brought on by Covid-19 have accelerated the transition to remote working, requiring the wholesale migration of nearly entire companies to virtual work in just weeks, leaving managers and employees scrambling to adjust. This massive transition has forced companies to rapidly advance their digital footprint, using cloud, storage, cybersecurity, and device tools to accommodate their new remote workforce. Experiencing the benefits of remote working – including nonexistent commute times, lower operational costs, and a larger pool of global job applicants – many companies, including Twitter and Google, plan to permanently incorporate remote days or give employees the option to work from home full-time. But virtual work has it challenges. Employees feel lost, isolated, out of sync, and out of sight. They want to know how to build trust, maintain connections without in-person interactions, and a proper work/life balance. Managers want to know how to lead virtually, how to keep their teams motivated, what digital tools they'll need, and how to keep employees productive. Providing compelling, evidence-based answers to these and other pressing issues, Remote Work Revolution is essential for navigating the enduring challenges teams and managers face. Filled with specific actionable steps and interactive tools, this timely book will help team members deliver results previously out of reach. Following Neeley's advice, employees will be able to break through routine norms to successfully use remote work to benefit themselves, their groups, and ultimately their organizations. — Provided by publisher." (Catalogue)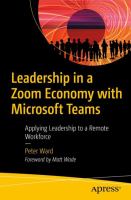 Leadership in a Zoom economy with Microsoft Teams : applying leadership to a remote workforce / Ward, Peter
"Manage and lead a team remotely by intertwining leadership principles with the many robust tools of Microsoft Teams. This book shows you how to utilize Microsoft Teams in an effective way to achieve your global team goals. Leading a team is a challenge, but leading a team in the zoom economy can make you stressed out and overworked. Peter Ward gives the reader a communication and organization centered approach for the dynamic, hardworking, successful employee who wants to step into a leadership role and vastly improve their organization with the aid of Microsoft Teams. Ward shares his own "rules" for successful leadership of teams and small companies, to scale at a steady pace, creating a culture of accountability and responsibility, with a remote workforce, not using venture capital, and applying minimal bureaucracy. Ward says teamwork, right hires, diversity, and work balance are equally important as profitability. Leadership in a Zoom Economy with Microsoft Teams is a portrait of a productive, sane, balanced life that is organized and filled with rich results. After reading this book, you will be able to extend your Microsoft Team capabilities to day-to-day leadership principles. What Will You Learn Use MS Teams to build trust in your remote or virtual workplace with teams Work with Planner, Outlook, and Tasks within MS Teams Coach, mentor, and develop your team when you are not in the exact location Lead a remote workforce effectively Apply an entrepreneur mentality to remote teams Create a culture that is innovative and creative when you are a dispersed organization Who This Book Is For Managers who want to step into leadership, and leaders who want to raise their leadership game using Microsoft Teams as a technical tool." (Catalogue)
Remote workplace culture : how to bring energy and focus to remote teams / O'Meara, Sean
"The way we work has changed and a strong and supportive company culture is key for success. When employees are working remotely, even if only occasionally, HR professionals and business leaders need to think differently. Practitioners now need to motivate their workforce, support talent development, ensure an inclusive environment and protect their employees' mental health, all without being in the same physical space. A strong and effective company culture that is built specifically with this purpose in mind is key. Remote Workplace Culture is a practical guide that shows how to achieve this and explains why simply replicating what used to happen in the office in a virtual environment doesn't work. This book shows how a strong culture for remote workers helps attract the best talent, whether this is nationally or globally and also explains how to prioritize inclusion. There is also specific guidance on wellbeing initiatives, how to replace social learning in a partially remote working culture and how to avoid common pitfalls such as an overreliance on technology, the blurring of work/life boundaries and a misunderstanding of remote working etiquette. Supported by case studies from global organizations including Facebook, the BBC, Trello Inc and Direct Line Insurance, this is essential reading for all HR professionals and business leaders needing to develop strong company culture in the new world of work"– Provided by publisher." (Catalogue)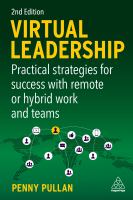 Virtual leadership : practical strategies for success with remote or hybrid work and teams / Pullan, Penny
"Remote working and virtual business practices are now embedded in companies across all industries. Learn the best practices and skills needed to effectively manage your team with this guide to virtual leadership. Virtual Leadership offers straightforward and proven methods for developing strategies to lead virtual teams. This guide for the modern leader explains how to optimize productivity and drive engagement by addressing common challenges, such as creating cohesive teams, working across time zones and cultures and handling offline distractions. Clear guidance is offered on how to lead in and outside of meetings to ensure that those working remotely are effectively steered. The fully revised second edition provides key information on the latest developments in virtual leadership and how to lead team members adopting a hybrid working approach (partly virtual but not entirely) in detail. New cases studies from education, community, healthcare and government also feature to highlight insights that can be taken from other fields. Leading virtual teams requires a new set of skills and a facilitative leadership approach, Virtual Leadership is here to help"– Provided by publisher." (Catalogue)
Leading from anywhere : the essential guide to managing remote teams / Burkus, David
"Top business thought leader David Burkus has mined the very best research on virtual teams and case studies of companies that have not just survived but thrived through remote work to provide managers with the field guide to leading remotely, packed with everyday examples and illuminating insights." (Catalogue)
Some shorter reads :
From Hays there is a blog piece on How to manage a remote team.  Forbes magazine offers up 13 Tips For Leading And Managing Remote Teams.  Gordon Tredgold's blog offers tips on How to lead and manage a remote team like a pro.  Workplace considers the role of trust in making remote teams successful while the HBR considers how to stay visible when you, as a manager are working from home, but the team is office based.
Engagement and connection are also a big part of the remote experience.  Whether you are working remotely or hosting/joining in a remote meeting  there are ways to make remote meetings more worthwhile.  Doing it by the numbers this article suggests 5 ways to use 'Social Bookends' to engage remote employees while this one offers 8 ways to help people feel connected during a virtual meeting
If you need more information please contact the Prosearch team at the library.  We can help you find information across a range of perspectives and resources.  All enquiries are treated in confidence.