Entrepreneurial spirit comes in many forms and encompasses a diverse range of enterprises.  Throughout the decades New Zealand has produced a variety of independent, successful businesses many of which have achieved not only national recognition but have also flourished internationally.
Often these businesses are driven by a larger than life or high profile 'personality' who becomes synonymous with their company or product.  There may well be a tagline or advertising byline that takes on iconic status.  Think The Mad Butcher or Alan -"It's the putting right that counts"- Martin.  Although the individual approach to business differs they tend to share the same qualities of vision, risk taking, and determination.
We've selected a few self-written books and biographies to provide readers with some insight and inspiration from some well-known, and less well-known, modern day New Zealand business blokes.
Life as a casketeer / Tipene, Francis
"…A deep, funny and personal story about the lives of New Zealand's favourite undertakers, Francis and Kaiora Tipene. Born and raised in Northland, the married couple and parents to five boys now star … in their own reality television show The Casketeers, a show about day-to-day life (and death) at their Auckland funeral business, Tipene Funerals. This is Francis and Kaiora's story, a story about a modest yet richly cultural Maori upbringing in the communities of Pawarenga and Kaitaia, the trials and tribulations of their love and marriage, the joy of raising five sons, and the dedication and mahi required to grow a business. It's also a book about traditions of tangihanga, tikanga Maori and Polynesian ways of morning the dead. Inspirational, hilarious, and wise: this is a book to make you see dying, grief and remembrance in a totally new light." (Adapted from Catalogue)
Farm for life : mahi, mana and life on the land / Walker, Tangaroa
"How farming helped Tangaroa Walker to stand up, stand out and realize his own dreams … T's message is for everybody – he addresses physical and mental health, business and management, personal motivation and more – not just farming"–Publisher information." (Catalogue)
No excuses : my story from crime to community and fat to fit / Letele, Dave
"The amazing true story of how Dave Letele lost over 100kg and took control of his life – and how you can, too. Dave Letele's life has taken him from crime to community, footy to failure, riches to rags (and back again), and from fat to fit. Today, he is a businessman, community leader and life coach who helps literally thousands achieve their goals as the face of Buttabean Motivation. He gives out free meals for the homeless and runs a foodbank for people in need. But it wasn't always like that… Like Dave says, I've been at the bottom and the top, and everything in between … If I can do it, you can. This is his story." (Catalogue)
Pic : adventures in sailing, business, and love / Picot, Pic
"Long before rocketing to fame as a peanut-butter baron Pic earned his keep making cool sandals for his schoolmates and expensive handbags for their mothers. leatherwork paid for his OE. He went to flower-powered San Francisco, had a hair-raising entanglement with a Colorado drug gang, and lived in a bizarre squat in London, before returning to New Zealand and a fortnight in a psychiatric ward. He built a house on a commune, started an old-time photo business, joined a travelling rock band, and became a father. Next, he took up furniture making and helped establish the legendary Parnell Workshops and Storage, where his bespoke chairs morphed into tawdry giftware. After building a boat and sailing the Pacific, Pic moved to Nelson, where he started a spectacularly unsuccessful restaurant. Business success came with his charter-boat directory and sailing school. Then he retired. It was his disgust with commercial peanut butter that started him making his own. In a dozen years, he went from roasting nuts in a concrete mixer to employing fifty people. In February 2019, Pic's Peanut Butter World opened. Pic's unusual path to business success offers hope for anyone wanting to follow their dreams. His stories are exciting, full of insight, and very, very funny." (Publishers description)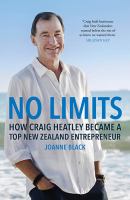 No limits : how Craig Heatley became a top New Zealand entrepreneur / Black, Joanne
"No Limits describes Craig Heatley's entrepreneurial life. It charts the good times and the bad, his philosophies, his approach to currency trading and the significance of becoming the first person from the southern hemisphere to be invited to join the world's most prestigious golf club, Augusta National, home of the Masters. Craig Heatley was still at high school when he created a subdivision on the back of $200 saved from his paper round. A few years later, building a mini-golf course launched a business that in 1986 saw him become the youngest person to have then featured in the National Business Review's Rich List. But it is Sky Television that was his boldest and most precarious undertaking. The fledgling company teetered in the early nineties as rugby suffered its own crisis, torn between its amateur heritage and the forces of professionalism. Heatley could see the answer. Making it happen is part of his story.–Publisher's description." (Catalogue)
Heart to start : the story of a global start-up plus a guide for turning your ideas into action / Handley, Derek
"The story of a global start-up plus a guide for turning your ideas into action. The true story of how young entrepreneur Derek Handley conceived big ideas in New Zealand and launched them to the world, through a series of electric highs and crushing lows, before discovering what he was really put here to do. This book also includes a practical field guide for shaping your life dreams and goals and turning them into reality. It takes you inside the entrepreneurial mindset, covering energy and time management, filtering which projects to pursue, believing in yourself, redesigning habits and creating ideas that are uniquely yours. 'Really inspirational and a great read. It will help and inspire budding entrepreneurs and appeal to anyone who wants to map out their lives.' – Richard Branson" (Adapted from Catalogue)
Zero to 60 : from a wooden caravan to a multi-millionaire dollar business empire / Quinn, Tony
"From growing up in a wooden caravan to building his own state-of-the-art racetrack, this is the remarkable story of Targa champion, Hampton Downs and Highlands Motorsport Park owner Tony Quinn. On a frosty and clear morning in the small, Central Otago town of Cromwell, 2012, Tony Quinn and his son Klark stood with an iPad at the edge of an expansive basin of scrub and grass sketching the curves, corners and chicanes of an imaginary race-track. Less than 18 months later, Cromwell was abuzz at the inaugural Highlands 101, with visitors from all over Australasia flocking to Highlands Motorsport Park for the opening of the new 25-million-dollar racing circuit. To some people, building a racetrack in the middle of nowhere might have seemed like an impossible dream, but not to Tony Quinn. To be successful in life you have to think positive and in motorsport, you'll never win a race unless you're truly convinced that you can,' he says. … As Tony says, 'Where there's shite, there's money'. Starting out with a plan to get rid of dead cows in Dargaville, Tony founded a fat-rendering plant called Fatman, which sowed the seeds for a remarkable story of success in pet food, culminating in selling his business, VIP Petfoods, for over 400 million dollars in 2015." (Adapted from Catalogue)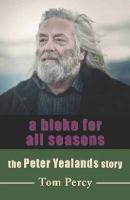 A bloke for all seasons : the Peter Yealands story / Percy, Tom
"A true maverick, Peter Yealands is a Marlborough legend and national figure of prominence in both the aquaculture and viticulture industries. He received the first marine farming license and he and his family were pioneers in the New Zealand mussel farming industry. Though a regular but reluctant name on the national rich list, many aspects of his business career represent archetypal 'David and Goliath' scenarios. His David to Jim Delegat's Goliath was the Oyster Bay takeover story; a full-fledged battle between Peter Yealands and the Delegats Group both vying for control of the Oyster Bay Vineyard – successful brand but a puzzlingly unprofitable company. Yealands now owns the largest privately owned vineyard in New Zealand. And if that wasn't enough he then built the world's most ecologically advanced winery devoted to the concept of 100% sustainability. With such innovations as plastic bottles and Babydoll sheep to graze the vineyards, he has never let conformity stand in the way of innovation. Throughout it all he has maintained a consistent indifference to critics, an expansive and creative imagination and an unwavering dedication to hard work. The embodiment of Kiwi know-how and No. 8 wire ingenuity, and now an internationally regarded proponent of practical and profitable sustainability, Peter Yealands is indeed A Bloke for All Seasons." (Catalogue)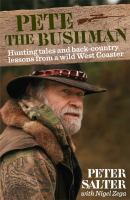 Pete the Bushman : hunting tales and back-country lessons from a wild West Coaster / Salter, Peter
"The adventures of Pete the Bushman, a wild West-coaster from Pukekura, New Zealand's answer to Crocodile Dundee and a man who owns his own town. This book about a true New Zealand bushman, of a life lived against the grain, of adventure in New Zealand's thickest wilderness and a lifestyle any Kiwi bloke would envy. Pete the Bushman has lived a life inseparable from the bush – these are his stories of running down deer on foot, heli-hunting in his own chopper, finding the perfect woman and eking out a living from the bush. He and his wife Justine run the Bushman's Centre, 35 mins south of Hokitika, established in 1991 as a place to show visitors how local people use the South Island forest. Pete's cafe and the Puke Pub (opposite the centre) are famous for wild food, particularly possum, offering snacks like possum jerky and possum pie. They won one of the Monteith's Wild Food Challenge, with 'Chicken of the Forest', 'a baked, spiced possum on a bed of fresh vegetables with a touch of wild bush mint sauce'. Also known as 'Possum Pete', the Bushman is one of the eccentric and colourful characters featured on TVNZ's 'This Town'." (Catalogue)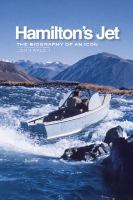 Hamilton's jet : the biography of an icon / Walsh, John
"When Bill Hamilton won the contract to construct an aerodrome at Mt Cook in 1935, the sheep farmer-turned-engineer was on his way to establishing an engineering business eventually to employ 500 people in Christchurch that would leave its mark on the post-War infrastructural development of New Zealand. Yet it was Sir William Hamilton's jet boat hobby that made him internationally renowned. He and his team discovered for themselves the secret to a successful jet boat, one that could tackle the swift-flowing rivers of the South Island. Soon Hamilton's jet was making headlines conquering the Colorado River upstream through the Grand Canyon, river racing in Mexico, re-tracing Stanley's footsteps in Zaire and jetting Sir Edmund Hillary in the sacred Ganges in India. In the economically turbulent 1980's, CWF Hamilton & Co nearly succumbed like so many companies. To secure its future, the Company morphed from a multi-product heavy engineering business, aimed at the domestic market, to a single product-line manufacturer with a global perspective. That product was not the jet boat but the waterjet propulsion system itself. The untold story of the Company's success on the world stage from that point on, in competition with Rolls Royce no less, is a salutary lesson in how to make commercial success of Kiwi ingenuity. Hamilton Jet is now the dominant propulsion choice for high-speed oil industry crew boats, navy and coast guard patrol boats, fast ferries and lately offshore windfarm servicing vessels around the world. With millions of dollars of waterjet product leaving the Christchurch factory each week, the legacy and romance of Bill Hamilton lives on"–Publisher's description." (Adapted from Catalogue)
Legend : from electric fences to global success : the Sir William Gallagher story / Goldsmith, Paul
"The story of New Zealand's most successful exporter and its head, Bill Gallagher, who built on the invention of an electric fence to make the company a world leader in its field. New Zealanders are always being exhorted to take a clever idea and go global. Easier said than done. But one iconic company has been doing just that for over 75 years. Gallagher Industries began in a Hamilton shed in the late 1930s, when a self-taught engineer, Bill Gallagher, came up with a design for an electric fence that transformed New Zealand farming. His sons Bill junior and John took over the business in the 1970s and applied their engineering genius and driving ambition to turn it into one of this country's most successful companies. Today it employs 600 staff in New Zealand and has distributes its animal containment and security products worldwide. Even Buckingham Palace is protected by a Gallagher security system Based on a ceaseless quest for efficiency and world-beating new technology, Gallagher products are peerless, and the company's achievements the stuff of envy.And along the way Bill Gallagher, now Sir William, has managed to have plenty of adventure — including diving for sunken treasure with Wade Doak and the late Kelly Tarlton. This fascinating book tells how Kiwi can-do can be transformed into global success – and for the long haul. It hasn't been easy: more than once Gallagher has had to pull his business back from the brink, but his inspired leadership got it through. Other companies may fall to overseas owners or lose their way but under Sir William Gallagher, Gallagher Industries – resourceful, nimble and generous in its philanthropy – is a proud New Zealand business that's here to stay." (Catalogue)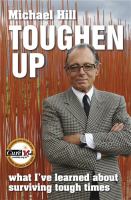 Toughen up : what I've learned about surviving tough times / Hill, Michael
"Lessons from New Zealand's top entrepreneur on surviving tough times. Michael Hill believes it's possible to succeed in a downturn – in fact, it is the perfect situation in which to perfect a business." "Lessons from New Zealand's top entrepreneur on surviving tough times. Michael Hill believes it's possible to succeed in a downturn – in fact, it is the perfect situation in which to perfect a business. International jewellery store-chain owner Michael Hill believes the struggling economy can be a good thing for businesses and entrepreneurs. Instead of fearing the side-effects of recession, wallowing in gloom and convincing ourselves the only safe haven is at home under the blankets, entrepreneurs can use this period to their advantage. With the right attitude, you can not only survive, but also emerge from the crunch with a new feeling of prosperity and strength. Over the years, Michael Hill has had just about every possible experience in business- from lie-awake-at-night nerves to the joy of unexpected success. He's reshaped the landscape under his feet and he has ventured into new territory. And at every moment, he has relished the excitement of it all. Once, he was an outsider in his industry; the cheeky startup whom nobody expected to succeed. The established players had no reason to view him as a threat. Now, his business is the establishment" (Catalogue)
If you need more information please contact the Prosearch team at the library.  We can help you find information across a range of perspectives and resources.  All enquiries are treated in confidence.