Sharp-eyed readers of the Dominion-Post or Stuff news website may have noticed a recent announcement that Stuff had been awarded B-corp status and in the process became the first New Zealand media outlet to achieve this.
The article quoted Stuff Chief Executive, Sinead Boucher, as saying :
"We see the certification as a crucial tool to help guide us on this journey, to help us hold ourselves accountable for our actions, and to continue building trust with consumers, communities and suppliers, and to attracting and retaining employees." 
But what does that actually mean?
I first came across references to B-Corporation certification when a colleague recommended the newly published And now for the good news … by comedian-turned-author Ruby Wax.  In one chapter Wax provides an outline of B-corp certification; what it is and investigates some of the international brand companies, such as Patagonia, who have achieved it.
Since then I've noted numerous New Zealand businesses issuing press releases celebrating their B-corporation certification.
According to the B Corporation website New Zealand has 125 (and rising) B-corp certified businesses.  Some are the New Zealand arm of international brands, like Nespresso.  Others are local businesses.  Companies cover a diverse range of products including, but not limited to, IT solutions, skincare, food and beverage, financial services and hospitality industries.  Amongst them are some well-known Wellington brands.
B-corp certification logo courtesy of Nespresso store, Lambton Quay
So what is a B-corporation?
B-corps are :  "… businesses that meet high standards of social and environmental performance, accountability, and transparency.
Certified B Corporations, or B Corps, envision a better economic system where businesses can benefit people, communities, and the planet. They choose long-term investments over quick wins, and measure their success based on the positive impact they create."
The certification process is a way of measuring the impact these companies have on five
areas of business; governance, workers, community, customers, environment.
It is awarded after a rigorous assessment and verification process by B-Lab representatives who conduct the overall audit as well as providing comprehensive guidance.
What's B-Lab?
The US based B-Lab was set up in 2006 by a group of like-minded people who wanted to drive real environmental and social change to the accepted business model through implementing standards that held businesses accountable for their practices.
Companies apply to be assessed by B-Lab auditors on their performance and impact across the five areas of business mentioned above.  The assessment process measures and grades on a points system.  An impact score of 80 or more qualifies for B-corp certification.
According to the site "ordinary" businesses usually score around 50 on the same impact assessment scale.
The audit questions
"… dig into every part of a business, from your supply chain and charitable giving, to employee benefits and customer satisfaction."
Those who have undergone the process, repeatedly use words like thorough, hard and rigorous.
Shortly after his restaurant businesses joined the B-corporation lists, UK celebrity chef, Jaime Oliver colourfully stated in an interview with the Guardian about the process :
"It's f***king hard. It makes the Inland Revenue look like pussycats. They are properly in your laundry drawer, getting into your pants, having a good look."
Nor is certification a one off, rubber stamp. A re-certification process must be undertaken every two years to retain the status and companies are encouraged, even expected, to keep striving to improve on their impact assessment scores.
Is becoming B-corp certified worth it, and what does it really mean to businesses, employees and consumers?
In order to learn more, I put a few questions to some Wellington B-corporations.
First stop Newtown where I sat down with Audrey Vidoni, Business Development Manager for Peoples Coffee.
Audrey walked me through the process and explained that for People's Coffee B-corp certification provided a framework, or blueprint, off which to hang the rest of their business approach.
In 2017 Peoples Coffee was among the first companies in Wellington to become certified.  Audrey says that B-corp certification is "More than just a logo for yet another certification, it is the company's commitment to being part of the change and leading the movement".
In July 2021 Peoples Coffee published its first Sustainability report. This is part of meeting their commitments to being not only sustainable but also to measuring their impact and providing accountability and transparency to consumers.
Meeting the assessment standards after some years as an established business, with international supply chains, was not an easy process and required changes to take place within the business. Audrey recommends that anyone beginning a business with a view to becoming a B-corp use the B-lab guides at the beginning, and to base the business on those principles rather than trying to retrospectively adapt some years down the track.
 To sum up what I believe is so interesting about the B Corp movement, I would say [that while] it's a holistic approach in terms of business impact assessment, its overall purpose [is] to change a system that needs updating to today's world."
Catapult co-founder Andrea Thompson, expressed similar views
At Catapult we provide leadership development and consulting services to New Zealand's most trusted organisations. We see the purpose of business as being creating sustainable value – not only shareholder value. Catapult's purpose is 'Unleashing brilliance for a flourishing Aotearoa.' We work with organisations who want people, society, and the environment to thrive. We were inspired to pursue B-corp certification both to be assessed against rigorous standards and to join a movement of business as a force for good.
Catapult was awarded certification in March 2022 and of the process Andrea said :
The certification process was a lot more involved than we expected and it took over a year because of an explosion of interest in B-corp certification. It was very worthwhile, prompting us to formalise some things we were already doing and fill in some gaps.
"Verification was really rigorous. They required evidence for every element. Thankfully, we've been measuring the impact of Catapult's work for decades.
Another local B-corp company is Sharesies.  They announced their B-corp certification in 2019, becoming the first financial services company in New Zealand to do so.  Shortly after they were awarded the B-corp Best in the World for the way they treat staff.
Again the emphasis was on how thorough the process was :
To become B Corp Certified, we had to meet their rigorous standards of social and environmental performance. It was hard work, but it shows we're serious about our goals and purpose. It keeps us accountable to you—in the way we work, and the way we believe every business should operate.
Now undergoing the reaccreditation process, earlier this year Sharesies published a blog outlining five ways they create impact.
Aside from B-corps being good places to work what message does being B-corp certified send to clients and potential clients?
Back to Andrea :
"Our team is really proud to be part of a role model organisation. 
There are a few benefits to clients. First, we have even more empathy for what we put them through! Second, they will be reassured that we are a high integrity business. Third, it may help future clients in choosing who to work with.
Audrey echoed this, adding :
When I see B Corp associated with a company I trust they are committed to something bigger than just creating revenue for their shareholders, and to creating a 'better' economy, more inclusive and regenerative.
Whether you want to work for one or do business with a B-corp, you can find a listing here
If you are interested in beginning the B-corp journey you can find guidance here
With thanks to Audrey (People's Coffee), Andrea (Catapult) and Brooke (Sharesies) for the time taken to answer questions and share their business journey to being B-corp certified.
Further reading from the Wellington City Libraries Collections
Why Companies Are Becoming B Corporations.
 Kim, Suntae; Karlesky, Matthew J.; Myers, Christopher G.; Schifeling, Todd. Harvard Business Review Digital Articles. 6/17/2016, p2-5. 4p. ,
The article discusses the reasons why companies choose to be Certified B Corporations, which are social enterprises verified by the non-profit organization B Lab that certifies companies in the U.S. based on how they create value for non-shareholding stakeholders.
Available through Database: Business Source Premier (Library registration required)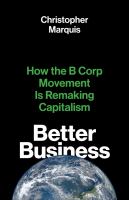 Better Business: How the B Corp Movement Is Remaking Capitalism / Marquis, Christopher
"A compelling look at the B Corp movement and why socially and environmentally responsible companies are vital for everyone's future A Businesses have a big role to play in a capitalist society." (Catalogue)
And now for the good news… : to the future with love / Wax, Ruby
"We know the stars, and have tamed most species that have crossed our paths; we've roamed the world over and travelled to Space; we've mastered industrialisation then created technology that our grandparents couldn't have dreamt of. So, what's next? Ruby Wax builds on her exploration on forgiveness to demonstrate that the next great barrier to progress is compassion. And Now for the Good News teaches us essential tools for making the most out of the relationships in our loves and protect our hearts and mind amidst the madness of hashtags and 24-hour news cycles. Introducing a new mindfulness practice (tuning into the body), Wax creates a call to arms to living more intuitive lives. Drawing on how education, businesses, technology can use kindness to reform and better themselves as well as the purpose of kindness, this book will investigate why greater compassion is our one-way ticket to a better future." (Catalogue)
Let my people go surfing : the education of a reluctant businessman / Chouinard, Yvon
"Patagonia, Inc. is one of the earth's most interesting and inspiring companies. For almost forty years, its reputation for high quality, maverick innovation, and long-term environmental responsibility has put it in a class by itself. And everything flows from Patagonia's founder, Yvon Chouinard, whose creation myth is now an American business legend. Here, Yvon Chouinard relates his and his company's story and the core philosophies that have sustained Patagonia, Inc. year in and year out. This is not another story of a successful businessman who manages on the side to do great good and have grand adventures; it's the story of a man who brought doing good and having grand adventures into the heart of his business model–and who enjoyed even more business success as a result.–From publisher description." (Catalogue)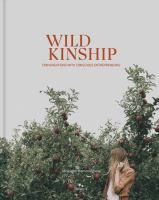 Wild kinship : conversations with conscious entrepreneurs / Hemmingson, Monique
"Wild Kinship is a frank yet inspiring, intimate collection of conversations with the best in conscious small business"–Back cover." (Catalogue)
The green grocer : one man's manifesto for corporate activism / Walker, Richard
"An intelligent, inspiring book about the author's quest to find purpose with profit for his company, helping readers with businesses of all sizes to see the value of ethical policies and "doing it right". Learn how to green your business from one of the UK's leading corporate activists. Can you reverse climate change and promote social justice while generating a profit? Richard Walker shows you how it's both possible and essential. Walker runs a £4bn privately owned family business that is affecting real change in the most unlikely but critical sector: the supermarket. From removing plastic from their own label to eradicating palm oil from products, his quest is to find purpose with profit for his business. In this intimate, challenging, and encouraging book, he explains how you too can make genuine progress on sustainable initiatives while being realistic about profit margins, and obligations to customers and employees. The Green Grocer offers clear-sighted experience and inspiration for any business, whether a large corporation, a kitchen-table start-up, or a sole trader, to make a difference." (Catalogue)
If you need more information please contact the Prosearch team at the library. We can help you find information across a range of perspectives and resources. All enquiries are treated in confidence.