Sometimes the best way to demonstrate or promote a business service is to do it by video.
This can then be shared with customers and prospective customers via online platforms.
Depending on what your business does, or the message it wants promote, one way to do this is using YouTube.

This article How To Create A Business YouTube Channel takes "… an in-depth look at all the steps involved with how to create a YouTube channel for your business".

But first, consider what the story is that you want to tell.
Like, comment, share, buy : the beginner's guide to marketing your business with video storytelling / Creek, Jonathan
"Unlocks the secret of making your own videos that will go viral, with content you can write yourself and video you can film easily with your smartphone. In this interactive, activity-based book, learn how to master and apply the art of viral videos." (Catalogue)
Then consider where and how to make your video.  Why not consider using the Wellington City Libraries recording studio at the Hive, Johnsonville?
Here at Tūhura HIVE, we have contructed a studio for you to come in and record and edit your musical and video creations. We used the philosophy of 'Your best home setup', so everything you do in the studio you can conceivably do at home. The studio is free for the first two hours of usage, then is $19p/hr after that.  Bookings are essential.
Bookings can be made by emailing the address provided in the link above or by calling 04 801 3004. Please provide your name, and preferred date and time.
And lastly, with your video made and edited, you need to learn how to market it and turn that video into business. 
YouTube marketing power : how to use video to find more prospects, launch your products, and reach a massive audience / Miles, Jason
"Grab Your share of YouTube's Billions of daily viewers. YouTube is one of the world's most popular website which makes it one of the best marketing tools on the planet. Jason G. Miles, the author of Pinterest Power and Instagram Power, shows you how to get up and running on YouTube and offers best practices for using itto drive traffic to websites to increase sales. YouTube Marketing Power provides expert tips on how to design a powerful YouTube strategy. Learn how to: Make great videos quickly and easily; Build brand loyalty with powerful videos; Drive traffic and revenue to your existing business; Advertise on YouTube; and Monetize your YouTube work. This fast-paced but highly detailed guide reveals why companies frequently fail at YouTube marketing and how you can succeed by avoiding the same mistakes. YouTube Marketing Power is the only guide you need to take full advantage of today's most powerful and inexpensive marketing tools." (Catalogue)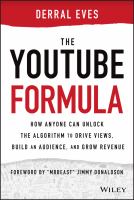 The YouTube formula : how anyone can unlock the algorithm to drive views, build an audience, and grow revenue / Eves, Derral
"This book will provide everything a YouTube creator needs to optimize their content strategy, including in-depth, applicable strategies for how to launch a channel, drive massive view and subscriber growth, build a brand and increase engagement, improve searchability, and drive commerce through YouTube. This book will explain things about YouTube's algorithms that haven't been taught in any other book about the platform, and it will be done in an easy-to-follow format. It will have case studies and real answers from creators and businesses who are getting the results that every YouTube creator wants. It will take readers through the successful content creation process and how to follow-through and follow-up for best results"– Provided by publisher." (Catalogue)
YouTube channels / Ciampa, Rob
"You too can be on YouTube. With two billion monthly users, YouTube is the place you want to be to promote your business or attract an audience for your talents. This quartet of YouTube content and marketing experts shows you how to launch a channel, create quality videos, develop your audience, and interact with your viewers. You'll discover how to build a business around your channel or how to add a YouTube channel to existing marketing plans"–Page 4 of cover." (Catalogue)
Of course, there are other social media platforms on which to host video.  These will be covered in future posts.  In the mean time though if you need more information please contact the Prosearch team at the library.  We can help you find information across a range of perspectives and resources.  All enquiries are treated in confidence.