Today marks the start of National gardening week, an event that "aims to foster a love of gardening with a focus on growing not only plants but friendships, good health, strong communities and closer connections with nature".
With the theme of Grow to give, this year gardeners are being encouraged to grow some extra to share with neighbours, community pantries, food banks and other local food donation agencies. A list of organisations that accept surplus garden produce can be found here.

If you don't have space but are keen to do some hands on gardening check out Wellington City Council's info on Community gardens.

If there's no community garden space in your area and you want to set one up check out this e-book from the WCL collection

Start a community food garden : the essential handbook / Joy, LaManda
"LaManda Joy, the founder of Chicago's Peterson Garden Project and a board member of the American Community Gardening Association, has worked in the community gardening trenches for years and brings her knowledge to the wider world in Start a Community Food Garden. This hardworking guide covers every step of the process: fundraising, community organizing, site sourcing, garden design and planning, finding and managing volunteers, and managing the garden through all four seasons. A section dedicated to the basics of growing was designed to be used by community garden leaders as an educational tool for teaching new members how to successfully garden." (Catalogue)

If you do have land and are keen to take vege gardening  to a higher level, perhaps even making a living from growing, then the library has plenty of informative and inspirational resources to help.


The no-till organic vegetable farm : how to start and run a profitable market garden that builds health in soil, crops, and communities / Mays, Daniel
"Author Daniel Mays outlines the environmental, social, and economic benefits of the no-till farming method"– Provided by publisher." (Catalogue)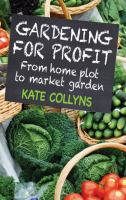 Gardening for Profit / Collyns, Kate
"More and more of us are discovering the rewards of growing our own food – and there's plenty of advice to be found on how to do so. But what about producing enough to sell, or even trying to make a living in this way?This book is for anyone who is interested in selling some produce for profit – whether just surplus from a vegetable garden or wholesale from a fully developed professional business. It takes you step by step through all the aspects you'll need to think about, including: finding land; winning customers and marketing your produce; working out what equipment you'll need (and how much to budget for); sourcing funding; deciding which crops to grow; managing your accounts – and doing the tax and legal paperwork.With an extensive directory of invaluable contacts and resources, Gardening for Profit is packed with solid, first-hand advice. It provides all the reassurance you might need that earning an income from horticulture is perfectly possible." (Catalogue)
Microfarming for profit : from garden to glory / DeWitt, Dave
"This guide gives prospective microfarmers the dirt on realistic essentials for turning a garden into a money-making enterprise. The author advises on such basics as business plans and sales techniques; profiles a range of actual working microfarms, from flowers to killer bees; and relates stories from his own microfarming." (Catalogue)
The abundant garden : a practical guide to growing a regenerative home garden / Kay, Niva
"Niva and Yotam Kay of Pakaraka Permaculture, on the Coromandel Peninsula of Aotearoa New Zealand, share their long experience in organic gardening in this comprehensive book on how to create and maintain a productive and regenerative vegetable garden. They work with nature, enhancing the soil life and fertility, and providing plants with what they need to thrive. This is grounded in the latest scientific research on soil health, ecological and regenerative practices. Vegetable gardening, in this way, repeatedly demonstrates that every loved garden bed can produce high-yielding, resilient, nourishing and delicious vegetables year after year. The Abundant Garden has simple, reliable strategies and techniques to help maximise your ability to feed yourself and share the abundance with those around you. With information on growing a wide variety of vegetables, there are also helpful charts to help you plan and plant your garden year-round. In addition there are details on how to grow microgreens and great recipes for ferments, preserves and pickles you can stock the pantry with your garden's bounty." (Catalogue)
Online resources include Beamafilm's  New Zealand Permaculture Series  while Kanopy offers 24 episodes on the Science of gardening as part of the Great courses series.  Both these are available with a current library registration card.

There are also plenty of magazines available offering both practical advice and pictorial inspiration.  Libby has over 70 gardening and lifestyle titles available while Press reader offers NZ gardener and other titles under the Home and garden heading.  Both these resources require log in with a current library card.

So get gardening.  You'll be growing your own fresh food with surplus to share.  You may even find you have a side hustle going on or even a change of career direction.

If you need more information please contact the Prosearch team at the library. We can help you find information across a range of perspectives and resources. All enquiries are treated in confidence.