Fail more : embrace, learn, and adapt to failure as a way to success / Wooditch, Bill
"The business professional's guide to building success out of failure
Learning from our mistakes is the only way to make sure we don't make the same ones twice. But what if you could use every failure–large and small–to actually create a successful business, career, and life?
You can.
Fail More provides the knowledge, insight, and tools to do just that. This one-of-a-kind guide teaches you how to take active, strategic measures to turn the sting of failure into the reward of growth. It reveals the setbacks that are both inevitable and valuable, and it delivers practical ways of quickly moving past self-judgment and -recrimination to:
-Create large and small goals-Establish milestones for achieving them-Analyze data to determine what worked and what didn't-Make the necessary corrections to your method-Determine what you need and adjust accordingly-Evaluate your actions-Assess your progress while refining your game plan-Use failing as a core tool for motivation
By embracing failure, not just "getting past it," you will fly past your competition, whether you're building a startup, advancing in your career, or improving your personal life.
The most underrated tool for success is failure. Now, you have a pragmatic program for turning failure today into profits and growth tomorrow." (Catalogue)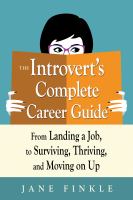 The introvert's complete career guide : from landing a job, to surviving, thriving, and moving on up / Finkle, Jane
What do Elon Musk, Warren Buffet, Marissa Mayer, and Bill Gates all have in common outside of being wildly successful? They are all introverts. In today's fast-paced, unstable workplace achieving success requires speaking up, promoting oneself and one's ideas, and taking initiative. Extroverts, fearless in tooting their own horns, naturally thrive in this environment, but introverts often stumble. If you question your ability to perform and succeed in this extroverted work culture,
The Introvert's Complete Career Guide
is custom fit for you. In this supportive, all-inclusive handbook, Jane Finkle demonstrates how to use your introverted qualities to their best advantage, then add a sprinkling of extroverted skills to round out a forceful combination for ultimate career success. Finkle shares the keys to navigating each stage of professional development–from self-assessment and job searching, to survival in a new position and career advancement. In
The Introvert's Complete Career Guide
you will learn to:
Build confidence by evaluating your values, personality style, interests, and achievements
Write the story of your career in resume and LinkedIn formats
Use social media at your own comfort level to promote your career and expand your network
Express yourself clearly and confidently in network meetings, interviews, and workplace situations
Build strong professional relationships with colleagues and senior leaders
Overcome fears that prevent you from embracing new challenges
Equally applicable to the real or virtual workplace, The Introvert's Complete Career Guide provides strategies, tools, and success stories that win you the professional respect and recognition you deserve. (Catalogue)
The everyday leader : how to motivate, empower and influence those around you / Cross, John
"Every day, every one of us is a leader in some way – we just don't necessarily know it. Leadership is about inspiring change and movement, whether on an individual level – a person's attitude, behaviour, emotions or habits – or an organizational level – culture, goals, vision or strategy. By changing the way you approach the concept of leadership, The Everyday Leader will help you recognise and embrace your natural leadership qualities, so that you can be more motivated and empowered in the workplace and at home. The Everyday Leader tackles the main challenges that leaders face at some point in their career: leading teams; attaining buy-in from stakeholders; leading through artificial intelligence; whistleblowing; and leading from a distance. But the book also addresses the leadership issues that occur in day-to-day life: listening and empathising; making change attractive and accessible; influencing and persuading; and making the right decision through information overload. Providing advice and tools for those looking to polish their existing leadership skills or anyone who wants to take the next step in their career, The Everyday Leader also recognises that leadership doesn't stop once you clock off – these are lessons you can and should take home with you." (Catalogue)
Break Through The Noise: The Nine Rules To Capture Global Attention [hardback] / Staples / Young
Anyone can make videos these days, but how many people can ensure their videos go viral and reach millions? This book shows marketing execs, entrepreneurs and celebrity wannabes how to do just that with a set of easy-to-follow rules from the founder and CEO of Shareability. The odds of getting a video onto YouTube's front page are 1-in-2,000,0000, but Tim Staples, founder and CEO of Shareability, knows how to make the algorithms of Youtube, Google, Facebook and Instagram work for you – and he has the results to prove it, with a thriving business that has gotten their videos onto YouTube's front page an amazing 25 times. Here he shows savvy marketers, entrepreneurs, and online celebrity wannabes how they, too, can develop clever videos that amass millions of views. Staples outlines a nine-step approach that anyone can use to launch their product or service without having to invest a fortune. Case studies featured in the book include how Shareability launched ROC Headphones, a multi-million dollar global brand, with a viral video of Cristiano Ronaldo in disguise without spending a nickel on traditional advertising; how they used babies to create the most successful social video ever about the Olympic Games; how they propelled a small pet food company from obscurity to an IPO on the power of two viral videos; and how they helped Cricket Wireless become the most shared brand in the wireless space beating telco powerhouses like Verizon, AT&T and Sprint." (Catalogue)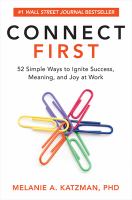 Connect first : 52 simple ways to ignite success, meaning, and joy at work / Katzman, Melanie
"The key to greater success, meaning, and joy at work? Connect First
Thanks to technology, the human race has never been more interconnected than it is today. So why do so many employees feel isolated and unappreciated? The quest for meaning is great but the misery quotient at work is high. What can leaders do to retain talent and reinvigorate teams to flourish in these rapidly changing, challenging times? How do we–YOU–develop the intuition, self-awareness, and interpersonal agility required to prosper in this new era? It's simple. Connect First, a refreshingly human approach to forging strong relationships for lasting professional success. It's an approach that promises to energize you, turbocharge your team, and transform the world around you.
Business psychologist, advisor, and consultant to organizations across six continents, Dr. Melanie Katzman provides 52 proven ways to ignite productivity and to create a deeply rewarding work life by connecting to yourself, your organization, and the wider world. Readers will discover the outsized effect of small behavioral changes that will reduce the sense of loneliness and frustration at work and help them establish respect, grow loyalty, resolve conflict, fight fear, and make a real, lasting impact on others. Most of these tactics take less than five minutes (in some cases, just a few seconds) and cost little to no money. These are the same techniques Dr. Katzman has used with leaders and employees at the world's top companies to connect first as fellow humans, then as coworkers and colleagues, to build the powerful foundation essential to achieve success, create meaning, and find joy at work." (Catalogue)
The project book : the complete guide to consistently delivering great projects / Ellis, Colin D.
"Deliver great projects every time Projects are the lifeblood of organisations, but many projects fall short of expectations because of poor project management and/or poor project sponsorship. In The Project Book, author and 20-year project management and sponsorship veteran Colin D Ellis teaches you the skills and behaviours required to make your projects succeed, every time. The best projects, whether they are delivered in an agile or waterfall way, are a result of the people that lead them and the environment they create. This fail-safe and comprehensive handbook shows you how to develop the mindset and communication skills to create projects that leave a legacy for you, your team and your organisation. Project leaders and senior managers in all business and technical disciplines will benefit from the insightful guidance this book offers and better project outcomes will result. Split into two parts, individually addressing Project Leaders and Project Sponsors, this book guides large project facilitators to understand the importance of people over processes.
become a project leader that people trust
build a team culture of collaboration, agility and creativity
upskill executives so that they're catalysts for transformation
develop the organisational discipline needed for successful projects
create a mature environment for your projects to thrive
Engaging, informative and humorous, The Project Book will help project managers, project sponsors, scrum masters and product owners across all organisations to deliver successful projects in a way that customers will talk about for years." (Catalogue)