Creative trespassing : how to put the spark and joy back into your work and life / Katan, Tania
"Creative disruptor, inspirational speaker and co-creator of the internationally viral campaign #ItWasNeverADress shows you how to sneak more creativity and imagination into your work and life.
"You don't have to turn into a corporate drone to kick ass in the working world," says Tania Katan. After more than ten years of smuggling creativity into the business sector without getting busted, Katan is here to tell you that any task or pursuit can be a creative one. You just need to be willing to defy conformity, and be ready to conjure imagination anywhere, at any time. If you're feeling stuck in a dullsville job, a windowless cubicle, or an ill-fitting polyester work shirt, chin up! Katan has been there too, and she's lived to tell the story. How? By choosing to stand out rather than fit in, to find her light and bask in it with all of her quirks and flaws. "The moment you choose to let the world see the real you–messy, imperfect, warts and all", she says "is the moment you choose to shine too." Whether you're an entrepreneur seeking new ways to innovate, a newbie trying to spice up routine entry-level work, a free spirit with a rich creative life outside the office looking to bring more of that magic into your job, or just someone who occasionally feels the urge to scream, Katan will show you how to transform monotony into novelty and get your freakin' spark back between the hours of nine and five. …this book is a rollicking, uninhibited guide to using creativity as fuel for a freer and more awesome life. As Katan puts it, "This book is an invitation to find inspiration where others see only limitations, because when we believe that logic and limits are subject to change, the world is full of possibilities" (Catalogue)
Career leap : how to reinvent and liberate your career / Gibbings, Michelle
"Adapt you career to the shifting paradigm of work, employment and success The word career doesn t mean what it used to. Adapt you career to the shifting paradigm of work, employment and success The word "career" doesn't mean what it used to. People entering the workforce today will have an estimated 17 employers and five careers in their lifetimes — and already many existing roles are being automated away, with many more to follow. No profession, industry or geography is immune, and employees need to change their idea of what it means to be employed. The rise of freelancing and the gig economy means flexibility and independence, but also less security — with trends showing it is the way of the future. You cannot future-proof your job, but you can future-proof your career. Career Leap shows you what you need to know, how you need to change and how you can prepare for the inevitable tides of change. This book sheds light on the choices you make, and the steps you can take to reignite, reshape and liberate your career. You'll develop the confidence you need to take decisive action, sharpen your skills and become the agile, adaptive professional we will all need to be. The 10-step Career Reinvention Cycle helps you assess the status quo and determine where you need to go, and then gives you a solid framework for making a move when the time is right.
Future-proof your career with the new laws for success
Undertake a health check of your career and make deliberate career choices
Design, build, and execute your influence and career strategy
Be equipped to take control and leap ahead with your career.
No matter your role, it is imperative that you make every day in your career count. Make the critical decisions, take clear actions and, above all, stay ahead of the pack. Career Leap gives you the insight, confidence and knowledge you need to move up as you leap forward." (Catalogue)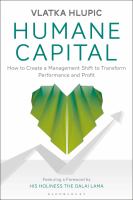 Humane capital : how to create a management shift to transform performance and profit / Hlupic, Vlatka
"How to humanize an organization for sustainable success, featuring insights from 50 leading thinkers and practitioners from around the world. Despite decades of research illustrating the benefits of enlightened leadership, the high-performance workplace is still not the norm. Vlatka Hlupic has spent 20 years investigating this paradox, and in this book she forms a penetrating critique of why such strong evidence has had limited impact, and provides an alternative practical approach that any employer can implement to overcome these challenges. Humane Capital brings together management wisdom and shows how successful leaders have moved their organizations from controlled and orderly to enthusiastic and collaborative. Supported by insights from 50 of the leading thinkers and practitioners in the field, the book guides readers through the arguments for a radical reassessment of current business models, and the successful stories of employers from the private and public sectors who have made the transition. There is a clear correlation between those companies that are 'good' and those that do well–"good" meaning an organization that works with stakeholders, employees, society and customers. The book illustrates what steps need to be taken by managers and leaders in order to create a good, humane organization and achieve a high-performance workplace and sustainable success." (Catalogue)
The alter ego effect : the power of secret identities to transform your life / Herman, Todd
"A top performance expert reveals the secret behind many top athletes and executives: creating a heroic alter ego to activate when the chips are down.There's only one person in the way of you untapping your potential: You. There's also one person who can move you out of the way so you can perform at your peak. That person is already inside you. You just need to unlock them. This other part of you is your Alter Ego. After twenty-one years of working with elite athletes, performers and leaders, Todd Herman has discovered how you can use your alter ego to achieve the seemingly impossible. The Alter Ego Effect is not about creating a false mask-it's about finding the hero already inside you. It's a proven way of overcoming the self-doubt, negativity, and insecurity that hold you back, and empowering you to ultimately become your best self. A top performance expert reveals the secret behind many top athletes and executives: creating a heroic alter ego to activate when the chips are down. There's only one person in the way of you untapping your potential: You. There's also one person who can move you out of the way so you can perform at your peak. That person is already inside you. You just need to unlock them. (Catalogue)
Productivity hacks : 500+ easy ways to accomplish more at work–that actually work! / Price, Emily
"Improve your productivity, increase focus, and enhance your organizational and time management skills with these 500+ easy tips and tricks for getting more stuff done. We all know about Post-It notes and to-do lists–and now, with this handy guide you can take productivity to the next level Learn to use technology to your advantage, schedule your time wisely, and organize your materials for maximum efficiency. Some of Productivity Hacks's easy-to-implement tips include utilizing "do not disturb" features on your phone and computer to avoid distractions, scheduling a specific time to check your email instead of shifting focus again and again, and creating templates for your most-used email responses so you don't need to do the same work twice–and many more From accomplishing more in the workplace to maintaining a healthy work-life balance, these tips will help hone your focus and time management skills in simple, manageable steps. You'll be amazed how much more you can achieve over the course of a day" (Catalogue)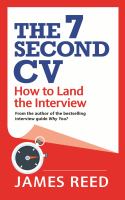 The 7-second CV : how to land the interview / Reed, James
"It takes an employer just seven seconds to save or reject a job applicant's CV. In this book the chairman of Britain's largest recruitment company offers invaluable and specific advice on what employers want to see in the CVs they receive and how you can stand out from the crowd. Unlike other career development books, the honest advice presented here has been compiled from one-to-one interviews, surveys and workshops across a network of recruitment consultants. This book is an accessible and enjoyable read, intensely practical and packed with pull-out quotes, layout examples and tips. Find out what future employers are looking for and take the first step to start loving Mondays again." (Catalogue)