The Dux, the Photographer and the Principal
---
Schools are a focal point for the history of communities — the past and present are bound together by the educational institutions that transmit knowledge between generations. Schools often play important and formative roles in historical movements and in the lives of important New Zealanders. Wellington Girls' College (known as Wellington Girls' High School until 1905) is one such hub of activity in our Wellington community.
In the late 19th century, a number of individuals connected with Wellington Girls' College signed the 1893 suffrage petition, which directly preceded women gaining the vote in New Zealand. Three of these women are profiled below in this article. Their passion for their chosen vocation, their skill and influence on those around them is plain to see. With Suffrage Day on September 19th it is crucial to remember those women and the taonga of life stories.
Maria Elsie Allman Marchant
Above is a studio group portrait of Form VI, Wellington Girls College. Back row standing: Ada F Carrol. Amy Meek. Ethel Maud Wilson. Mary Grubb. Jessie Nairn. Seated from left: Margaret Paterone. Harriet Day. Ella Marchant. Georgina Stack. Photographed by Connolly and Herrmann (Wellington) in 1887.
Maria Elsie Allman Marchant, known as Ella, was a talented and extremely capable pupil of Wellington Girls College. In 1887, she became the dux of her school. Just a few years later, Marchant returned to Wellington Girls College as a teacher whilst also studying extramurally towards a BA and an MA from Canterbury University. In 1893, an 'E A. Marchant' signed the suffrage petition, making clear her commitment to extending suffrage to all New Zealanders.
Marchant went onto become the Principal of Otago Girls' High School where she took an independent and insightful approach on a range of issues (which sometimes brought her into conflict with the board of governors).[1] She had a strong conviction to do the best for her girls. On Saturday nights, the boarders would gather at Marchant's home to read from her well stocked bookshelf — they especially enjoyed her copies of Charles Dickens.[2] Her untimely death in 1917 curtailed her plans to establish a religious teaching order in Dunedin. The Evening Post noted that Marchant was "an eloquent speaker, and from her wide experience and knowledge often charmed and delighted audiences."[3]
Louisa Marion Herrmann
In the photograph of Marchant above, it is important to note not just the individuals present, but also the photography business involved in the image.  Louisa Marion Herrmann arrived from the UK in New Zealand aboard the Piako in 1880.  Louisa worked in Wellington as an assistant for Herrmann photography studio on Lambton Quay.[4] She went onto marry Richard Herrmann, one of her employers. After his death in 1892, she took sole charge of the business, and for 16 years she ran the photographic studio, now based on Cuba Street, and employed many workers. Herrmann's business was described as "the most up-to-date and complete studio in the colonies."[5]
During this time, Herrmann became an advocate for suffrage by signing the 1893 petition. On her retirement, Herrmann offered for sale 35,000 photographic negatives of New Zealanders. Tragically, we no longer know where these are — at least for now, these images, and their stories, are lost.[6]  As Te Papa staffer Lissa Mitchell recently noted, "it is a sad reflection on New Zealand's historical record that Louisa's story of self-determination and resilience and her photographic work have been lost, and a strong reminder of the need to keep including the work and stories of women in our histories."
Mary Jane McLean
Mary Jane McLean was one of New Zealand's most significant educationists. Especially later in life, she was a prominent advocate for women's rights. She signed the 1893 petition and went onto become Principal of Wellington Girls' College in 1900.
McLean was an experienced teacher, but she had to face tough international competition to attain her role. She immediately took an independent approach, making her mark on the school, where her legacies continue to this day. McLean directed Wellington Girls' College as it expanded from a small school for a wealthy elite into a modern institution with a roll of 850. As the roll swelled, McLean helped establish Wellington East Girls' College in 1926.
In 1929, after her retirement from education, McLean founded the Women's Social Progress Movement which campaigned for women's representation and provided aid and relief during the Depression in the early 1930s. McLean demonstrated a lifelong passionate commitment to improving the position of women, and Wellington remained McLean's home till she passed away in 1946. Today, the year 13 Wellington Girls' College prize for first in physical education is named after McLean.[7]
Marchant, Herrmann and McLean are just three of the signatories to the 1893 petition. All in all, thirteen separate petitions carried the signatures of 31,872 women. On the 19th of September, let's celebrate all of those women with their unique lives, impressive achievements and their lasting influences upon us today.
Come along to Suffrage Day celebrations
We'll be celebrating Suffrage Day at the Central Library on the 19th September. Come along and help us celebrate!
Library Planned activities
From 10am-2pm, you can:
Have fun experiencing the times with our photo booth
Try your hand at making a celebration camellia or badge
Write some messages about what being able to vote means to you
Watch a historical film (screenings are on the 1st floor)
Electoral Commission staff will also be with us from 12-2pm help you register for the electoral roll and answer any questions you have about voting in the present day!
Find out more about our celebrations
Kate Sheppard Ride
Another event happening in the city, is the Kate Sheppard Ride — see details below from the organisers:
Dress to impress and get your wheels spinning by joining us at 1.30pm on Saturday, 22 September 2018 (wet weather day will be the next day) at Old St Paul's in Mulgrave Street. The Suffrage 125 bicycle ride will take you through the streets of old Thorndon and Wellington's CBD.
Date: Saturday, 22 September, 2018
Time: 1:30pm to 4:30pm
Cost: 1 x Kate Sheppard $10 note
Location: Old St Paul's, 34 Mulgrave Street, Thorndon ,Wellington
Learn more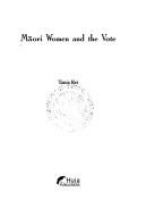 Maori women and the vote / Rei, Tania
"In the last decade of the nineteenth century, Māori women were involved in two suffrage movements at the same time. Māori women supported the Women's Christian Temperance Union (WCTU) in seeking the right to vote for members of the New Zealand House of Representatives, and they also sought the right to vote and to stand as members of the Māori Parliament – Te Kotahitanga. By the turn of the century both these goals had been achieved. Their involvement in the suffrage movements was a significant development in the story of Māori women and the ways in which they organised at a national level to deal with issues of importance to them and their communities." (Summary from the Royal Society – Te Apārangi)
The Women's Suffrage Petition = Te Petihana Whakamana Pōti Wahine, 1893.
"In May 2017 the exhibition He Tohu opened at the National Library in Wellington. This celebrates three founding documents in New Zealand's history – He Whakaputanga: The Declaration of Independence (1835), the Treaty of Waitangi: Te Tiriti o Waitangi (1840) and the Women's Suffrage Petition (1893). The originals of these documents are on display at the National Library, in a wonderful exhibition that tells the history of the times and the story of the documents themselves." (Library Catalogue)
Women's suffrage in New Zealand / Grimshaw, Patricia
"First published in 1972, Patricia Grimshaw's account of the New Zealand suffrage movement remains the definitive study of New Zealand's radical role as the first country in the world to give women the vote. In clear, lively prose, this revised edition tells the fascinating story of the courage and determination early New Zealand feminists demonstrated, focusing particularly on the remarkable leadership of Kate Sheppard, whose ideas remain relevant today." (Catalogue)
References
---
DEATH OF A WELL-KNOWN TEACHER, Evening Post, Volume XCVIII, Issue 119, 17 November 1919
'L M Herrmann', (Ministry for Culture and Heritage), updated 14-Aug-2018
Lissa Mitchell, 'Inspiring stories about NZ women photographers – Louisa Herrmann (1864-1955)' Te Papa blog
Lissa Mitchell, 'Inspiring stories about NZ women photographers – Louisa Herrmann (1864-1955)' Te Papa blog
Information courtesy of Wellington Girls' College Library
Special thanks to Ann Reweti for the blog concept and the research notes that she compiled.