The graphic novels collection has some great new and classic reprints appearing on the shelves. The complete collection of the cyberpunk manga classic Battle Angel Alita contrasts the gritty Japanese world of Tado Tsuge in Slum Wolf. Young warriors also feature in Wood and Chater's Sword daughter, where brutality brings a father and daughter to gritty resolve.  
More translated work features the talented French graphic novelist Edmond Baudoin's childhood, in his visually eclectic memoir named for his brother, Piero. Also translated from French is Watersnakes by Tony Sandoval. This beautifully illustrated tale is a dark fantasy of female warriors magically residing in the teeth of a beautiful ghost who bewitches a young bored holiday maker, it gets weirder, with dream battles with skeletal wolves and an ancient octopus king. But beautiful! So beautiful!
A twist on Fables, the emotional journey in Wolf, and all the back story you could wish for in the first installation of Dirk Gently's the Salmon of doubt round off this selection of our new adult comics.
Slum wolf / Tsuge, Tadao
"A gritty collection of graphic short stories by a Japanese manga master depicting life on the streets among punks, gangsters, and vagrants. Though virtually unknown in the United States, Tadao Tsuge is one of the original masters of alternative manga, and one of the world's great artists of the down-and-out. Never before available in English, this new selection of his stories from the late sixties and the seventies depicts the lives of punks, vagrants, gangsters, and other lost souls with gritty lyricism. It is a raucous, exhilarating vision of street brawls and dive bars, shantytowns and brothels, and an unsettling portrait of postwar Japan" (Catalogue)
Sword Daughter. Volume 1, She brightly burns / Wood, Brian
"A father and daughter seek revenge against the ruthless Vikings that destroyed their lives, discovering that their fierce purpose can mend the bonds of family. One thousand years ago, a murderous clan known as the Forty Swords burned a village to the ground, leaving just two people alive: a shattered father and his teenage daughter. Setting off on a revenge quest that will span the width of Viking Age Europe, they find the key to repairing their damaged relationship lies in the swords they carry. Sword Daughter is a visually stunning, emotionally poignant story of parental guilt and acceptance of loss." (Catalogue)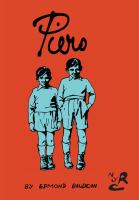 Piero / Baudoin, Edmond
"This English translation of Edmond Baudoin's most intimate and inviting book, his graphic memoir of growing up with his beloved brother, Piero.  They confront Martians, battle octopuses, stage epic battles between medieval castles, and fly high over the earth. Inevitably, they begin to grow apart, and their shared artistic life is replaced by schoolwork, romance, dances, motorcycles, and the struggle to decide what sort of people they want to be." (Adapted from Catalogue)
Battle Angel Alita. Deluxe edition, volume 1 / Kishiro, Yukito
In a dump in the lawless settlement of Scrapyard, far beneath the mysterious space city of Zalem, disgraced cyber-doctor Daisuke Ido makes a strange find: the detached head of a cyborg woman who has lost all her memories. He names her Alita and equips her with a powerful new body, the Berserker. While Alita remembers no details of her former life, a moment of desperation reawakens in her nerves the legendary school of martial arts known as Panzer Kunst. (Adapted from Amazon.com)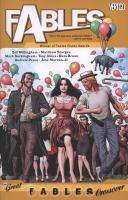 Fables [13] : the great Fables crossover / Willingham, Bill
"The Great Fables Crossover features appearances from Fables favorites such as Snow White, Bigby Wolf, Rose Red, Jack Frost, Beauty and The Beast. All nine issues of the long awaited crossover between Vertigo's two popular series Fables and Jack of Fables are collected here." (Adapted from Catalogue)
Watersnakes / Sandoval, Tony
"Three-time Eisner Award-nominated writer/artist Tony Sandoval presents a wondrous world of secret places and dreamlike magic hidden in the everyday corners of our sleeping imagination. Mila is a solitary teenager ready to put another boring summer vacation behind her until she meets Agnes, an adventurous girl who turns out to be a ghost. And not just a regular ghost, but one carrying the essence of an ancient fallen king and a mouth full of teeth that used to be his guardian warriors." (Catalogue)
Dirk Gently's Holistic Detective Agency : the salmon of doubt. Volume 1 / David, Arvind Ethan
"Dirk Gently, created by Douglas Adams and currently the star of his own television series from BBC America returns to comics in The Salmon of Doubt, brought to you by executive producers of the show Arvind Ethan David and Max Landis with artist Ilias Kyriazis. Plagued by nightmares about a childhood he never had, Dirk returns to Cambridge University to seek the advice of his former tutor, the time-traveling Professor Reg Chronotis. There he discovers that an holistic detective can have more than one past, and his adventures have only just begun!" (Catalogue)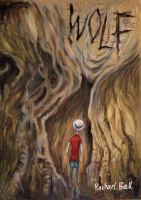 Wolf / Ball, Rachael
"Hugo, the youngest child of three, is walking with his father in the woods. There, he comes face-to-face with a wolf–and from that moment on, his life will never be the same again. Soon after, a tragic accident leaves Hugo desolate and disoriented. The family, now grieving and incomplete, moves to a new home. Among Hugo's new neighbors is the Wolf Man, a dangerous recluse, according to the boy next door. Spellbound by the movie The Time Machine and desperate to return to the days before the accident, Hugo draws up plans to build a contraption that will turn back time. But only the Wolf Man has the parts Hugo needs to complete his machine, and that will mean entering his sinister neighbor's house. Beautifully illustrated in pencil, Wolf is a captivating and poignant graphic novel about confronting childhood grief and overcoming the loss of a loved one." (Catalogue)