As we embrace the peak of the winter season, you may find yourselves holed up at home longer than usual and in search of something cozy. Why not celebrate this glorious hibernation mood by snuggling up with a comfy duvet on your couch, sipping a newly brewed vanilla chai tea and crafting your day away?
If you find your fingers frozen these winter mornings, we offer you these recently acquired titles to keep you all warm and bundled up to ward off the winter blues. From needle to fabric work, create simple wardrobe embroidery to upcycle your clothes; or alternatively, choose from a combination of 100+ cross stitch patterns of borders, alphabets, and motifs to create a design you want. For some "yarnspiration", there are knitting projects to explore and enjoy that suit every crafters varying skill level – from a simple teacup coaster to a garden of cute Amigurumi flowers.
Perhaps you are just wanting to settle into a good book and let the day unfold slowly. Embrace the warmth that a good ol' knitted sweater gives, while enjoying Osman Yousefzada's memoir as a child growing up in Birmingham, or learning about the significance of colours in clothing throughout history.
These are just a few of handicraft projects and reads to choose from to keep your creative heart warm!
Wardrobe embroidery : knit & embroidery projects for upcycling clothes / Bolstad, Warunee
"In Wardrobe Embroidery, Warunee Bolstad of @plystreknitwear shows you how to easily breathe new life into your wardrobe by adding embroidery to clothes both old and new. Warunee presents a collection of charming embroidery patterns, ranging from beginner-friendly hearts and daisies to intricate floral arrangements. Use these lovely designs to freshen up worn out blouses and jeans or to personalize plain white t-shirts and boring bags.  From classic crewnecks and cabled cardigans to elegant handbags and cozy neckwarmers, these beautiful and simple designs offer sustainable style for everyday life. "–Amazon (Adapted from Catalogue)
100+ cross stitch patterns to mix and match : motifs and borders, plus 21 alphabets / Greenoff, Jane
"From flowers to cottages, birds and bees to holiday and sampler-style motifs, 100+ Cross Stitch Patterns to Mix and Match is bursting with exciting cross stitch designs to make! It's easy to combine them (Jane teaches you how), and you'll be ready to make a special stitched piece for any occasion. " — Back cover. "With the 100+ motif and border patterns in this book, it's easy to combine them to make your own cross stitch designs. The 21 unique cross stitch alphabets, made to coordinate with the motifs in a variety of styles, allow you to add words to complement your ideas"– Provided by publisher." (Adapted from Catalogue)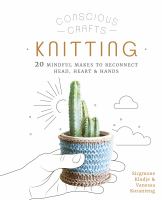 Knitting : 20 mindful makes to reconnect head, heart & hands / Kludje, Sicgmone
"Knitting (Conscious Crafts) is a contemporary craft project book presenting over 20 projects for beginners. In Knitting (Conscious Crafts), co-founders of the Black Girl Knit Club unpick the meditative nature of the knitting process and its empowering skill set for creating, well-being and mindfulness. Making is mindfulness made practical, and knitting is an iconic craft proven to have a therapeutic impact on well-being. Sicgmone Kludje and Vea Koranteng have curated 20 modern makes, ranging from plant pot cosies to throws and snoods, to introduce the basics of knitting. Covering fundamental stitches and techniques including casting on, knit, pearl and moss stitch, Sicgmone and Vea show how these can be adapted for different projects as well as repurposing used textiles into your own upcycled yarn, all whilst embracing the restorative benefits of craft." (Catalogue)
Kawaii crochet garden : 40 super cute amigurumi patterns for plants and more / Bradley, Melissa
"Crochet a garden of kawaii happiness with this super-cute collection of 40 patterns! Cultivate a colorful world of crochet flowers, plants, and garden creatures that are perfect for gifting, and learn the simple crochet techniques needed for everything to come up roses"–Page 4 of cover." (Catalogue)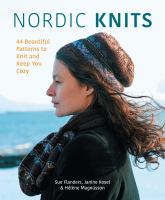 Nordic knits : 44 beautiful patterns to knit and keep you cozy / Flanders, Sue
"Nordic Knits offers 50 authentic, Scandinavian-inspired patterns for hats, mittens, and gloves-including stylish, traditional projects from Sweden, Norway, and Iceland"– Provided by publisher." (Catalogue)
The color of fashion : the story of clothes in ten colors / Young, Caroline
"The Color of Fashion is a stunning coffee table book with fascinating stories of fashion woven throughout history with COLOR. Whether it's mellow yellow, in the pink, feeling blue, or green with envy, COLOR is so entwined with our emotions that there are countless expressions and song lyrics devoted to it. But what meaning does color have in what we wear? What does a green dress convey when worn to a cocktail party, what significance does a white trouser suit have when worn by a female politician, and why does a woman in red command attention?" (Catalogue)
The go-between : a portrait of growing up between different worlds / Yousefzada, Osman
"A coming-of-age story set in Birmingham in the 1980s and 1990s, The Go-Between opens a window into a closed migrant community living in a red-light district on the wrong side of the tracks. The adult world is seen through Osman's eyes as a child: his own devout Pashtun patriarchal community, with its divide between the world of men and women, living cheek-by-jowl with parallel migrant communities. The stories Osman tells, some fantastical and humorous, others melancholy and even harrowing, take us from the Birmingham of Osman's childhood to the banks of the river Kabul and the river Indus, and, eventually, to the London of his teenage years. Osman weaves in and out of these worlds, struggling with the dual burdens of racism and community expectations, as he is forced to realise it is no longer possible to exist in the spaces in between."–Publisher's description." (Adapted from Catalogue)