From physical to mental health, moving your body to filling your belly, protecting from illness or coping with mental conditions, there's something for everyone in our new health books this month.  Take a peek at some of these new books on health that have arrived in our collection!
The power of yoga for men : a beginners guide to building strength, mental clarity and emotional fitness / Packham, Caleb Jude
"This is a guide for guys who are curious about yoga (but think it's just for women) or for those who have done a class years ago and were intimidated by their inflexibility. Now, thanks to this book, they can learn about, and experience, the central healing tenets of yoga, without having to leave their home. " (Adapted from Catalogue)

The long Covid self-help guide : practical ways to manage symptoms
"Written by the medical experts working with Long Covid patients at one of the first specialist clinics set up, it is filled with helpful case studies and was written with the involvement of real Long Covid sufferers. The focus is on self-management with a simple, consistent message about improving symptoms. Each chapter takes a different issue in turn and offers clear, friendly guidance on key areas such as breathlessness, psychological aspects, brain fog, fatigue, returning to exercise and returning to work." (Adapted from catalogue)

The Alzheimer's revolution : an evidence-based lifestyle program to build cognitive resilience and reduce your risk of Alzheimer's disease / Keon, Joseph
"A scientific and evidence-based lifestyle program designed to build cognitive resilience to help reduce the risk and even prevent Alzheimer's disease through 7 key lifestyle factors. The book reveals that over half the Alzheimer's cases today could be prevented by addressing just seven lifestyle factors that are within everyone's ability to control. The Alzheimer's Revolution offers readers a research-based program that can dramatically reduce the risk of this devastating condition." (Adapted from Catalogue)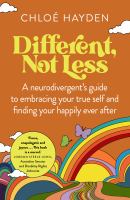 Different, not less : a neurodivergent's guide to embracing your true self and finding your happily ever after / Hayden, Chloe
"Growing up, Chloe Hayden felt like she'd crash-landed on an alien planet where nothing made sense. This is a moving, at times funny story of how it feels to be neurodivergent as well as a practical guide, with advice for living with meltdowns and shutdowns, tips for finding supportive communities and much more. Whether you're neurodivergent or supporting those who are, Different, Not Less will inspire you to create a more inclusive world where everyone feels like they belong." (Adapted from catalogue)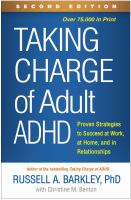 Taking charge of adult ADHD : proven strategies to succeed at work, at home, and in relationships / Barkley, Russell A.
"Preeminent expert Russell A. Barkley explains what ADHD looks like in adults, how to get an accurate evaluation, and how sufferers can manage symptoms and build the life they want. Featuring the latest resources and medication facts, the second edition includes new or expanded discussions of mindfulness, emotional self-control, time management, building a successful career, maintaining a healthy lifestyle, and more." (Adapted from catalogue)

The trans guide to mental health and well-being / Lees, Katy
"This empowering self-help guide provides advice and strategies for trans and/or non-binary people on a range of common mental health issues including anxiety, depression, body image, trauma, suicidal thoughts and dissociation. It provides advice on neutralising negative thoughts, coping with transphobia, coming out, dealing with imposter syndrome, and implementing achievable self-care strategies and mindfulness techniques." (Catalogue)

Concussion / Lipman, Michael
"Concussion has become one of the biggest issues in contact sports. But with the discovery of CTE, or chronic traumatic encephalopathy, in the brains of deceased footballers, it is now known that the onset of a form of dementia, caused by repeated concussions, can strike people as young as their thirties and forties. This is what happened to Michael Lipman, a former rugby international, who came out in public in 2020 as having had a diagnosis of early-onset dementia and probable CTE. In Concussion, Michael and his wife Frankie Lipman tell their story with courage and candour." (Adapted from catalogue)

Good food made simple : healthy recipes to eat well and feel incredible / Itsines, Leah
"Leah Itsines comes from a big Greek family where food is always at the forefront of every gathering. But it's no secret she also lives and breathes healthy eating and a lifestyle that supports wellbeing. How do you combine a love of food with a healthy lifestyle? You make Good Food Made Simple. Good Food Made Simple is your gateway to getting comfortable in the kitchen, being kind to your body and having some fun. Food wasn't meant to be hard" (Adapted from Catalogue)

Feeding littles & beyond : 100 baby-led-weaning-friendly recipes the whole family will love / Maffucci, Ali
"As babies feed themselves, they explore a variety of aromas, shapes, and colors while developing fine motor skills, hand-eye coordination, dexterity, and healthy eating habits. Maffucci, McNamee and Delaware show you how to skip spoon-feeding altogether so babies can eat what the family eats. They'll help you navigate picky eating at all ages, so you can raise intuitive eaters who listen to their bodies and love a variety of food." (Adapted from Catalogue)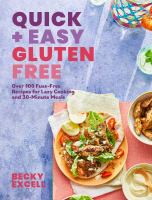 Quick + easy gluten free : over 100 fuss-free recipes for lazy cooking and 30-minutes meals / Excell, Becky
"Quick & Easy Gluten Free will show you just how simple it is to recreate all the foods you miss as well as introduce you to a few new dishes too – but best of all, nothing tastes or looks "gluten-free". Packed with over 100 recipes for everything from 30-minute fakeouts, quick dinners, easy breakfast and lunch dishes to speedy sides, party food, 30-minute sweet treats, classic bakes and simple no-bake desserts, this book instantly brings back the thing that a gluten-free diet takes from us all: convenience." (Addapted from catalogue)

For more new books in our collection, go to our New and Recommended pages on the catalogue.