We are absolutely thrilled to announce that we will be hosting an event with Hannah Parry, in conversation with Casey Lucas-Quaid, to celebrate the launch of her latest novel A Radical Act of Free Magic.
Where? Te Awe Library, 29 Brandon Street
When? Thursday 22nd July at 6pm
The internationally acclaimed and hugely popular H. G. Parry is truly a star of the New Zealand speculative fiction scene. Her first novel, The unlikely escape of Uriah Heep, quickly gained her a devoted fan base with its Wellington setting and magical host of characters. She has since followed up with A declaration of the rights of magicians, and we're looking forward to the forthcoming A radical act of free magic — which advanced reviews have already described as "absolutely superb".
Hannah holds a PhD in English Literature from Victoria University and currently lives in a book-infested flat on the Kapiti Coast, which she shares with her sister and an increasing menagerie of small animals. She lists her hobbies as: books, travelling, history, rabbits, tea, windy days, and Oxford commas (hooray!).
H.G. Parry will be in conversation with fellow science fiction and fantasy author, Casey Lucas-Quaid, winner of the 2020 Sir Julius Vogel Award for Best Short Story (as well as ice hockey reporter, games writer and NaNoWriMo devotee).
It promises to be an entertaining, enlightening, enthralling, and unmissable event, so put it in your calendar and come along!
Browse Hannah's books: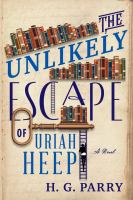 The unlikely escape of Uriah Heep / Parry, H. G.
"For his entire life, Charley Sutherland has concealed a magical ability he can't quite control: he can bring characters from books into the real world. His older brother, Rob – a young lawyer with a normal house, a normal fiancee, and an utterly normal life – hopes that this strange family secret will disappear with disuse, and he will be discharged from his life's duty of protecting Charley and the real world from each other. But then, literary characters start causing trouble in their city, making threats about destroying the world… and for once, it isn't Charley's doing. There's someone else who shares his powers. It's up to Charley and a reluctant Rob to stop them, before these characters tear apart the fabric of reality." (Adapted from Catalogue)
A declaration of the rights of magicians / Parry, H. G.
"A sweeping tale of revolution and wonder in a world not quite like our own. It is the Age of Enlightenment — of new and magical political movements, from the necromancer Robespierre calling for revolution in France to the weather mage Toussaint L'Ouverture leading the slaves of Haiti in their fight for freedom, to the bold new Prime Minister William Pitt weighing the legalization of magic amongst commoners in Britain and abolition throughout its colonies overseas. But amidst all of the upheaval of the early modern world, there is an unknown force inciting all of human civilization into violent conflict. And it will require the combined efforts of revolutionaries, magicians, and abolitionists to unmask this hidden enemy before the whole world falls to darkness and chaos." (Adapted from Catalogue)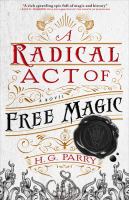 A radical act of free magic : a novel / Parry, H. G.
"The Concord has been broken, and a war of magic engulfs the world. In France, the brilliant young battle-mage Napoleon Bonaparte has summoned a kraken from the depths, and under his command, the Army of the Dead have all but conquered Europe.  In Saint Domingue, Fina watches as Toussaint Louverture navigates these opposing forces to liberate the country.But there is another, even darker war being fought beneath the surface: the first vampire war in hundreds of years. The enemy blood magician who orchestrated Robespierre's downfall  to bring about a return to dark magic to claim all of Europe. " (Adapted from Catalogue)
Find Casey's work in…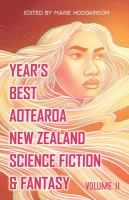 Year's best Aotearoa New Zealand science fiction & fantasy. V2
"Ancient myths go high-tech a decade after the New New Zealand Wars. Safe homes and harbours turn to strangeness within and without.Splintered selves come together again – or not. Twelve authors. Thirteen stories. The best short science fiction and fantasy from Aotearoa New Zealand in 2019. With works by: Juliet Marillier, Nic Low, Rem Wigmore, Andi C Buchanan, Octavia Cade, A.J. Fitzwater, Nicole Tan, Melanie Harding-Shaw, Alisha Tyson, James Rowland, Zoë Meager, and Casey Lucas." (Adapted from Catalogue)