The late seventeenth and early eighteenth centuries saw virtuoso music for solo violin burgeon, its proliferation driven by outstanding violinists extending the technical and expressive capacities of the violin. Consequently, the status and prestige of the violin increased as it became associated with the highest realms of eloquent musical art. While the six sonatas and partitas for solo violin by J.S. Bach are arguably the pinnacle of this repertoire, many other composers (especially violinists from Germany and Italy) provided the foundations for Bach's solo works.
Three new recordings added to our collection by violinists Rachel Podger, Isabelle Faust, and Alina Ibragimova, illustrate the extraordinary riches of the era, including examples of the stylus phantasticus, a style of composition especially characteristic of the early-to-mid baroque era. Athanasius Kircher, a polymathic Jesuit priest and author of Musurgia Universalis (1650), wrote of the stylus phantasticus that:
The fantastic style is especially suited to instruments. It is the most free and unrestrained method of composing, it is bound to nothing, neither to any words nor to a melodic subject, it was instituted to display genius and to teach the hidden design of harmony and the ingenious composition of harmonic phrases and fugues. – Athanasius Kircher
In the following recordings, these attributes emerge especially in the music of Gasparini, Tartini, and Vilsmayr, while every work displays the genius of the composer and the performers alike. Read on for a more in-depth review into these recordings below!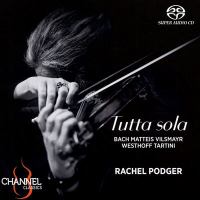 Tutta sola / Rachel Podger
Following her landmark 2019 recording of J. S. Bach's Suites for solo cello (BWV1007-1012), the first recording of these works transcribed for violin, Rachel Podger's most recent recording explores fascinating seventeenth- and eighteenth-century solo violin repertoire, including some tantalising surprises from manuscript collections. She opens the CD with a transcription of J.S. Bach's Toccata and Fugue in D minor, which is remarkable enough, before taking her listeners on a journey through more obscure territory. Diverting short pieces by Gasparini, Vitali, Lonati, Purcell, and Corelli, from the collection Select Preludes or Voluntaries for the Violin by the Most Eminent Masters in Europe (London: 1705) are interspersed between more substantial works: Podger plays a Partita from the Artificiosus Concentus pro Camera by Johann Joseph Vilsmayr, an Austrian violinist who was likely a pupil of Biber, composer of the Rosary Sonatas. In this partita, the dance movements are separated by a series of graceful arias. Concluding the recording is the 'Piccole Sonata' by  Giuseppe Tartini, imbued with hints of folk music from Tartini's birthplace in Pirano. Throughout every piece, Rachel Podger's playing moves effortlessly between delicacy and high drama.
Isabelle Faust plays Bach / Bach, Johann Sebastian

Bach's biographer Philipp Spitta wrote of his subject's solo violin music that: 'The overpowering wealth of forms pouring from a few and scarcely noticeable sources displays not only the most perfect knowledge of the technique of the violin, but also absolute mastery of an imagination the like of which no other composer was ever endowed.' Violinist Isabelle Faust demonstrates the veracity of Spitta's words in a new collected edition from Harmonia Mundi that brings together a range of her solo and ensemble performances. In eight CDs and one DVD, Faust presents not only Bach's solo sonatas and partitas, the sonatas for violin and harpsichord with Kristian Bezuidenhout, and the concerti in A minor and E major, but also a wealth of Bach's orchestral and chamber music in which the violin takes a leading role. The inclusion of the sinfonias from Bach's cantatas Ich hatte viel Bekümmernis BWV21, Ich liebe den Hochsten von ganzem Gemute BWV174, and Himmelskonig, sei wilkommen BWV182 highlight the beauty of the autonomous instrumental music in the cantatas, as well as the quality of the ensemble between Faust and her colleagues, but removed from the context of their cantatas these overtures seem oddly isolated. However, the ensemble presentation of the Trio Sonatas in C major (BWV529) and D minor (BWV527) more than compensates, the musicians bringing vividly to life the intricacies of Bach's counterpoint.
Fantasias for solo violin / Telemann, Georg Philipp
Telemann's solo Fantasias represent a unique contribution to the violin repertory, but have been overshadowed by Bach's sonatas and partitas. Telemann published the collection in 1735, and alongside his twelve Fantasias for solo flute and twelve Fantasias for solo viola da gamba, these works demonstrate Telemann's understanding of each instrument's capacities. The violin Fantasias explore a range of keys and affects with pure unadorned melody and complex contrapuntal writing. Alina Ibragimova, one of the most versatile violinists of the day – equally at home on a modern or period instrument, as a concerto soloist or chamber musician – plays beautifully and eloquently throughout this recording.  She transcends every technical and musical complexity with ease, creating a uniquely persuasive character for every Fantasia.