New to our libraries in March: a scintillating selection of new fiction titles! While the Central Library has become a no-go zone, our recently acquired fiction material is still available through branches, and in some cases online as eBooks with Overdrive or on your Libby App. We're getting great new material to you any way we can!
This month we have titles from the much anticipated Tom Barbash and a debut Gothic novel from Sophie Draper which you can read in print or electronically and listen to as a downloadable audiobook. Poet Natasha Carthew, a writer dedicated to creating in the outdoors, has created a lyrical dystopian tale of human resilience and hope.
Our selection also features tales to set the pulse racing with the latest international thrillers. Writing duo Hendricks and Pekkanen's An Anonymous Girl is available electronically or in print, while Fog Island, the first in a new trilogy from Swedish writer Mariette Lindstein, draws the reader into the world of an isolated cult under the thrall of a charismatic leader.
Reserves are now free! So select what you like and collect from any open branch. Go wild!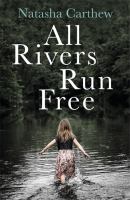 All rivers run free / Carthew, Natasha
"A woman on the edge of the sea finds a girl on the edge of life. On the flooded coast of Cornwall, Ia Pendilly ekes out a fierce life in a childless marriage, as rough and stubborn as the sea. When a strange young girl washes up on the beach, Ia's rescue is only the beginning of a dangerous journey, one that will take them downriver, into the fringes of a collapsing society and for Ia, towards something she hopes might be love. A vision of the near-future and an odyssey of motherhood, All Rivers Run Free is a true original from a powerful new voice." (Catalogue)
Damnation / Beck, Peter
"Dead clients are bad for business, something Tom Winter, head of security for a discrete Swiss private bank, knows all too well. After a helicopter explodes, leaving behind the charred bodies of a client and a colleague, he teams up with Fatima, a mysterious Egyptian businesswoman. Together they follow the money trail around the world and back into the Swiss mountains, the NSA watching their every move. When taciturn Winter, a former special forces commander, closes in on the truth, they turn from being the hunters to the hunted and realize they are in a deadly, high-stakes race against the clock." (Catalogue)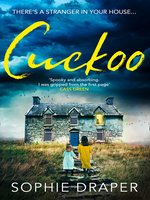 Cuckoo, Sophie Draper (ebook) (print) (eAudio)
"There's a stranger in your house… When her stepmother dies unexpectedly, Caro returns to her childhood home in Derbyshire. She hadn't seen Elizabeth in years, but the remote farmhouse offers refuge from a bad relationship, and a chance to start again. But going through Elizabeth's belongings unearths memories Caro would rather stay buried. In particular, the story her stepmother would tell her, about two little girls and the terrible thing they do. As heavy snow traps Caro in the village, where her neighbours stare and whisper, Caro is forced to question why Elizabeth hated her so much, and what she was hiding. But does she really want to uncover the truth?" (Overdrive description)
Islands / Frew, Peggy (print) (eBook)
"Helen and John's relationship is collapsing and they don't notice their daughters suffering. Junie is growing up brittle and defensive while Anna is difficult and rebellious. When Anna fails to return home one night, her mother isn't too worried as it has happened before and she has always returned. Helen waits three days before she reports Anna's disapperance" (Catalogue)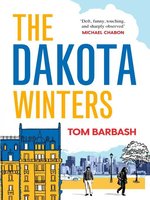 The Dakota Winters, Tom Barbash (eBook) (print)
"It's the fall of 1979 when 23-year-old Anton Winter, back from the Peace Corps and on the mend from a nasty bout of malaria, returns to his childhood home in the Dakota Building in New York City. Anton's father, the famous late-night host Buddy Winter is there to greet him, himself recovering from a breakdown. Before long Anton is swept up in an effort to reignite Buddy's stalled career, a mission that takes him from the gritty streets of New York, to the slopes of the Lake Placid Olympics, to the Hollywood Hills, to the blue waters of the Bermuda Triangle, and brings him into close quarters with the likes of Johnny Carson, Ted and Joan Kennedy, and a seagoing John Lennon."  (Overdrive description)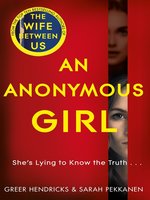 An Anonymous Girl, Greer Hendricks (ebook) (print)
"When Jessica Farris signs up for a psychology study conducted by the mysterious Dr. Shields, she thinks all she'll have to do is answer a few questions, collect her money, and leave. But as the questions grow more and more intense and invasive and the sessions become outings where Jess is told what to wear and how to act, she begins to feel as though Dr. Shields may know what she's thinking… and what she's hiding. As Jess's paranoia grows, it becomes clear that she can no longer trust what is real in her life, and what is one of Dr. Shields' manipulative experiments. Caught in a web of deceit and jealousy, Jess quickly learns that some obsessions can be deadly." (Overdrive description)
Cemetery Road : a novel / Iles, Greg
"Sometimes the price of justice is a good man's soul.When Marshall McEwan left his Mississippi hometown at eighteen, he vowed never to return. The trauma that drove him away spurred him to become one of the most successful journalists in Washington, DC. But as the ascendancy of a chaotic administration lifts him from print fame to television stardom, Marshall discovers that his father is terminally ill, and he must return home to face the unfinished business of his past. And by the time Marshall grasps the long-buried truth, he would give almost anything not to have to face it." (Catalogue)
A version of the truth / Walter, B. P. (print) (eBook) (eAudio)
"Julianne is preparing a family dinner when her son comes to her and says he's found something on his iPad. Something so terrible, it will turn Julianne's world into a nightmare and make her question everything about her marriage and what type of man her husband is or is pretending to be. A devastating secret has simmered beneath the surface for over twenty-five years. Now it's time to discover the truth. But what if you're afraid of what you might find?" (Catalogue)