Spring brings forth new life and growth as we say goodbye to the blistering winter chills. What better way to welcome the changing foliage than with these wonderful craft activities!
With 50 home-crafting projects and insights on how to reignite your creativity, get entwined with Catherine Carton's journey in her book Dainty Dress Diaries. Similarly, The Wisdom of Our Hands: Crafting, A Life  by Doug Stowe offers a fascinating reflection on creativity and explores the sheer joy of working with your hands, based on his decades of experience as a woodworker and teacher.
For the avid needle and fabric crafters, this month's collection does not disappoint! The Great British Sewing Bee: the Modern Wardrobe by Juliet Uzor, based on the popular BBC program of the same name, offers sewing tutorials that are easy to create, mix and match; while the book Needlepoint: A Modern Stitch Directory will keep you hooked for hours with its extensive stitch directory and modern projects to explore. Furthermore, Knitstrips: The World's First Comic-Strip Knitting Book is a visual delight for knitters and graphic novel readers alike! 
For those who want to harness the bounty materials found in nature and create something sustainable, the book Wild textiles: Grown, Foraged, Found is an enchanting  journey into textural art.
Happy crafting!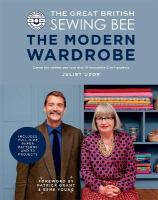 The Great British Sewing Bee : the modern wardrobe / Uzor, Juliet
"Discover how one pattern could become three different looks through a series of simple alterations. The 27 projects in this book will help you gain confidence as you learn how to make clothes you love and cherish. Expand on crucial techniques and further your understanding in how to bring in more of your own personal style into the clothes you want to wear. Complete with stunning photography, clear illustrations and instructions, demystify the pattern process to create a variety of flattering garments for every occasion that suit your style and fit your figure." (Adapted from Catalogue)
Dainty dress diaries : 50 beautiful home-crafting activities to awaken your creativity / Carton, Catherine
"On her award-winning blog, Dainty Dress Diarries, Catherine Carton welcomes us into her floral, chalk-painted, tea-dress-wearing cornor of the internet. Here, in her first book, she shares over fifty of her favourite creative projects-upcycling, crafting, sewing, painting and gardening-many of which take unloved items and make them shine again. Getting crafty is fun, but it also gives us a few moments of peace in our hectic, plugged-in lives. " (Adapted from Catalogue)
The wisdom of our hands : crafting, a life / Stowe, Doug
"A guide to living fully and humanely by learning the wisdom of authentic manual work. Many of us live in a world of constant abstraction, immersed in our heads and our screens. But there is a deeper wisdom to be found in working with our hands in the real world. Based on his 45 years as a woodworker and 25 years as a teacher of handcrafts, Stowe argues that human beings have a natural need to express themselves creatively through tangible work. The use of one's hands and whole body to make physical things and reshape our surroundings promotes both physical and mental health and fosters a sense of mastery in both young and adult students. "– Provided by publisher." (Adapted from Catalogue)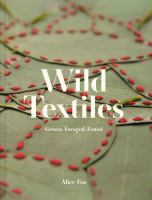 Wild textiles : grown, foraged, found / Fox, Alice
"Textile artist Alice Fox shows how to work with found, foraged, gathered and grown materials to create fabulous textile pieces that are inspired by, and made from, nature. Alongside advice on growing your own plants (such as flax or nettles), the book is packed with practical ideas for foraging – from weeds, dandelions and other plants useful for making cordage, or leaves that can be stitched, quilted and shaped into vessels, to grass, wool, plastics and mud that can be gathered and delightfully repurposed by the textile artist. "– Provided by publisher." (Adapted from Catalogue)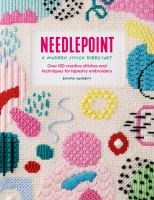 Needlepoint : a modern stitch directory : over 100 creative stitches and techniques for tapestry embroidery / Homent, Emma
"The essential guide to needlepoint for beginners and experts alike, with over 100 stitches and techniques demonstrated with photos and diagrams. Alongside the stitch directory, you'll find all the information on materials, equipment and stitching techniques and 10 easy and accessible projects with full-colour charts." (Catalogue)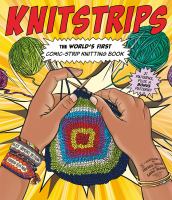 Knitstrips : the world's first comic-strip knitting book / Beltran, Alice Ormsbee
"Knitstrips presents 22 original patterns, boundless humor, and seriously appealing knitting instruction. Inspired, original, and laugh-out-loud funny, knitstrips are patterns and knitting instruction mixed with advice and humorous commentary–and presented in illustrated comic book panels. The book includes 22 brand-new patterns and is designed to mimic a bound collection of comic books in a series: each issue with its own cover and wry theme–from yarn stashes to binge knitting–that is close to the heart of knitters." (Adapted from  Catalogue)