The Doll's House by Katherine Mansfield has just been translated  by Karena Kelly into te reo Māori, Te Whare Tāre.  This short story looks at the class distinctions woven into young colonial New Zealand. The translation has been published by The Katherine Mansfield House and Garden. Mansfield's Thorndon home and family artifacts are maintained by this organisation at 25 Tinakori Road in Wellington.
Te Whare Tāre / Mansfield, Katherine
"Te Whare Tare is a te reo Māori translation of Katherine Mansfield's well known story, The Doll's House. First published in English in 1922. Te reo Maori translation by Karena Kelly published in 2018." (Catalogue)
Wellington draws people from all over the world, keen to see Katherine Mansfield's early influences in person. An early recreation of this short story filmed in 1975 influenced Trish Bowles' illustrations of the sophisticated picture book, where Mansfield's text has been embellished for all to enjoy.
Katherine Mansfield's childhood home Chesney Wold was the inspiration for the model of her own doll's house held as part of the collection at Katherine Mansfield House & Garden.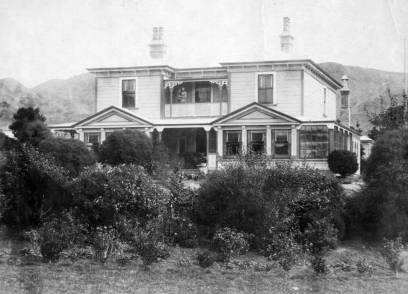 Chesney Wold, Karori Road, ca 1901. Karori Historical Society : Photographs. Ref: PAColl-5277-1-11. Alexander Turnbull Library, Wellington, New Zealand.
You can also read The Doll's House in Mansfield's  short story collections: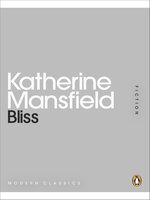 Bliss, Katherine Mansfield (ebook)
'Although Bertha Young was thirty she still had moments like this when she wanted to run instead of walk, to take dancing steps on and off the pavement, to bowl a hoop, to throw something up in the air and catch it again, or to stand still and laugh at — nothing — at nothing, simply.' This book includes Bliss, The Daughters of the Late Colonel and The Doll's House. (adapted from Overdrive description)
One of the latest biographies describing the childhood of Mansfield and her family details the dire health issues of the era, but also the freedom the family had to socialise with the variety of people that made up Wellington in that era. Kathleen Beauchamp was a keen observer of her social and physical surroundings and was inspired to
write about people from an early age.
A strange beautiful excitement : Katherine Mansfield's Wellington, 1888-1903 / Yska, Redmer
"How does a city make a writer? Described by Fiona Kidman as a 'ravishing, immersing read', A Strange Beautiful Excitement is a 'wild ride' through the Wellington of Katherine Mansfield's childhood. From the grubby, wind-blasted streets of Thorndon to the hushed green valley of Karori, author Redmer Yska, retraces Mansfield's old ground: the sights, sounds and smells of the rickety colonial capital, as experienced by the budding writer"(adapted from Catalogue)