With springtime coming soon, everyone looks forward to sunshine and warm weather.  This month's crafts and hobbies titles are filled with pages that will surely spark joy at every turn. From bagmaking to embroidery, get inspired with handmade extravaganzas that uplift the creative soul and celebrate the planet.
Feeling stitchy? Have fun doing simple projects while saving textile waste going to the landfill with Jen Rich's book, Stitch, Sewing Projects for the Modern Maker. Also, Zero Waste Patterns: 20 Projects to Sew Your Own Wardrobe by Birgitta Helmersson will help every eco-friendly seamstress create their first tank top using a unique "paperless" pattern method. While The re:fashion wardrobe: sew your own stylish, sustainable clothes by Portia Lawrie offers our budding eco-makers a guide on sourcing and " harvesting" existing clothes and applying "refashioning" techniques to transform an old piece of clothing into something edgy.
Similarly, if you love lingering at the op shops and hunting for copious amounts of preloved clothes, don't miss the book by Melody Fortier, New to You: How to Buy, Fix, and Keep Second-hand Clothing. Let the author, a vintage fashion expert, help you build a stylish but more sustainable wardrobe collection.  Another creative goody to keep you busy is Sara Naumann's Modern Resin Jewellery: over 50 inspiring easy-to-make projects.  Develop a new skill set by creating your own earrings using a few tools and materials.  The author provides over 50 visually inviting projects for budding resin crafters!
So, get inspired this upcoming season with less textile waste and the pleasure of everything handmade that will surely make Mother Nature smile.
Zero waste patterns : 20 projects to sew your own wardrobe / Helmersson, Birgitta
"Zero waste pattern cutting is a bit like a puzzle. You use a pre-determined length of fabric end to end by strategically planning your pattern pieces so that everything is used and then draw them onto the fabric. By using this unique "paperless" method you can eliminate both textile and paper waste from your sewing projects and take the fear out of learning to self draft and sew your own clothing. This book includes 5 simple zero-waste pattern blocks and can then be used to make a further 15 projects by making simple changes or mixing and matching your blocks into new designs."–Publisher's description." (Adopted from Catalogue)
Stitch : sewing projects for the modern maker / Rich, Jen
"Stitch will offer contemporary designs and creative projects for the modern maker with a discernible eye for aesthetics, with a focus on customisable makes, stunning fabric inspiration, easy-to-follow instructions and beautifully graphic photography. The book will cover the basic techniques of sewing with all projects achievable either by using a sewing machine or by hand (and a little more time!), and with no overly complicated techniques. Each project will be photographed and some will be accompanied by step-by-step images to help guide you through more intricate instructions. "–Publisher's description." (Adopted from Catalogue)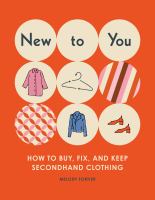 New to you : how to buy, fix, and keep secondhand clothing / Fortier, Melody
"A guide to finding, buying, and caring for vintage clothing"– Provided by publisher." (Catalogue)
Continue reading "Slow Fashion Projects Galore: New Crafts & Hobbies Books" →