April's selection of new material begins with Memorabilia, an homage to graphic novels by Italian comic creator Sergio Ponchione. In Black Hammer: Age of Doom Part 1, a group of superheroes are marooned in a creepy rural enclave. Also for the artists, the gritty reality of a life in animation is explored in the graphic memoir of Natalie Nourigat, and artistic nostril-gazing meanders into the selection with Flem from Belgian/Canadian comic creator Rebecca Rosen.
The Flutter Collection also has gender-jumping Lily faced with the foibles of life. Hobo Mom also sees a family strain around the idea of gender roles. We round off the selection with Sturm's Off Season, where political tensions literally tear lives apart.
But wait… wasn't there a giant alien robot? Well yes, it's a bit hard to miss. And you don't need to miss out on any of these titles, as reserves are currently free! Have fun!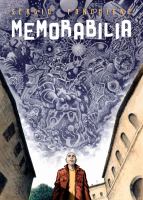 Memorabilia / Ponchione, Sergio
"This is a fantastical graphic novel fan letter to some of the greatest American comic book creators. This book collects five individual stories illuminating the art and lives of the all-time great comic book artists Steve Ditko, Jack Kirby, Wallace Wood, Will Eisner, and Richard Corben. Ponchione blends biographical details about each artist with the characters and worlds they created, mixing fact with fiction as a testament to the remarkable imaginations of these masterful comics-makers." (Catalogue)
The Flutter collection / Wood, Jennie
"Fifteen-year-old Lily shape-shifts into a boy to get the girl, and chaos ensues when she pretends to be someone she's not. Lily learns that life as a boy is just as difficult, and that she can't just run away from her problems. With her loved ones in danger, she returns to St. Charles to live as Jesse and protect them. But knowing what she's capable of, can Lily be content as a popular high school varsity quarterback? Then, Lily gets stuck in a body while shape-shifting, but not just any body, it's her mother's! Forced to see the world through the eyes of her estranged mother, Lily must accept that she'll never life a "normal life" in order to fulfill her true destiny." (Catalogue)
Black Hammer [3]. Part I, Age of doom / Lemire, Jeff
"Picking up immediately where we left off–Lucy Weber has become the new Black Hammer and right as she's about to reveal to our heroes how they got stuck on the farm and can escape she vanishes. Now our new Black Hammer finds herself trapped in a gritty world filled with punk rock detectives, emo gods, anthropomorphic humans, absurdist heroes, and many more weirdos, in mad world in which there is no escape Collects Black Hammer: Age of Doom #1-5. " (Catalogue)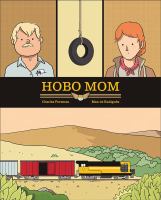 Hobo mom / Forsman, Charles and Max de Radiguès. 
"Two cartoonists, Forsman and de Radiguès team up to tell the story of a prodigal mother's return. A cross Atlantic collaboration, Hobo Mom was drawn simultaneously to tell the story of Tom, who lives a simple life with his pre-teen daughter, Sissy. Her mother, Natasha, who left to hop trains and has become a vagrant, shows up on the doorstep of the family she abandoned years ago. There, Natasha finds an upset husband (who is still deeply in love with her), and a little girl yearning for a mother. Can someone who covets independence settle down?" (Catalogue)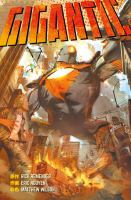 Gigantic / Remender, Rick
"Who is this invader demolishing San Francisco? Why is he being attacked by strange alien beings? And why is he so Gigantic? It was a beautiful spring day in downtown San Francisco before a gigantic armored alien appeared from out of nowhere and began smashing things all to hell. A twist on The Truman Show, Gigantic focuses on a brainwashed alien superhero deposited on Earth to be the spotlight of an intrusive, around-the-clock television program being filmed without his knowledge." (Catalogue)
Off season / Sturm, James
"How could this happen? The question of 2016 becomes deeply personal in James Sturm's riveting graphic novel Off Season, which charts one couple's divisive separation during Bernie Sanders's loss to Hillary Clinton, Clinton's loss to Donald Trump, and the disorienting months that followed. We see a father navigating life as a single parent and coping with the disintegration of a life-defining relationship." (Catalogue)
I moved to Los Angeles to work in animation / Nourigat, Natalie
"When artist Tally Nourigat left her life in Portland to move to Los Angeles and pursue a job in animation, she realized that despite her research, nothing truly prepared her for the wild world that awaited in the studios of Southern California. From grinding on storyboard test after storyboard test to getting a job at a major studio to searching for an apartment in 'the Valley' this autobiographical how-to graphic novel explores the highest highs and lowest lows of pursuing a dream in animation. Brushed with a dose of humor and illustrated advice about salaries, studio culture, and everything in between, I Moved to Los Angeles to Work in Animation is the unique insider experience you won't find anywhere else." (Catalogue)
Flem / Rosen, Rebecca
"Fictional biography of a disturbed performance artist Julia Marten's a mess: she's running out of inheritance money, failing out of art school, and haunted by the ghost of her depressed mother. And then there's the compulsive nose-picking thing… When Julia meets a group of radical feminist performance artists in a Brussels squat, she is convinced by their political perspective and enchanted by their counter-cultural lifestyle. But has she found her tribe… or lost her mind?" (Catalogue)