There are lots of new titles coming in from talented authors in the next few months. That means getting in quick if you want you be reading them soon!
Our advance recommendations for up and coming titles include crime writing and thrillers; titles where political and social values are explored and Science Fiction and fantasy works were the possibilities of the mind and potential realities are explored.
Excitement has been building for the new Haruki Murakami book titled Killing Commendatore which  is due to published 9 October 2018. The new novel, written in homage to the The Great Gatsby, has already been censored in Hong Kong. Opaque wrappers are required wherever the book is for sale or loan, libraries there will only allow borrowing to patrons over 18 years of age.
Already on our library shelves  is the new Kate Atkinson novel, Transcription, along with Belinda Bauer's Snap. Yet to be published, Unsheltered by Barbara Kingsolver brings together two timelines  in the same location and  focuses on families facing challenges due to changing cultures. Kingsolver's deft handling of family dynamics and the impacts of change bring this tale to life. Mohammed Hanif delivers two sides to modern conflict with Red Birds. Three times Hugo winner Science Fiction writer N K Jemisin has a new short story collection called How long 'til black future month? which delivers a kaleidoscopic view of her imagination.  Tade Thompson's  Rosewater, is named after a town, grown up around an alien entity embedded in Nigerian soil. Once a year the biodome surrounding the incomer opens…
See below, for these and more titles, coming soon to a library near you!
Transcription / Atkinson, Kate
"In 1940, eighteen-year old Juliet Armstrong is reluctantly recruited into the world of espionage. But after the war has ended, she presumes the events of those years have been relegated to the past forever. Ten years later, now a radio producer at the BBC, Juliet is unexpectedly confronted by figures from her past. A different war is being fought now, on a different battleground, but Juliet finds herself once more under threat. A bill of reckoning is due, and she finally begins to realize that there is no action without consequence." (Catalogue)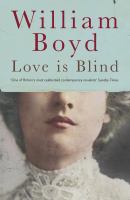 Love is Blind [paperback] / Boyd, William
"Love is Blind is a tale of dizzying passion and brutal revenge; of artistic endeavour and the illusions it creates; of all the possibilities that life can offer, and how cruelly they can be snatched away. At once an intimate portrait of one man's life and an expansive exploration of the beginning of the 20th century, Love is Blind is a masterly new novel from one of Britain's best loved storytellers." (Catalogue)
Killing Commendatore / Murakami, Haruki/ Gabriel, Philip (TRN)/ Goossen, Ted (TRN)
"The much-anticipated new novel from the internationally acclaimed, best-selling author of 1Q84 and Colorless Tsukuru Tazaki and His Years of Pilgrimage, Killing Commendatore is an epic tour de force of love and loneliness, war and art–as well as a loving homage to The Great Gatsby–and a stunning work of imagination from one of our greatest writers." (Catalogue)
Bridge of clay. / Zusak, Markus
"Bridge of Clay is about a boy who is caught in the current – of destroying everything he has, to become all he needs to be. He's a boy in search of greatness, as a cure for memory and tragedy. He builds a bridge to save his family, but also to save himself. It's an attempt to transcend humanness, to make a single, glorious moment: A miracle and nothing less." (Catalogue)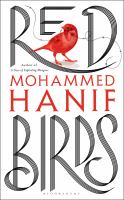 Red Birds [paperback] / Hanif, Mohammed
"Written with his trademark wit, keen eye for absurdity and telling important truths about the world today, Red Birds reveals master storyteller Mohammed Hanif at the height of his powers.
An American pilot crash lands in the desert and takes refuge in the very camp he was supposed to bomb.  In the camp, teenager Momo's money-making schemes are failing. His brother left for his first day at work and never returned, his parents are at each other's throats, his dog is having a very bad day, and an aid worker has shown up wanting to research him for her book on the Teenage Muslim Mind." (Catalogue)
Unsheltered / Kingsolver, Barbara
"Brilliantly executed and compulsively readable, Unsheltered is the story of two families, in two centuries, who live at the corner of Sixth and Plum, as they navigate the challenges of surviving a world in the throes of major cultural shifts. In this mesmerizing story told in alternating chapters, Willa and Thatcher come to realize that though the future is uncertain, even unnerving, shelter can be found in the bonds of kindred–whether family or friends–and in the strength of the human spirit." (Catalogue)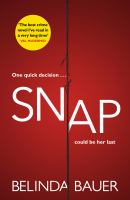 Snap / Bauer, Belinda
"On a stifling summer's day, eleven-year-old Jack and his two sisters sit in their broken-down car, waiting for their mother to come back and rescue them. "Jack's in charge," she'd said. "I won't be long". But she doesn't come back. She never comes back. And life as the children know it is changed for ever. Three years later, Jack is still in charge – of his sisters, of supporting them all, of making sure nobody knows they're alone in the house, and – quite suddenly – of finding out the truth about what happened to his mother." (Catalogue)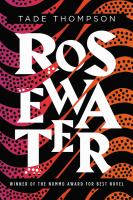 Rosewater (The Wormwood Trilogy, 1) [paperback] / Thompson, Tade
"Rosewater is a town on the edge. A community formed around the edges of a mysterious alien biodome, its residents comprise the hopeful, the hungry and the helpless people eager for a glimpse inside the dome or a taste of its rumored healing powers. Kaaro is a government agent with a criminal past. He has seen inside the biodome, and doesn't care to again but when something begins killing off others like himself, Kaaro must defy his masters to search for an answer, coming to a realization about a horrifying future." (Catalogue)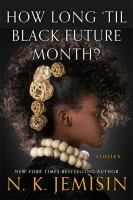 How Long 'til Black Future Month?: Stories [paperback] / Jemisin, N K
"In these stories, Jemisin sharply examines modern society, infusing magic into the mundane, and drawing deft parallels in the fantasy realms of her imagination. Dragons and hateful spirits haunt the flooded streets of New Orleans in the aftermath of Hurricane Katrina. In a parallel universe, a utopian society watches our world, trying to learn from our mistakes. A black mother in the Jim Crow South must save her daughter from a fey offering impossible promises." (Catalogue)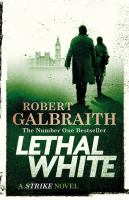 Lethal White / Galbraith, Robert
"When Billy, a troubled young man, comes to private eye Cormoran Strike's office to ask for his help investigating a crime he thinks he witnessed as a child, Strike is left deeply unsettled. While Billy is obviously mentally distressed, and cannot remember many concrete details, there is something sincere about him and his story.  Trying to get to the bottom of Billy's story, Strike and Robin Ellacott set off on a twisting trail that leads them through the backstreets of London, into a secretive inner sanctum within Parliament, and to a beautiful but sinister manor house deep in the countryside. " (Catalogue)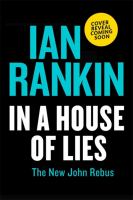 In a House of Lies / Rankin, Ian
"A missing private investigator is found, locked in a car hidden deep in the woods.  Detective Inspector Siobhan Clarke is part of a new inquiry, combing through the mistakes of the original case.  Every officer involved must be questioned, and it seems everyone on the case has something to hide, and everything to lose. But there is one man who knows where the trail may lead – and that it could be the end of him: John Rebus." (Catalogue)