"Whenever someone creates something with all of their heart, then that creation is given a soul."

–The Baron, 'The Cat Returns' Studio Ghibli (2002).
Occasionally a film will lift itself from being a cinematic experience to being a work of art.
Studio Ghibli however has established itself as a studio that creates exquisite cinematic artworks time after time, whilst also making sure that the films are hugely enjoyable, entertaining and, when required, profound.
Founded in 1985 Studio Ghibli is widely recognised as one of the finest animation studios on the planet. Nominated for Academy awards for best animated feature on no less than five occasions and winner in 2001 for Spirited Away. The studio's stylistic influences range from romantic Victorian steam punk, Ukiyo-e woodblock printing to traditional Japanese brush work and fantasy art. Likewise the subjects and themes range from adaptations of literary works, traditional mythology to studio penned original works and historical inspired works.
After their 1986 film Valley of the Wind was cut to ribbons in the U.S., Studio Ghibli refused to release their works in the West. And it was only after a no-edit distribution deal with Disney that this changed. Indeed, when one studio executive suggested edits the studio reportedly sent them a Samurai sword with a note that only said 'no cuts'.
We have all the beautiful, lyrical, exciting, funny, and mysterious Studio Ghibli films in our collections.
Below is just a small selection.
Howl's moving castle
"Sophie, an average teenage girl working in a hat shop, finds her life thrown into turmoil when she is literally swept off her feet by handsome but mysterious wizard named Howl. After this chance meeting she is turned into a 90-year old woman by the vain and conniving Witch of the Waste. Embarking on an incredible adventure to lift the curse, she finds refuge in Howl's magical moving castle where she becomes acquainted with Markl, Howl's apprentice, and a hot-headed fire demon named Calcifer. " (Adapted from Catalogue)
My neighbor Totoro
"Deep inside a tree trunk, two children discover a fascinating new world inhabited by Totoros, amazing, charming creatures who become their friends." (Adapted from Catalogue)
Ponyo
"A young boy named Sosuke rescues a goldfish named Ponyo, and they embark on a fantastic journey of friendship before Ponyo's father forces her to return to the sea. Ponyo's desire to be human upsets the balance of nature and only Ponyo's mother, a beautiful sea goddess, can restore nature's balance and make Ponyo's dreams come true." (Adapted from Catalogue)
Spirited away
"Spirited away is a wondrous fantasy about a young girl named Chihiro who discovers a secret world of strange spirits, creatures and sorcery. When her parents are mysteriously transformed, she must call upon the courage she never knew she had to free herself and return her family to the outside world." (Adapted from Catalogue)
Arrietty
"In a secret world hidden beneath the floorboards, little people called Borrowers live quietly among us. But when tenacious and tiny Arrietty is discovered by Shawn, a human boy, their secret and forbidden friendship blossoms into an extraordinary adventure." (Adapted from Catalogue)
Porco Rosso
"Slouching towards middle age, Porco Rosso makes his living by flying about in his red bi-plane and fighting sky bandits who prey on cruise ships sailing the Adriatic. When he's not engaging in dog fights, this pilot lives on a deserted island retreat. Porco was once a strappling young man, but after his entire squardron was wiped out, he is mysteriously transformed into a pig. Then he is defeated in a dogfight against a dashing American rival, who has been hired by the dastardly bandits. With his plane damaged, he finds a repair hanger near Milan where a local woman fixes his plane." (Adapted from Catalogue)
Grave of the fireflies
"Orphaned Seita and his four-year-old sister struggle to survive in the Japanese countryside after a World War II bombing; the helplessness and indifference of their countrymen is more painful than the enemy raids." (Adapted from Catalogue)
The collected works of Hayao Miyazaki.
"Featuring the collected works of legendary director Hayao Miyazaki. One of the founding members of Studio Ghibli, this limited edition box set collect's all of Miyazaki's full length feature films. Includes Lupin III: The Castle of Cagliostro (1979), Nausicaä of the Valley of the Wind (1984), Laputa: Castle in the Sky (1986), My Neighbor Totoro (1988), Kiki's Delivery Service (1989), Porco Rosso (1992), Princess Mononoke (1997), Spirited Away (2001), Howl's Moving Castle (2004), Ponyo (2008) and The Wind Rises (2013). " (Adapted from Catalogue)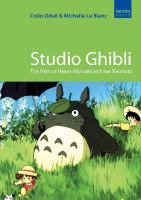 Studio Ghibli : the films of Hayao Miyazaki and Isao Takahata / Odell, Colin
"The animations of Japan's Studio Ghibli are amongst the highest regarded in the movie industry. This book examines all their major works and explores the cultural and thematic threads that bind these films together." (Catalogue)