As we embrace the changing foliage of red, orange, and yellow, there is no better way to celebrate the slowing down nature of the season than to nourish your creative soul. From making marbled papers to painting projects, be inspired in this month's new collection of crafts and hobbies books.
The art of paper marbling dates as far back as 1118 in Japan. Over the centuries, several marbling techniques have been developed, making paper marbling a quintessential craft to try. In the book Making Traditional Marbled Papers, Kate Brett walks us through its history and encourages us to try several techniques that can be practiced and appreciated by anyone.
Why not catch the mood of the changing season with a brush and palette of colours? Watercolor for the Soul: Simple painting projects for beginners, to calm, soothe and inspire and Still Life : Techniques and tutorials for the complete beginner offers tips and easy-to-follow exercises that are friendly enough to match any skill level, which makes approaching a blank page a positive experience.
With the changing season comes the cold snaps of winter weather. What better way to celebrate this time of the year than to show off your newly-made Peruvian ch'ullu hat, fingerless gloves and Bohus-style Peerie socks! Cozy Knits: 30 hat, mitten, scarf, and sock projects from around the world features an assortment of knitting projects inspired by people, places and traditions around the world. Likewise, if you fancy building up your knitted wardrobe collection, A Knitter's Guide to Shawl Design explores different techniques and tips in creating your very own shawl. With an abundance of projects in Nordic colourwork, the book Traditional Nordic Knits: Over 40 hats, mittens, gloves, and socks is packed with stunning photographs complete with illustrated patterns and informative guides that would definitely inspire you to grab those knitting needles again.
Lastly, in the book Bonnie the Cow & Her Crocheted Friends: 20 loveable animals & birds to crochet using chunky yarn, Claire Gelder reimagines your traditional crochet projects using super chunky yarn! With straightforward instructions, varying difficulty level and easy-to-follow patterns, you may find yourself snuggling up with your own creation of Bonnie the Cow during movie nights.
Making traditional marbled papers / Brett, Kate
"Paper marbling is a beautiful craft with a long history that can be traced back to Japan in the twelfth century. This practical book introduces traditional patterns and explains the techniques that are used creatively today. It covers the history of marbling – from its origins in Japan to Persia, Turkey and then Europe in the seventeenth century. The process from preparing the size, to adding the paints, creating the pattern and then treating the sheets is covered in detail. Creative uses for marbling are given including step-by-step sequences for a range of projects." (Adapted from Catalogue)
Watercolor for the soul : simple painting projects for beginners, to calm, soothe and inspire / Stevens, Sharone
"Learn to use watercolor to soothe your soul with this beginner's guide to painting for relaxation. Many watercolor books focus on the result of your painting, but this approach looks at the process of painting as a means to de-stress, with easy exercises for absolute beginners. The aim is to create art that relaxes both the artist and the viewer." (Catalogue)
Still life : techniques and tutorials for the complete beginner / Johns, Susie
"Learn how to draw and paint sill life with this straightforward, accessible guide. With expert guidance you will discover how to construct simple, appealing still-life arrangements and create beautiful works of art using a range of beginner-friendly materials and techniques. Ten progressive step-by-step tutorials will help you to master this rewarding art form."–Page 4 of cover" (Catalogue)
Cozy knits : 30 hat, mitten, scarf, and sock projects from around the world
"Cozy Knits presents 50 of the coziest, globally-inspired patterns for hats, mittens, and gloves-including stylish traditional projects from Scandinavia, Eastern Europe, the British Isles, the Americas, and Asia." — Provided by publisher." (Catalogue)
A knitter's guide to shawl design / Vining, Emma
"As a desirable item of fashion, a cherished gift or a wardrobe essential, the shawl enjoys enduring popularity among knitters and non-knitters alike. A Knitter's Guide to Shawl Design will inspire knitters of all levels to personalize their knitting and create original shawl designs. Author Emma Vining describes her own design processes, encouraging readers to explore and experiment with shawl shapes and stitch patterns. Beautifully illustrated with photographs, sketches and explanatory diagrams, this book explores tradition and innovation in shawl design." (Adapted from Catalogue)
Traditional Nordic knits : over 40 hats, mittens, gloves, and socks / Wallin, Johanna
"The classic Nordic knitting tradition is a widely-respected—and increasingly popular—source of exquisite patterns and design inspiration all over the world. 15 time-honoured patterns become over 40 different projects, gracing mittens, gloves, hats, and socks through designs suitable for all levels of experience, and each project is introduced with an example of a historic knitted item and a fascinating explanation of the pattern's background and origin." (Adapted from catalogue)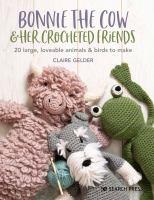 Bonnie the Cow & her friends : 20 loveable animals & birds to crochet using chunky yarn / Gelder, Claire
"Dragon's Den winner Claire Gelder presents a new collection of crochet animals to crochet in chunky yarn. Bonnie the Highland Cow and Isla her calf, as well as other adorable, crocheted companions will complete your cozy companion set. With soft, chunky yarn and long, floppy limbs, you'll have no choice but to pick them up, or snuggle on the sofa with them. Oversized, and full of life, these toys are about 28in tall and the babies measure about 14in. The projects are aimed at beginners to improvers, and are suitable for someone who has mastered the basics of crochet. " (Adapted from Catalogue)