Ever since 1929, when Buck Rogers left the written pulp magazines for the four-colour newspaper comic strip, comics have provided the perfect canvas for stories about space travel and other planets.
While the terror of little green men and mysterious alien jungles of the 50s and 60s eventually fell away due to Sputnik, Voyager, and the Mars rovers, writers and artists found new storytelling opportunities in the vastness of space in the modern day, whether they be conscious genre throwbacks like Mark Millar and Goran Parlov's Flash Gordon pastiche Starlight, first contact political thrillers like Letter 44, or melancholic examinations of living on other worlds like Tom Gauld's Mooncop.
And while Space Week may only last seven days, it's always a good time to revisit the classic Tintin duology, Destination Moon and Explorers on the Moon as well!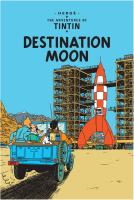 Destination moon / Hergé
"Destination Moon (1953) gives a detailed account on the preparation and the launching of the expedition to the Moon for which Professor Calculus has chosen Syladavian soil. Tintin and Captain Haddock are amazed to find that Professor Calculus is planning a top-secret project from the Sprodj Atomic Research Centre in Syldavia. And before our intrepid hero knows it, the next stop on this adventure is …Space." (Catalogue)
Saga. Compendium one / Vaughan, Brian K
"Containing the first nine volumes of the acclaimed, New York Times-bestselling series, this compendium tells the entire story of a girl named Hazel and her star-crossed parents. Features gorgeous full-color artwork, including a new cover from Eisner-winning co-creator Staples. Collects #1-54." (Catalogue)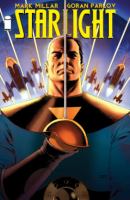 Starlight : the return of Duke McQueen / Millar, Mark
"Forty years ago, Duke McQueen saved an alien world from destruction. Back on earth, nobody believed his story. Now his kids are grown, his wife has passed on, and life has little to offer. Until the day a strange boy from the world he once saved makes an appearance, coaxing Duke to join him on one last adventure. Can Duke handle the leap from has-been to hero? Collects Starlight #1-6." (Adapted from catalogue)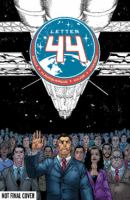 Letter 44. Volume I, Escape velocity / Soule, Charles
"On Inauguration Day, newly elected President Stephen Blades hoped to tackle the most critical issues facing the nation: war, the economy, and a failing health care system. But in a letter penned by the outgoing President, Blades learns the truth that redefines "critical": seven years ago, NASA discovered alien presence in the asteroid belt, and kept it a secret from the world. A stealth mission crewed by nine astronauts was sent to make contact, and they're getting close-assuming they survive the long journey to reach their destination. Today, President-elect Blades has become the most powerful man on the planet. This planet." (Catalogue)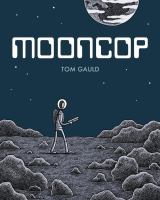 Mooncop / Gauld, Tom
Living on the moon . . . Whatever were we thinking? . . . It seems so silly now." The lunar colony is slowly winding down, like a small town circumvented by a new super highway. As our hero, the Mooncop, makes his daily rounds, his beat grows ever smaller, the population dwindles. A young girl runs away, a dog breaks off his leash, an automaton wanders off from the Museum of the Moon. Mooncop is equal parts funny and melancholy. capturing essential truths about humanity and making this a story of the past, present, and future, all in one." (Adapted from catalogue)
The Manhattan Projects. 1 / Hickman, Jonathan
"What if the research and development department created to produce the first atomic bomb was a front for a series of other, more unusual, programs?" (Catalogue)