While there is still a month or so wait for the 2019 Pikihua Awards, the final results of the 2018/19 takahē short story competition are out! Take a look at the new lineup of talent. Our library collection has short stories from individual authors and anthologies of new and experienced writers.
William Trevor's final work, multi-award-winning master of the form, published on what would have been his 90th birthday, Last Stories is a collection of ten stories, six previously unpublished. Trevor navigates the rough seas of human relations with a new angle, fresh language, deep sympathy, and uncanny insight.  Also hailing from Ireland, Being Various collects the works of Irish writers, revealing the talents of the previously unpublished and the more recognisable.  Two-thirds female, one-third Northern. Two-thirds born in Ireland, two-thirds currently resident, this collection captures the numerous realities of contemporary Ireland.
The origin of detective fiction, Chinese science fiction, Gulag reportage, Italian dreamworld and debut writing from the ash line of Australian bushfires; this selection of short stories is a great place to start exploring the variety on offer in this form. Enjoy!
Last stories / William Trevor. (print) (eBook)
"In this final collection of ten perceptive and profound stories, William Trevor probes into the depths of the human spirit. Here we encounter a tutor and his pupil, whose lives are thrown into turmoil when they meet again years later; a young girl who discovers the mother she believed dead is alive and well; and a piano-teacher who accepts her pupil's theft in exchange for his beautiful music. These gorgeous stories – the last that Trevor wrote before his death – affirm his place as one of the world's greatest storytellers." (Syndetics summary)
Kolyma stories. Volume one / Shalamov, Varlam
"Kolyma Stories is a masterpiece of twentieth-century literature, composed of short fictional tales based on Russian writer Varlam Shalamov's fifteen years in the Gulag.  These collected stories form the biography of a rare survivor, a historical record of the Gulag, and, because the stories have more than documentary value, a literary work of creative power and conviction. This new complete translation of Kolyma Stories will fill a significant gap in the English-language library of Russian literature." (Adapted from Catalogue)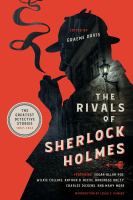 The rivals of Sherlock Holmes : the greatest detective stories: 1837-1914
"Davis makes a welcome addition to early English detective fiction anthologies. Unlike scholars who date the birth of the genre to Poe's The Murders in the Rue Morgue, Davis starts with an earlier short story, "The Secret Cell" by Poe's nemesis, William Evans Burton. That tale remains enjoyable today, with its dramatic account of the search for a missing 17-year-old servant, who stood to inherit a fortune from her employer." (Catalogue)
Lucky girls : stories / Nell Freudenberger.
"In the title story, a young woman who has been involved in a five-year affair with a married Indian man feels bound to both her memories and her adopted country after his death. The protagonist of Outside the Eastern Gate returns to her childhood home in Delhi, to find a house still inhabited by the impulsive, desperate spirit of her mother. Highly anticipated in the literary community and beyond, Lucky Girls marks the debut of a very special talent that places her among today's most gifted young writers." (Syndetics summary)
A constant hum / Bishop, Alice (print) (eBook)
"A young and exciting new literary voice, emerging from one of Australia's worst natural disasters. Before the bushfires–before the front of flames comes roaring over the hills–the ridges are thick with gums. After the fires, the birds have gone. And the lost people: on the TV news in borrowed clothes, or remembered in flyers on a cafe wall. A Constant Hum grapples with the aftermath of disaster with an eye for telling detail. Some of these stories cut to the bone; others are empathetic stories of survival, even hope." (Catalogue)
The best of R.A. Lafferty / Lafferty, R. A.
"Acclaimed as one of the most original voices in modern literature, Raphael Aloysius Lafferty has been awarded and nominated for a multitude of accolades over the span of his career, including the World Fantasy Award for Lifetime Achievement. This collection contains 22 unique tall tales, including Hugo Award and Nebula award winning entries. Stories introduced by other modern masters of SF who acknowledge R.A. Lafferty as a major influence and force in the field." (Adapted from Catalogue)
Being various : new Irish short stories (print) (eBook)
"Edited by prize-winning author and playwright Lucy Caldwell, Being Various brings together original stories from Ireland's current golden age of writing with some exciting new voices, never before published. Following her own brilliant short story collection Multitudes, Lucy Caldwell guest edits the sixth volume of Faber's long running series of new Irish short stories, continuing the great work started by the late David Marcus and subsequent guest editors Kevin Barry, Deirdre Madden and Joseph O'Connor." (Catalogue)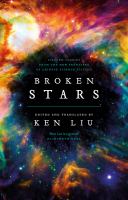 Broken stars : contemporary Chinese science fiction in translation
"In Hugo award-winner Liu Cixin's 'Moonlight', a man is contacted by three future versions of himself, each trying to save their world from destruction. Hao Jingfang's 'The New Year Train' sees 1,500 passengers go missing on a train that vanishes into space. In addition, three essays explore the history and rise of Chinese SFF publishing, contemporary Chinese fandom, and how the growing interest in Chinese SFF has impacted writers who had long laboured in obscurity." (Catalogue)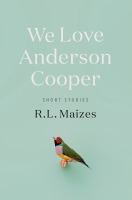 We love Anderson Cooper : short stories / Maizes, R. L.
"In We Love Anderson Cooper, characters are treated as outsiders because of their sexual orientation, racial or religious identity, or simply because they look different. A young man courts the publicity that comes from outing himself at his bar mitzvah. When a painter is shunned because of his appearance, he learns to ink tattoos that come to life. A paranoid Jewish actuary suspects his cat of cheating on him with his Protestant girlfriend. In this debut collection, humor complements pathos." (Catalogue)
Elsewhere, home / Aboulela, Leila
"Aboulela again plumbs the immigrant and particularly West-Middle East experience, as characters painfully recall the old and adapt to the new. Shuttling between the dusty, sun-baked streets of Khartoum and the university halls and cramped apartments of Aberdeen and London, Elsewhere, Home explores, with subtlety and restraint, the profound feelings of yearning, loss, and alienation that come with leaving one's homeland in pursuit of a different life." (Catalogue)