Image via Giphy
Life! Don't talk to me about life!
One of our recently acquired science fiction and fantasy titles this month (find all our picks further below) is a modern science fiction reimagining of The Secret Garden called Moongarden. One of the hugely enjoyable characters in the book, is a daring and spirited robot sidekick nicknamed Bin-ro. Of course, funny or brave robot sidekicks have long been a staple of science fiction films and novels, so we thought what better excuse to take a slight detour and highlight a few of our favourite robot sidekicks in no particular order, and also spotlight some of our items they appear in, that  you can borrow from our collections
Our first pick is of course astromech droid R2-D2 and  protocol droid C-3PO, the real heroes and heart  and soul of the original Star Wars movies. Borrow the original Star Wars trilogy.
Next, we have K9, Doctor Who's robot companion dog. K9 first appeared in 1977 and was so popular he has appeared in three separate spin-off series. Check out  K9's adventures in the excellent Sarah Jane Smith Adventures.
Baymax is  the friendly  inflatable computerized medical robot in Big Hero 6. He has also had a series of super hidden cameos in the following films Zootopia, Moana, Ralph Breaks the Internet and even Frozen II. Borrow Big Hero 6.
One of our favourite literary Robot sidekicks is of course Marvin the Paranoid Android from the Hitchhiker's Guide to the Galaxy series by Douglas Adams. Have a browse of our range of Hitchhiker's Guide to the Galaxy films, books and Audiobooks.
Gardening robots Huey, Dewey, and Louie (named after Donald Duck's nephews) star in the visionary (if dated) 1972 ecological science fiction film Silent Running, directed by 2001 special effects wizard Douglas Trumbull.
And after that segue, delve into our picks of this month's science fiction and fantasy below!
Our picks of the recent science fiction and fantasy:
Moongarden / Barry, Michelle A.
"Crumbling under the pressure at her elite school on the moon, misfit Myra Hodger discovers a lab full of toxic plants and uses her botanical magic to weed out its secrets, but quickly discovers some will do anything to take those secrets to the grave. A stellar update of The Secret Garden, with a little science fiction, a lot of magic, a vibrant heroine, and a plucky robot sidekick to rival R2-D2." (Adapted from Catalogue)
The fish / Stubbs, Joanne
"A few decades into the twenty-first century, in their permanently flooded garden in Cornwall, Cathy and her wife Ephie give up on their vegetable patch and plant a paddy field instead. Thousands of miles away, expat Margaret is struggling to adjust to life in Kuala Lumpur, now a coastal city. In New Zealand, two teenagers marvel at the extreme storms hitting their island. But they are not the only ones adapting to the changing climate. The starfish on Cathy's kitchen window are just the start. As all manner of sea creatures begin to leave the oceans and invade the land, the new normal becomes increasingly hard to accept."(Adapted from Catalogue)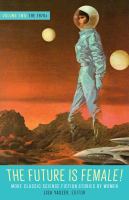 The future is female! : more classic science fiction stories by women. Volume two, The 1970s
"These twenty-three wild, witty, and wonderful classics dramatize the liberating energies of the 1970s: separatist female utopias by Joanna Russ and Sonya Dorman Hess furiously upend the sexual politics of their day; near-future dystopias from Lisa Tuttle and C. J. Cherryh imagine world-destroying alliances of science and patriarchy; nuanced space operas by Kathleen Sky and Joan D. Vinge give center stage to women and alien-gendered characters; and chilling tales by Eleanor Arnason and James Tiptree, Jr…" (Adapted from Catalogue)
Into the riverlands / Vo, Nghi
"Wandering cleric Chih of the Singing Hills travels to the riverlands to record tales of the notorious near-immortal martial artists who haunt the region. On the road to Betony Docks, they fall in with a pair of young women far from home, and an older couple who are more than they seem. As Chih runs headlong into an ancient feud, they find themselves far more entangled in the history of the riverlands than they ever expected to be. Accompanied by Almost Brilliant, a talking bird with an indelible memory, Chih confronts old legends and new dangers alike as they learn that every story bears more than one face…" (Adapted from Catalogue) Also available as an eBook.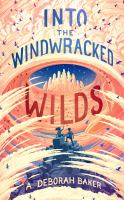 Into the windwracked wilds / Baker, A. Deborah
"When the improbable road leaves Avery and Zib in the land of Air and at the mercy of the Queen of Swords, escape without becoming monsters may be impossible. But with the aid of the Queen's son, the unpredictable Jack Daw, they may emerge with enough of their humanity to someday make it home. Their journey is not yet over; the dangers are no less great." (Adapted from Catalogue)
Grime : a novel / Berg, Sibylle
"The first English translation of celebrated Swiss-German novelist Sibylle Berg's Grime.  Grime is a manifesto for fury, escape, and individual revolt. The author sprays her fury across the whole landscape of technological and economic manias that are rendering the 21st century intolerable. At turns hilarious, hectoring,  full of hyperbolic prose,  a book which isn't so much propulsive as relentless. Described by one reviewer as a novel so caustic it should be printed with hydrochloric acid ." (Adapted from Catalogue)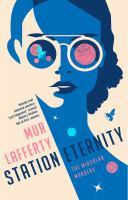 Station eternity / Lafferty, Mur
"Mallory Viridian is constantly embroiled in murder cases that only she has the insight to solve. But outside of a classic mystery novel, being surrounded by death doesn't make you a charming amateur detective, it makes you a suspect and a social pariah. So when Mallory gets the opportunity to take refuge on a sentient space station, she thinks she has the solution. Surely the murders will stop if her only company is alien beings. At first her new existence is peacefully quiet…and markedly devoid of homicide. But when the station agrees to allow additional human guests, Mallory knows the break from her peculiar reality is over…" (Adapted from Catalogue)
The deluge / Markley, Stephen
"In 2013 California, environmental scientist Tony Pietrus, after receiving a death threat, is linked to a colorful cast of characters, including a brazen young activist who, in the mountains of Wyoming, begins a project that will alter the course of the decades to come." (Adapted from Catalogue)
Kraken calling : a novel / McBay, Aric
"In 2028 environmental activists hesitate to take the fight to the extreme of violent revolution. Twenty years later, with the natural environment now seriously degraded, the revolution is brought to the activists, rather than the other way around, by an authoritarian government willing to resort to violence, willing to let the majority suffer from hunger and poverty, in order to control its citizens when the government can no longer provide them with a decent quality of life. So it is the activists who must defend their communities, their neighbors, through a more humane and in some ways more conservative status quo of care and moderation. And the outcome here is determined by the actions of those who resist more than it is by the actions of the nominally powerful." (Adapted from Catalogue)