It's International Chocolate Day and if there's one thing that rates high amongst librarians, other than books and cats, it's chocolate!  We'll find any excuse to have some celebratory choccies around, and you'll seldom hear more oohs and ahhs than when a really delicious looking chocolate recipe book comes into the collection.  In celebration of this most special day of the year, we've put together a list of chocolatey items from our collection that you can dig into while you enjoy some of the sweet stuff.
Chocolate : a global history / Moss, Sarah
"Chocolate is synonymous with our cultural sweet tooth, our restaurant dessert menus, and our idea of indulgence. It is seen as magical, addictive, and powerful beyond anything that can be explained by its ingredients, and in Chocolate Sarah Moss and Alec Badenoch explore the origins and growth of this almost universal obsession. Moss and Badenoch recount the history of chocolate, which from ancient times has been associated with sexuality, sin, blood, and sacrifice. Chocolate also looks at today's mass-production of chocolate, with brands such as Hershey's, Lindt, and Cadbury dominating our supermarket shelves." (Adapted from Catalogue)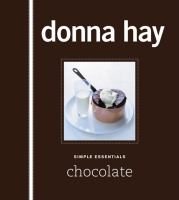 Chocolate / Hay, Donna
"Featuring 60 simply beautiful recipes for all our favourites, this is the only chocolate cookbook you'll ever need. Give yourself and your family a sweet treat! Covering the basics, biscuits and slices, small cakes, cakes and desserts, Simple Essentials: Chocolate is a celebration of everyone's favourite ingredient." (Adapted from Catalogue)
Chocolate alchemy : a bean to bar primer : creating your own truffles, candies, cakes, fudge and sipping chocolates / Hard, Kristen
"Finally, the first book to reveal the complete bean-to-bar process of creating chocolate from scratch in your own kitchen, plus over 100 recipes for delectable cacao treats. Through easy-to-understand recipes, Chocolate Alchemy makes creating your own chocolate at home accessible to everyone, whether you are an avid cook or simply a chocolate lover." (Adapted from Catalogue)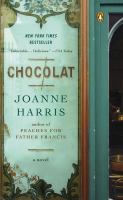 Chocolat : a novel / Harris, Joanne
"When an exotic stranger, Vianne Rocher, arrives in the French village of Lansquenet and opens a chocolate boutique directly opposite the church, Father Reynaud denounces her as a serious moral danger to his flock – especially as it is the beginning of Lent, the traditional season of self-denial. As passions flare and the conflict escalates, the whole community takes sides. Can the solemnity of the Church compare with the sinful pleasure of a chocolate truffle?" (Catalogue)
The little book of Chocolat / Harris, Joanne
"Try me… test me… taste me… Joanne Harris' Chocolat trilogy has tantalized readers with its sensuous descriptions of chocolate since it was first published. Now, to celebrate the much-loved story of Vianne Rocher's deliciously decadent chocolaterie, Joanne Harris and Fran Warde have created the ultimate book of chocolate lore and recipes from around the world, bringing a touch of magic to your kitchen." (Catalogue)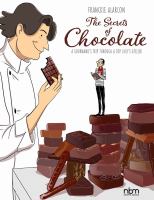 The secrets of chocolate : a gourmand's trip through a top chef's atelier / Alarcon, Franckie
"Following Jacques Genin for a year, Franckie Alarcon hobnobbed with one of the biggest chefs of Chocolate. Former chef and pastry chef for prestigious restaurants, this super-talented autodidact shares all his passion and knowledge of chocolate and his process for creating recipes. In this docu-comic, we travel with the starry-eyed author, satisfying many a craving from the chef's amazing atelier above his store, trying his hand as an apprentice, all the way to the Peruvian cocoa plantations where another chef shows how one carefully chooses the beans." (Catalogue)
Charlie and the chocolate factory / Dahl, Roald
"Charlie Bucket loves chocolate. And Mr Willy Wonka, the most wonderous inventor in the world, is opening the gates of his amazing chocolate factory to five lucky children. It's the prize of a lifetime! Gobstoppers, wriggle sweets and a river of melted chocolate await – Charlie needs just one Golden Ticket and these delicious treats could all be his." (Catalogue)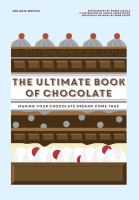 The ultimate book of chocolate : make your chocolate dreams come true / Dupuis, Melanie
"In The Ultimate Book of Chocolate trained pastry chef Melanie Dupuis will teach you how to make your chocolate dreams become a reality. Learn how to temper, mould and decorate like a pro with the complete guide to everything chocolate. Melanie guides the reader with step-by-step pictures and detailed instructions on all the essential techniques, from tempering to making ganache, chocolate mousse, creme anglaise, biscuit bases, meringue and more . This is a masterclass in making chocolate desserts from an expert pastry chef, and is truly a chocoaholic's dream book!" (Catalogue)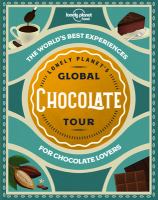 Lonely Planet's global chocolate tour
"Explore the delicious world of chocolate with Lonely Planet. Packed with find chocolate makers across six continents, and with tips on everything from where to get Germany's best black forest cake to the hotspots for hot chocolate, our experts show you where to treat your sweet tooth. Includes Tokyo, Brussels, London, Sydney, Johannesburg, San Francisco, Oaxaca, Toronto and more." (Catalogue)
The big block of chocolate / Bottin, Janet
"Miss Jenny bought some chocolate, a great big block of chocolate. She said, 'This block of chocolate is mine and all for me'"–Back cover." (Catalogue)
For more delicious books about chocolate, click here.