Anna Burns has won the 2018 Man Booker Prize with her unique take on the troubles in Northern Ireland.  Her novel Milkman has been praised for its distinctive voice and dark humour. She is the first Northern Irish writer to receive the prize. Its portrayal of a divided society in which a man uses these troubles to sexually pursue a young woman has been lauded. Anna Burns manages to deal with major, serious issues that can be found in many cultures in a common sense fashion that also contains elements of humour.
The book has been described as "incredibly original" by the Booker's chair of judges, the philosopher Kwame Anthony Appiah. The novel's themes whilst local also manage to cover the same experiences in a universal fashion. Anna Burns said of her life changing Booker win, "It's nice to feel I'm solvent. That's a huge gift."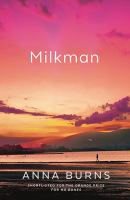 Milkman / Burns, Anna
"Written in a perfectly-rendered Irish vernacular Set in an un-named city but with an astonishing, breath-shorteningly palpable sense of time and place Milkman is a tale of gossip and hearsay, silence and deliberate deafness. The story of inaction with enormous consequences and decisions that are never made, but for which people are judged and punished.
Middle sister is our protagonist. She is busy attempting to keep her mother from discovering her nearly-boyfriend and to keep everyone in the dark about her encounter with milkman (which she herself for the life of her cannot work out how it came about). But when first brother-in-law, who of course had sniffed it out, told his wife, her first sister, to tell her mother to come and have a talk with her, middle sister becomes 'interesting'. The last thing she ever wanted to be. To be interesting is to be noticed and to be noticed is dangerous…" (Catalogue)