Neville Peat is an award-winning New Zealand writer whose career has already spanned over 50 years. He has written many acclaimed works in that time covering the genres of geography, biography, history and the natural environment.
He was the recipient of the 2007 Creative New Zealand Michael King Writers' Fellowship and was made a Member of the New Zealand Order of Merit (MNZM) for services to conservation in 2018.
His books on Aotearoa New Zealand range from Antarctica to tropical Tokelau, and during this time he
has visited many of the islands within New Zealand's marine realms.
Home is an Island, his latest book, is all about these beloved islands and features eight islands and eight journeys that range throughout his illustrious career. The book is part adventure travel, part memoir, part history and part nature conservation.
The book is highly readable, atmospheric, evocative, insightful and beautiful; a work that is about Neville's lifelong odyssey across the islands of New Zealand and celebrates their diversity.
We wish to extend our heartfelt thanks to Neville for taking the time to answer our questions and for providing such an illuminating insight into his world and work.
This interview was done in conjunction with Caffeine and Aspirin, the arts and entertainment review show on Radioactive FM.
Home Is An Island : A writer's tribute to the islands of Aotearoa New Zealand / Peat, Neville
"This book is about these islands, including Stewart Island/Rakiura, Anchor Island in Tamatea/Dusky Sound, Kāpiti Island and Tiritiri Matangi in the Hauraki Gulf. Further afield, the book also covers Ross Island in Antarctica, Enderby Island in the subantarctic Auckland Islands, the Chatham Islands and the New Zealand dependency of Tokelau. Part memoir, part adventure travel, history and nature conservation, Home is an Island is a fascinating, insightful book." (Adapted from catalogue).
The invading sea : coastal hazards and climate change in Aotearoa New Zealand / Peat, Neville
"New Zealand's coastline is under attack. When cyclones and king tides coincide, there is double trouble at the sea's edge with erosion and flooding .Award-winning author Neville Peat investigates the multiple faces of the greatest environmental issue to face New Zealand and other Pacific nations this century: the science of a warming, rising, stormier sea; the risky reality for many low-lying communities; the sluggish response of central and local government; the engineered solutions; and the curly question of insurance. He also addresses the vital question: what should be done and who should pay?" (Adapted from Catalogue)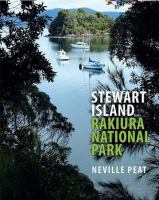 Stewart Island : Rakiura National Park / Peat, Neville
"Stewart Island is an increasingly popular holiday destination for eco-tourism and outdoor recreation, with many bush walks and a wealth of natural features to enjoy. Neville Peat introduces the attractions of the island – what to see and do, its walks and tramps, its national park, wildlife, history and magnificent scenery." (Adapted from Catalogue)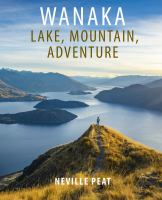 Wanaka : lake, mountain, adventure / Peat, Neville
"Neville Peat describes the scenic splendour of Wanaka and the myriad activities and attractions for visitors in this updated edition of a book that serves as both a guide to one of New Zealand's tourism hotspots, and as a souvenir. The book covers the history of the Wanaka area and its progress into a contemporary centre renowned for an exciting range of outdoor activities and regular events, including the internationally recognized Warbirds Over Wanaka air show. Further material offers a guide to local walking and cycling tracks, local flora and fauna, and Mt Aspiring National Park." (Adapted from Catalogue)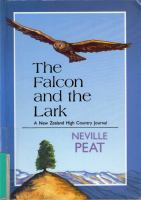 The falcon and the lark : a New Zealand high country journal / Peat, Neville
"Part memoir, part natural history, a journey through Central Otago and encounters with New Zealand's magnificent native falcon. He uncovers all; that is curious and distinctive there, in a rich blend of autobiography folklore and natural history. Woven throughout the narrative is an intimate portrait of New Zealand's native falcon, karearea, 'the wildest thing in our skies'. Neville Peat is one of New Zealand's finest writers, and in this delightful book combines his skill as an essayist and natural historian and his instincts and breadth of knowledge as a conservationist." (Adapted from Catalogue)
High country lark : an invitation to paradise / Peat, Neville
"An unusual summons from an old, itinerant acquaintance – known as the Lark – piques author Neville Peat's curiosity. The invitation to meet in the mountains around Glenorchy is timely: he's keen to head into the high country to investigate recent reports of sightings of the near-extinct kokako. The South Island high country has an allure all its own. New Zealand's equivalent of the Wild West, it's a rustic, spectacularly beautiful frontier, combining wild alpine beauty, beech forest and mirror-still lakes. " (Adapted from Catalogue)
Queenstown : New Zealand's adventure capital / Peat, Neville
"Founded on gold, sustained on scenery, developed on adrenalin …Queenstown is unlike anywhere else in New Zealand. It is the countrys tourismmecca, with lots of good reasons: mountains, rivers, lakes, climate, snow sports,tramping, fishing, bungy jumping, whitewater-rafting the list goes on and on.Neville Peat provides a guide to the region, with descriptions of its highlights." (Adapted from Catalogue)