Did you know? Women are typically given smaller research grants than their male colleagues and, while they represent 33.3% of all researchers, only 12% of members of national science academies are women. (United Nations Report)
Despite tremendous progress, a significant gender gap persists within all levels of science, technology, engineering and mathematics (STEM) disciplines around the world. While female representation has progressed substantially over time, female researchers still have shorter and lower paying careers, despite a shortage of skills in many fields. Achieving science and gender equality is a core principle of the UN's International Day of Women and Girls in Science, and an internationally agreed upon Sustainable Development Goal for the UN's 2030 Agenda, to strengthen the ties between society, science and policy strategies for the future.
Today, on International Day of Women and Girls in Science, we recognise the vital contributions our female scientists have made that have changed the course of history, despite tremendous odds, disadvantages and social pressures. We've compiled a list of some of the inspiring books that feature the too often untold stories of women making ground-breaking discoveries in their fields. Read their inspiring stories and help support the next generation of women and girls in science.
Headstrong : 52 women who changed science–and the world / Swaby, Rachel
"52 insightful and inspiring profiles of history's brightest female scientists and mathematicians. Highlighting not only that women in science are often treated with less respect than their male counterparts, but also that the STEM fields are still underrepresented spaces. Headstrong gives these lives the attention and respect they deserve–with the aim to encourage and inspire a new generation of women and girls to put on their lab coats." (Adapted from Catalogue)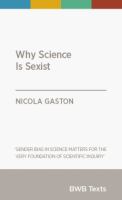 Why science is sexist / Gaston, Nicola
"Nicola Gaston, President of the New Zealand Association of Scientists scrutinises the sexism afflicting the discipline of science, from the under-representation of women to the 'scientific' argument that mental capabilities are gendered. Ultimately, she asks what can be done to combat unconscious bias in science – and to ensure that the future of scientific inquiry is both balanced and objective." (Adapted from Catalogue)
A lab of one's own : science and suffrage in the First World War / Fara, Patricia
"A Lab of One's Own tells the fascinating and extraordinary stories of the lives of female scientists, doctors, and engineers who undertook endeavours normally reserved for men during WWI. It tells fascinating and extraordinary stories featuring initiative, determination, and isolation, set against a backdrop of war, prejudice, and disease. Patricia Fara investigates the enterprising careers of these pioneering women and their impact on science, medicine, women's role during and after the first World War." (Adapted from Catalogue)
Wonder Women : 25 innovators, inventors, and trailblazers who changed history / Maggs, Sam
"A fun and feminist exploration of the forgotten women in Science, Technology and beyond. Smart women have always been able to achieve amazing things, even when the odds were stacked against them. Wonder Women tells the stories of the totally rad women in history who broke barriers as scientists, engineers, mathematicians, adventurers, and inventors. Includes interviews with women in STEM careers and a guide to women-centric science and technology organizations." (Adapted from Catalogue)
The comet sweeper : Caroline Herschel's astronomical ambition / Brock, Claire
"The story of Britain's first female professional scientist, Caroline Herschel. Having escaped domestic servitude in earlier life, Caroline Herschel learned astronomy while helping her brother William, then Astronomer Royal. Soon making scientific discoveries in her own right, she swept to international scientific fame and became the first woman in Britain to make her living from science. Brock tells the story of a woman determined to win independence and satisfy her astronomical ambition." (Adapted from Catalogue)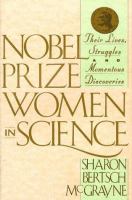 Nobel Prize women in science : their lives, struggles, and momentous discoveries / McGrayne, Sharon Bertsch
"Since 1901 there have been over 300 recipients of the Nobel Prize in the sciences, yet only 10 of them – about 3%- have been women. In Nobel Prize Women in Science, McGrayne explores the reasons for this astonishing disparity by examining the lives and achievements of 15 women scientists who either won a Nobel Prize or played a crucial role in a Nobel Prize-winning project. Revealing the relentless discrimination these women faced both as students and as researchers, celebrating how they were passionately in love with science." (Adapted from Catalogue)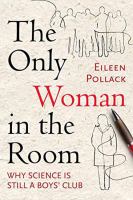 The only woman in the room : why science is still a boys' club / Pollack, Eileen
"Eileen Pollack grew up in the '60s and '70s dreaming of a career as a theoretical astrophysicist. Denied the chance to take advanced courses in science and math, she nonetheless made her way to Yale, where she went on to graduate with honors, as one of the first 2 women to earn a degree in physics. And yet, isolated, lacking in confidence, starved for encouragement, she abandoned her ambition to become a physicist. Years later, Pollack revisited her reasons for walking away from the career she once had coveted." (Adapted from Catalogue)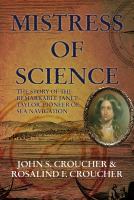 Mistress of science : the story of the remarkable Janet Taylor, pioneer of sea navigation / Croucher, John S
"It is hard to imagine a more male-dominated field in the 19th century than sea navigation. This was the high-point of the British Empire and sea navigation drove it. Yet in the midst of this domain, Janet Taylor emerged as a young woman able to match the best male minds in the field. She was one of the most remarkable scientists of the period, a gifted mathematician, astronomer, author and instrument maker, a teacher of navigation and a businesswoman." (Adapted from Catalogue)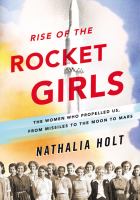 Rise of the rocket girls : the women who propelled us, from missiles to the moon to Mars / Holt, Nathalia
"During World War II, when the brand-new minted Jet Propulsion Laboratory needed quick-thinking mathematicians to calculate jet velocities and plot missile trajectories, they recruited an elite group of young women who transformed rocket design. Based on extensive research and interviews with the living members of the team, Rise of the Rocket Girls offers a unique perspective on the role of women in science, illuminating both where we've been and the far reaches of where we're heading." (Adapted from Catalogue)
Forgotten women. The scientists / Tsjeng, Zing
"Forgotten Women is uncovers the lost herstories of influential women who have refused, over hundreds of years, to accept the hand they've been dealt and, as a result, have formed, shaped and changed the course of our futures. From leaders and scientists to artists and writers, the fascinating stories of these women that time forgot are now celebrated, Forgotten Women is putting their achievements firmly back on the map." (Adapted from Catalogue)