Law and justice are not the same."
― John Connolly.
The wide range and diversity of genres and writing styles to be found under the umbrella term of mysteries is amply demonstrated in this month's new acquisitions list. We have a Ngaio Marsh shortlisted title from Renée. A couple of Scandinavian noir inflected tales from the dark north. Some more gentle entertaining crime tales from Rita Mae Brown and Mario Giordano. A new work from the perennially popular John Connolly and to wrap our selection up a sensational new Japanese crime voice Riku Onda whose book has gathered ecstatic reviews from his home country. Enjoy!
This is just a highlighted selection of our new acquisitions, to see this month's the full list, and previous months, click here.
The dirty south / Connolly, John
"It is 1997, and someone is slaughtering young black women in Burdon County, Arkansas.But no one wants to admit it, not in the Dirty South. In an Arkansas jail cell sits a former NYPD detective, stricken by grief. He is mourning the death of his wife and child, and searching in vain for their killer. He cares only for his own lost family.But that is about to change . . . Witness the becoming of Charlie Parker." (Adapted from Catalogue)
Furmidable foes / Brown, Rita Mae
" Harry, Susan Tucker, and their friends are busy planting flowers and trimming hedges to get the church grounds in shape for the big day. But a note of a menace mars the beautiful spring: The brewery owned by Janice Childs and Mags Nielsen,  gets robbed, is this the work of a random thief? Or is something more sinister afoot? When Jeannie Cordle drops dead at a charity auction, poisoned by a fatal weed, Harry's worst suspicions are confirmed: a killer lurks in their midst. Although she can't yet prove it. " (Adapted from Catalogue)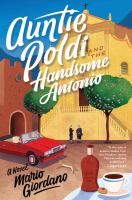 Auntie Poldi and the handsome Antonio / Giordano, Mario
" All the beloved, irascible Auntie Poldi wanted from her Sicilian retirement was time to enjoy the sunshine, a free-flowing supply of wine, and a sultry romance with Chief Inspector Vito Montana. But then her idyll is rudely disrupted by the last person she wants to see on her doorstep: John Owenya, detective inspector with the Tanzanian Ministry of Home Affairs, who is also her estranged lying cheat of a husband. Not only is John's sudden reappearance putting a kink in Poldi's dreamy love affair with Montana, but his presence also comes with a plea for help–and unwanted clashes with the Mafia." (Adapted from Catalogue)
Death deserved / Horst, Jørn Lier
"Former long-distance runner Sonja Nordstrom never shows at the launch of her controversial autobiography, Always Number One. When celebrity blogger Emma Ramm visits Nordstrom's home later that day, she finds the door unlocked and signs of a struggle inside. Police officer Alexander Blix is appointed to head up the missing-persons investigation.Traces of Nordstrom soon show up at different locations, but the appearance of the clues appear to be carefully calculated … evidence of a bigger picture that he's just not seeing… (Adapted from Catalogue)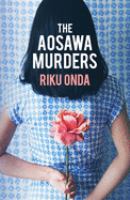 The Aosawa murders / Onda, Riku
"On a stormy summer day in the 1970s the Aosawas, owners of a prominent local hospital, host a large birthday party in their villa on the Sea of Japan. The occasion turns into tragedy when 17 people die from cyanide in their drinks. The only surviving links to what might have happened are a cryptic verse that could be the killer's, and the physician's bewitching blind daughter, Hisako, the only family member spared death. The youth who emerges as the prime suspect commits suicide that October, effectively sealing his guilt while consigning his motives to mystery." (Adapted from Catalogue)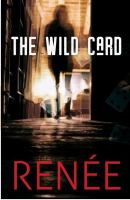 The wild card / Renée
"Ruby Palmer has been dealt a rough hand. She was left in a kete at the back door of the Porohiwi Home for Children when she was a baby, and then at seven she discovered that Betty who stopped the bad stuff happening to Ruby at the Home has drowned. Now in her thirties, Ruby suspects her friend was murdered,  her only lead is a notebook that uses the symbols on playing cards to tell a story she can't understand, but there are other clues too: the man in the balaclava who attacks her when she starts to investigate, and break-ins at the local theatre where Ruby is playing  in The Importance of Being Earnest. " (Adapted from Catalogue)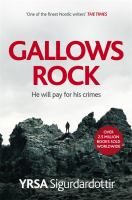 Gallows Rock / Yrsa Sigurdardottir
"'On a jagged, bleak lava field just outside Reykjavik stands the Gallows Rock. Once a place of execution, it is now a tourist attraction. Until this morning, when a man was found hanging from it…The nail embedded in his chest proves it wasn't suicide. But when the police go to his flat, a further puzzle awaits: a four-year-old boy has been left there. He doesn't seem to have any link with the victim, his parents cannot be found, and his drawings show he witnessed something terrible." (Adapted from Catalogue)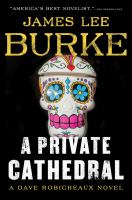 A private cathedral / Burke, James Lee
"After finding himself caught up in one of Louisiana's oldest and bloodiest family rivalries, Detective Dave Robicheaux must battle the most terrifying adversary he has ever encountered: a time-traveling superhuman assassin.  In order to defeat him and rescue Johnny and Isolde, Robicheaux will have to overcome the demons that have tormented him throughout his adult life–alcoholism, specters from combat in Vietnam, and painful memories of women to whom he opened his heart only to see killed. " (Adapted from Catalogue)