I am, as it is bliss to be, Still and untroubled.

― Charlotte Brontë,

There's a whole sub-genre of crime and detective fiction which stars real life historical characters as the investigating detectives. Just a few of these historical characters, turned fictional detectives, include Oscar Wilde, Jane Austin, Charles Dickens, and Agatha Christie.  There's even a Barrack Obama and Joe Biden mystery series, where the current and former American presidents form the sleuthing duo. One particularly unlikely, fictionalised team that I particularly like is the Raymond Chandler and Boris Karloff team up, found in Kim Newman's Something More than Night. In this month's newly acquired crime and mystery titles, we can add The Bronte sisters to these illustrious ranks.
In The Red Monarch, literature's most famous siblings are also amateur detectives. The tale is set around the time of their self-published collection Poems of Currer, Ellis, and Acton Bell, where the sisters adopted male names as they thought it would help sales and avoid gender prejudice. The collection was published at their own expense, and sadly sold exactly two copies. In The Red Monarch, the sisters are also battling against a slum dwelling criminal gang.
Other highlights from the below list include a tale that takes us on the Trans-Siberian Express, a police transcriber and a mystery set on a cocoa plantation in Ecuador.
The red monarch / Ellis, Bella
"The Bronte sisters' first poetry collection has just been published, potentially marking an end to their careers as amateur detectors, when Anne receives a letter from her friend Lydia Robinson. Lydia has eloped with a young actor, Harry Roxby. Harry has become embroiled with a criminal gang and is in terrible danger after allegedly losing something very valuable that he was meant to deliver to their leader. . She knows there are few people who she can turn to in this time of need, but the sisters agree to help Lydia, beginning a race against time to save Harry's life." (Adapted from Catalogue)
Death on the Trans-Siberian Express / Farrington, C. J.
"Olga Pushkin, Railway Engineer (Third Class) and would-be bestselling author, spends her days in a little rail-side hut with only Dmitri the hedgehog for company.  And one day Olga arrives at her hut only to be knocked unconscious by a man falling from the Trans-Siberian, an American tourist with his throat cut from ear to ear and his mouth stuffed with 10-ruble coins. Another death soon follows. But with no leads to follow and time running out, has Olga bitten off more than she can chew?" (Adapted from Catalogue)
Bryant & May : London Bridge is falling down / Fowler, Christopher
"When 91-year-old Amelia Hoffman died in her top-floor flat on a busy London road, : she slipped through the cracks in a failing system. But detectives Arthur Bryant and John May of the Peculiar Crimes Unit have their doubts. Bryant is convinced that other forgotten women with hidden talents are also in danger. And, curiously, they all own models of London Bridge. With the help of some of their more certifiable informants, the detectives follow the strangest of clues in an investigation that will lead them through forgotten alleyways to the city's oldest bridge in search of a desperate killer." (Adapted from Catalogue)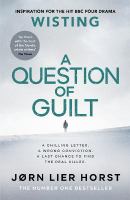 A question of guilt / Horst, Jørn Lier
"In 1999, seventeen-year-old Tone Vaterland was killed on her way home from work. Desperate for a conviction the police deemed the investigation an open-and-shut case and sent her spurned boyfriend, Danny Momrak, down for murder. But twenty years later William Wisting receives a puzzling letter. It suggests the wrong man was convicted for Tone's death and the real murderer is still out there. Wisting is quickly thrown into a terrifying race against time where he must find the sender, decipher this mysterious letter and catch the real killer before they strike again." (Adapted from Catalogue)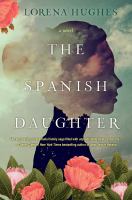 The Spanish daughter / Hughes, Lorena
"Inheriting a cocoa plantation in Vinces, Ecuador, that someone will kill for, Puri, after her husband is murdered, assumes his identity to search for the truth of her father's legacy and learn the identity of the enemy who stands in her way of claiming her birthright." (Adapted from Catalogue)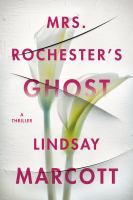 Mrs. Rochester's ghost : a thriller / Marcott, Lindsay
"Jane has lost everything: job, mother, relationships, even her home. A friend calls to offer an unusual deal–a cottage above the crashing surf of Big Sur on the estate of his employer, Evan Rochester. In return, Jane will tutor his teenage daughter. She accepts. But nothing is quite as it seems at the Rochester estate. Though he's been accused of murdering his glamorous and troubled wife, Evan Rochester insists she drowned herself. Jane is skeptical, but she still finds herself falling for the brilliant and secretive entrepreneur and growing close to his daughter…" (Adapted from Catalogue)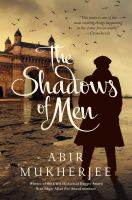 The shadows of men : a novel / Mukherjee, Abir
"Calcutta, 1923. When a Hindu theologian is found murdered in his home, the city is on the brink of all-out religious war. Can the officers of the Imperial Police Force–Captain Sam Wyndham and Sergeant "Surrender-Not" Banerjee–track down those responsible in time to stop a bloodbath? Set at a time of heightened political tension, beginning in atmospheric Calcutta and taking the detectives all the way to bustling Bombay, the latest instalment in this remarkable series presents Wyndham and Banerjee with an unprecedented challenge. Will this be the case that finally drives them apart?" (Catalogue)
Hello, transcriber / Morrissey, Hannah
"Every night, while the street lamps shed the only light on Wisconsin's most crime-ridden city, police transcriber Hazel Greenlee listens as detectives divulge Black Harbor's gruesome secrets. As an aspiring writer, Hazel believes that writing a novel could be her only ticket out of this frozen hellscape. And then her neighbor confesses to hiding the body of an overdose victim in a dumpster. The suspicious death is linked to Candy Man, a notorious drug dealer. Now Hazel has a first row seat to the investigation and becomes captivated by the lead detective…" (Adapted from Catalogue) Also available as an eBook.