Lady Marian Fitzswalter: Why, you speak treason!   Robin Hood : Fluently. – The Adventures of Robin Hood 1938
We recently had the great pleasure of doing a launch event with the fabulous H.G. Parry for her new book The Magician's Daughter. You can view a recording of that event at the end of this piece.
During that conversation, the subject of the Robin Hood legend came up as a continuing inspiration for writers, especially film and television directors. So, we thought what better excuse do we need to look at some of the versions, some of which are available to borrow.
Since the birth of film each age has created its own celluloid version of the Robin Hood myth. The idea of robbing from the rich to give to the poor has had universal appeal for a very long time. The first version we are going to look at is the The Adventures of Robin Hood  from 1938. This swaggering swashbuckling version which some people regard as the best Robin Hood movie of them all starred Errol Flynn as Robin Hood in his most acclaimed role. The supporting cast is pretty stellar too, featuring superstars of the era like Olivia De Havilland, Basil Rathbone and Claude Rains.
The 1973 Animated Walt Disney version featured characters recycled from The Jungle Book, the songs are fabulous and the whole venture is great family fun.
The definitive 1980's version of the myth was the British television series called Robin of Sherwood, starring Michael Praed and later Jason Connery as Robin. Robin Hood was obviously a family affair in the Connery household, as Jason's  father Sean played several different roles in several adaptations of the myth. The series looks fabulous despite being filmed on a shoestring budget, allegedly the Sherriff of Nottingham's gold regalia was made from spray painted biscuits! The series was hugely popular at the time and became the template for many of the later adaptations.
In the 90's, Robin Hood: Prince of Thieves, starring Kevin Costner and another stellar cast of the time: including Alan Rickman, Mike McShane and Sean Connery. The single from the soundtrack, (Everything I Do) I Do It for You by Bryan Adams, hit the number one slot globally, was the best-selling single of that year, and one of the best-selling singles of all time.
The 2010 Ridley Scott directed Robin Hood, film starring Russell Crowe and Cate Blanchett, is a much grittier and more visceral affair.
Other recently acquired Fantasy and Science fiction titles that caught our attention are listed below.

The magician's daughter / Parry, H. G.
"It is 1912, and for the last seventy years magic has all but disappeared from the world. Yet magic is all Biddy has ever known. Orphaned as a baby, Biddy grew up on Hy-Brasil, a legendary island off the coast of Ireland hidden by magic and glimpsed by rare travelers who return with stories of wild black rabbits and a lone magician in a castle. To Biddy, the island is her home, a place of ancient trees and sea-salt air and mysteries, and the magician, Rowan, is her guardian. She loves both, but as her seventeenth birthday approaches, she is stifled by her solitude and frustrated by Rowan's refusal to let her leave…" (Adapted from Catalogue)
The crane husband / Barnhill, Kelly Regan
" A fifteen-year-old teenager is the backbone of her small Midwestern family, budgeting the household finances and raising her younger brother while her mother, a talented artist, weaves beautiful tapestries. For six years, it's been just the three of them–her mother has brought home guests at times, but none have ever stayed. Yet when her mother brings home a six-foot tall crane with a menacing air, the girl is powerless to prevent her mom letting the intruder into her heart, and her children's lives. Utterly enchanted and numb to his sharp edges, her mother abandons the world around her to weave the masterpiece the crane demands…" (Adapted from Catalogue)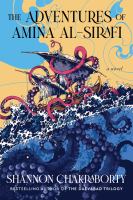 The adventures of Amina Al-Sirafi : a novel / Chakraborty, S. A.
"Amina al-Sirafi should be content. After a storied and scandalous career as one of the Indian Ocean's most notorious pirates, she's survived backstabbing rogues, vengeful merchant princes, several husbands, and one actual demon to retire peacefully with her family to a life of piety, motherhood, and absolutely nothing that hints of the supernatural. But when she's tracked down by the obscenely wealthy mother of a former crewman, she's offered a job no bandit could refuse: retrieve her comrade's kidnapped daughter for a kingly sum. The chance to have one last adventure with her crew, do right by an old friend, and win a fortune that will secure her family's future forever? It seems like such an obvious choice that it must be God's will. " (Adapted from Catalogue)
Our share of night : a novel / Enriquez, Mariana
"In 1981, a young father and son set out on a road trip across Argentina, devastated by the mysterious death of the wife and mother they both loved. United in grief, the pair travels to her family home near Iguazú Falls, where they must confront the horrific legacy she has bequeathed. For the woman they are grieving came from a family like no other–a centuries-old secret society called the Order that pursues eternal life through ghastly rituals. For Gaspar, the son, this cult is his destiny. As Gaspar grows up he must learn to harness his developing supernatural powers, while struggling to understand what kind of man his mother wanted him to be…" (Adapted from Catalogue)
The foxglove king / Whitten, Hannah
"When Lore was thirteen, she escaped a cult in the catacombs beneath the city of Dellaire. And in the ten years since, she's lived by one rule: don't let them find you. Easier said than done, when her death magic ties her to the city. Mortem, the magic born from death, is a high-priced and illicit commodity in Dellaire, and Lore's job running poisons keeps her in food, shelter, and relative security. But when a run goes wrong and Lore's power is revealed, she's taken by the Presque Mort, a group of warrior-monks sanctioned to use Mortem working for the Sainted King. Lore fully expects a pyre, but King August has a different plan…" (Adapted from Catalogue)
The scarlet circus / Yolen, Jane
"A rakish fairy meets the real Juliet behind Shakespeare's famous tragedy. A jewelry artist travels to the past to meet a successful silver-smith. The addled crew of a ship at sea discovers a mysterious merman. More than one ignored princess finds her match in the most unlikely men. From ecstasy to tragedy, with love blossoming shyly, love at first sight, and even love borne of practical necessity–beloved fantasist Jane Yolen's newest collection celebrates romance in all its glory."–Publisher marketing" (Catalogue)
Godkiller / Kaner, Hannah
"You are not welcome here, godkiller. Kissen's family were killed by zealots of a fire god. Now, she makes a living killing gods, and enjoys it. That is until she finds a god she cannot kill: Skedi, a god of white lies, has somehow bound himself to a young noble, and they are both on the run from unknown assassins. Joined by a disillusioned knight on a secret quest, they must travel to the ruined city of Blenraden, where the last of the wild gods reside, to each beg a favour. Pursued by demons, and in the midst of burgeoning civil war, they will all face a reckoning — something is rotting at the heart of the kingdom, and only they can be the ones to stop it." (Adapted from Catalogue) Also available as an eBook.
The destroyer of worlds : a return to Lovecraft country / Ruff, Matt
"Summer, 1957. Atticus Turner and his father, Montrose, travel to North Carolina, where they plan to mark the centennial of their ancestor's escape from slavery by retracing the route he took into the Great Dismal Swamp. But an encounter with an old nemesis turns their historical reenactment into a real life-and-death pursuit.  Yet these troubles are soon eclipsed by the return of Caleb Braithwhite. Stripped of his magic and banished from Chicago at the end of Lovecraft Country, he's found a way back into power and is ready to pick up where he left off. But first he has a score to settle…" (Adapted from Catalogue)