Refresh your wardrobe and get some spring style inspiration with our latest fashion and beauty update. We have new books on mending and upcycling your clothing, to help you make the most out of the clothes you already own, as well as a Breakfast at Tiffany's style guide to help you channel a little Holly Golightly into your daily life. We also have a brand new style guide especially for men and the 40th anniversary eBook edition of the iconic Cheap Chic, as well as an in-depth look at the style and clothing of well-known artists.
What artists wear / Porter, Charlie
"Most of us live our lives in our clothes without realizing their power. But in the hands of artists, garments reveal themselves. They are pure tools of expression, storytelling, resistance and creativity: canvases on which to show who we really are. In What Artists Wear, style luminary Charlie Porter takes us on an invigorating, eye-opening journey through the iconic outfits worn by artists, in the studio, on stage, at work, at home and at play. What Artists Wear is both a manual and a manifesto, a radical, gleeful, inspiration to see the world anew-and find greater pleasure and possibility in the clothes we all wear." (adapted from catalogue)
All made up : the power and pitfalls of beauty culture, from Cleopatra to Kim Kardashian / Nudson, Rae
"A fascinating journey through history and culture, examining how makeup affects self-empowerment, how people have used it to define (and defy) their roles in society. There is a history and a cultural significance that comes with wearing cat-eye-inspired liner or a bold red lip even if we don't realize exactly why. Increasingly, people of all genders are wrestling with what it means to be a woman living in a patriarchy, and part of that is how looking like a woman—whatever that means—affects people's real lives. This book also holds space for other factors, especially the ways that beauty standards differ across race, class, and culture." (adapted from catalogue) Also available as an eBook.
Breakfast at Tiffany's : the official guide to style : over 100 fashion, decorating, and entertaining tips to bring out your inner Holly Golightly / Jones, Caroline
"In the iconic 1961 film Breakfast at Tiffany's, Holly was the original metropolitan It Girl. Tapping into Holly's timeless style and effortless sense of cool, this book highlights rules and guidelines for bringing the look, feel, and spirit of Breakfast at Tiffany's into your everyday life. With chapters on fashion, grooming, décor, entertaining, and more, this book includes curated looks, tips, and advice for all women, providing the tools we need to embrace the Holly Golightly inside us." –Amazon.com." (adapted from catalogue)
Make thrift mend : stitch, patch, darn, plant-dye & love your wardrobe / Rodabaugh, Katrina
"Slow fashion influencer Katrina Rodabaugh follows her bestselling book, Mending Matters, with a comprehensive guide to building (and keeping) a wardrobe that matters. Whether you want to repair your go-to jeans, refresh a favorite garment, thrift-shop like a pro, or dye, tailor, and reinvent clothing you already have–this book has all the know-how you'll need. Woven throughout are stories, essays, and a slow fashion call-to-action, encouraging readers to get involved or deepen their commitment to changing the destructive habit of overconsumption." (adapted from catalogue)
Vain glorious : a shameless guide for men who want to look their best / Langmead, Jeremy
"Should I tint my eyebrows? How can I get a squarer jawline? Which style of trouser would make my legs look longer? Leading lifestyle columnist and magazine editor, Jeremy Langmead, has men constantly asking him for answers to these questions and more. Here, he teams up with Harley Street aesthetic doctor David Jack to lift the lid on all the anti-ageing and beauty secrets now available for men. Vain Glorious is an honest and practical guide to help men feel comfortable in their own skin"–Publisher's description." (adapted from catalogue)
Dressed : fashionable dress in Aotearoa New Zealand 1840-1910 / Regnault, Claire
"This illustrated social history explores the creation, consumption and spectacle of fashionable dress in Aotearoa New Zealand. New Zealand's 19th century dress culture was heavily shaped by international trends and interactions with Māori, the demands of settler lifestyle and the country's geographical and environmental conditions. Dressed shows dresses and fashionable accessories from museums around Aotearoa New Zealand"–Publisher information." (Catalogue)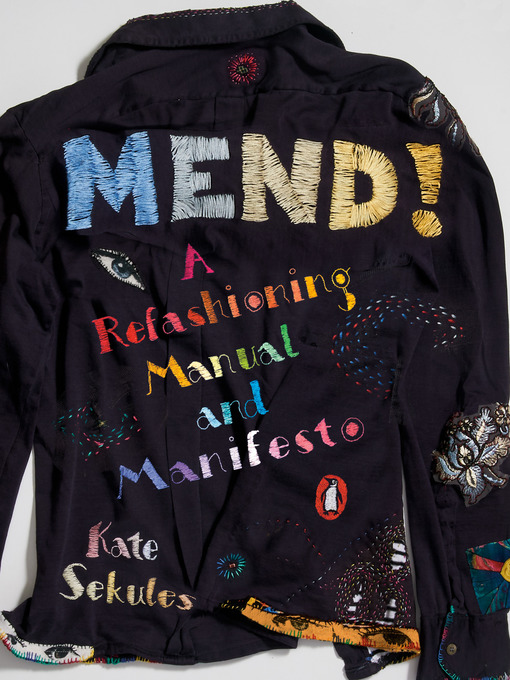 Mend! A Refashioning Manual and Manifesto, by Kate Sekules
"A hands-on manual and a history and celebration of clothes tending—and its remarkable resurgence as art form, political statement, and path to healing the planet.Kate Sekules introduces the art of visible mending as part of an important movement to give fashion back its soul. Part manifesto, part how-to, MEND! calls for bold new ways of keeping clothes and refreshing your style. Crammed with tips, fun facts, ravishing photography, and illustrated tutorials, MEND! tells you exactly how to rescue and renew your wardrobe with flair and aplomb—and save money along the way." (adapted from Overdrive description)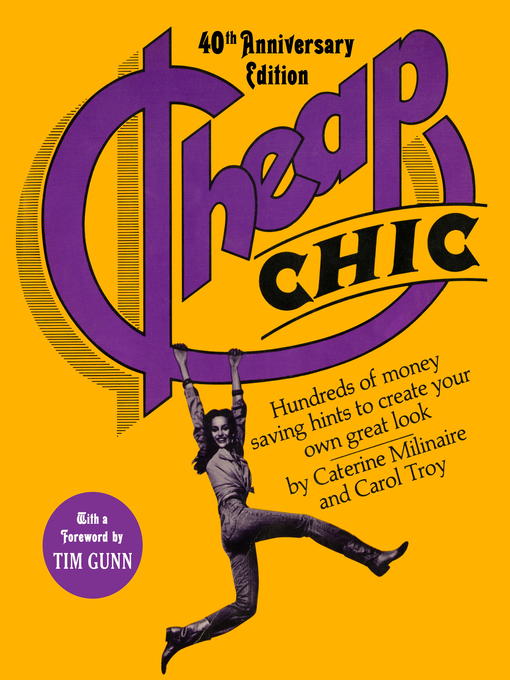 Cheap Chic: Hundreds of Money-Saving Hints to Create Your Own Great Look
, by Caterine Milinaire & Carol Troy
"Before there were street-style blogs and 'zines, there was Cheap Chic. Astonishingly relevant forty years later, Cheap Chic provides timeless practical advice for creating an affordable, personal wardrobe strategy: what to buy, where to buy it, and how to put it all together to make your own distinctive fashion statement without going broke. Inspiring decades of fashion lovers and designers, Cheap Chic is the original fashion bible that proves you don't have to be wealthy to be stylish." (adapted from Overdrive description)