When it began life in 2014, Verb Wellington (then LitCrawl) featured 15 literary events across a single night in November. Six years on, things have changed! This highlight of the capital's creative calendar runs for a full four days, with writers from Aotearoa and around the world packing into shops, bars, libraries, galleries and more to listen to–and take part in–a range of exciting literary events.
To help you navigate these authorial riches, we've put together a librarians' choice of Verb Wellington events. And if you need to do some reading before heading along, never fear–we've got links to the books associated with each event as well! So whether you like discovering the luxurious yet desolate apartments of post-recession Iceland or Tinakori Road in the '60s–or anything else!–Verb Wellington has got you covered. (And for bonus reading, check out our curated list of Verb Wellington eBooks here!)
Monty's Pick:
Going to Custard: High Tea with Danielle Hawkins and Catherine Robertson.
The pair of best-selling Aotearoa writers sit down and tuck in to talk about how they draw upon life to spin into stories for their beautifully Kiwi pages.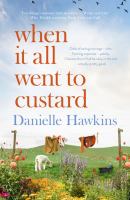 When it all went to custard / Hawkins, Danielle
"The news of Jenny's husband's infidelity comes as a nasty shock to the part-time building control officer and full-time mother – even though, to her surprise, her first reaction is relief. What really hurts is her children's unhappiness at the break-up, and the growing realisation that she may lose the family farm. This is the story of the year after Jenny's old life falls apart; of family and farming, pet lambs and geriatric dogs, choko-bearing tenants and Springsteen-esque neighbours. And of getting a second chance." (Adapted from Catalogue)
What you wish for / Robertson, Catherine
"Dr Ashwin Ghadavi, the newly imported GP, is trying hard to fit into Gabriel's Bay. His challenges include the immoveable force of his office manager, Mac, the ambiguities of the Kiwi idiom and his unrequited attraction to Mac's daughter, Emma. Having returned home, Emma is on a mission to right eco wrongs, and her targets include local farmer Vic Halsworth, who's already neck deep in the proverbial and, to make matters worse, seems to be having visions of moose." (Adapted from Catalogue)
Fiona's Pick:
Val McDermid: Queen of Crime with Val McDermid and Noelle McCarthy.
Val joins RNZ's Noelle McCarthy for a discussion about her latest books: the beautiful My Scotland, an ode to the Scotland in her stories and what those places mean to her, and the rather more bloody, How the Dead Speak.
My Scotland / McDermid, Val
"In My Scotland, number one bestselling author Val McDermid takes readers to the landscapes where she has lived all her life, and the places where her stories and characters reside. Accompanied by over 100 stunning photographs, this remarkable book uncovers Val's own Scotland in all its glory – from the iconic Isle of Skye to the majestic streets of Edinburgh; from the undiscovered hideaways of the Highlands to the wild and untamed Jura." (Adapted from Catalogue)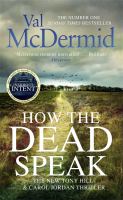 How the dead speak / McDermid, Val
"After an explosive case that forced Tony Hill and Carol Jordan to reassess everything they thought they knew about right and wrong, both are dealing with the fallout in their own separate ways. While Tony must pay the price for his actions, Carol is conducting investigations into suspected miscarriages of justice. But when a shocking discovery is made on a construction site, Tony and Carol are brought into each other's orbit once again…" (Adapted from Catalogue)
Cathy's Pick:
Lit-Sync For Your Life 2019 curated by Chris Tse.
Six of Wellington's most dynamic and fearless drag performers will shablam the house down in a literary drag show celebrating New Zealand books and writers.
He's so MASC / Tse, Chris
"He's So MASC confronts a contemporary world of self-loathing poets and compulsive liars, of youth and sexual identity, and of the author as character–pop star, actor, hitman, and much more. These are poems that delve into worlds of hyper-masculine romanticism and dancing alone in night clubs. With it's many modes and influences, He's So MASC is an acerbic, acid-bright, yet unapologetically sentimental and personal reflection on what it means to perform and dissect identity." (Adapted from Catalogue)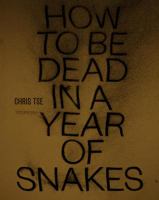 How to be dead in a year of snakes / Tse, Chris
"In 1905, white supremacist Lionel Terry murdered the Cantonese gold prospector Joe Kum Yung to draw attention to his crusade to rid New Zealand of Chinese and other east Asian immigrants. Author Chris Tse uses this story–and its reenactment for a documentary a hundred years later–to reflect on the experiences of Chinese migrants of the period, their wishes and hopes, their estrangement and alienation, their ghostly reverberation through a white-majority culture." (Adapted from the Catalogue)
Neil's Pick:
For the Love of the Library with Laurinda Thomas, Bee Trudgeon, Jackson Nieuwland and Elizabeth Knox.
Three librarians discuss, with Elizabeth Knox, what they value most about their work, their workplace and how they see the libraries of the future for Aotearoa.
The absolute book / Knox, Elizabeth
"Taryn Cornick believes that the past is behind her – her sister's death by violence, and her own ill-concieved revenge. She has chosen to live a life more professional than personal. She has written a book about the things that threaten libraries – insects, damp, light, fire, carelessness and uncaring. The book is a success, but not all of the attention it brings her is good. There are questions about a fire in the library at Princes Gate, her grandparents' house, and about an ancient scroll box known as the Firestarter." (Adapted from Catalogue)
Wake / Knox, Elizabeth
"One sunny spring morning the Tasman Bay settlement of Kahukura is overwhelmed by a mysterious mass insanity. A handful of survivors find themselves cut off from the world, and surrounded by the dead. As they try to take care of one another, and survive in ever more difficult circumstances, it becomes apparent that this isn't the first time that this has happened, and that they aren't all survivors and victims—two of them are something quite other." (Adapted from Catalogue)
Paul's Pick:
Growing up Wāhine Māori with Nadine Anne Hura, Patricia Grace and Tayi Tibble.
Nadine Anne Hura talks with one of our greatest writers Patricia Grace, and powerhouse of poetry, Tayi Tibble, about the ways that being a Māori woman has influenced their written worlds.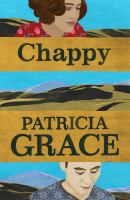 Chappy / Grace, Patricia
"Uprooted from his privileged European life and sent to New Zealand to sort himself out, 21-year-old Daniel pieces together the history of his Maori family. As his relatives revisit their past, Daniel learns of a remarkable love story between his Maori grandmother Oriwia and his Japanese grandfather Chappy. The more Daniel hears about his deceased grandfather, the more intriguing and elusive Chappy becomes." (Adapted from Catalogue)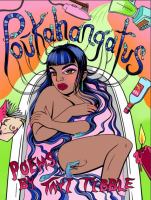 Poūkahangatus / Tibble, Tayi
"This collection speaks about beauty, activism, power and popular culture with compelling guile, a darkness, a deep understanding and sensuality. It dives through noir, whakama and kitsch and emerges dripping with colour and liquor. There's whakapapa, funk (in all its connotations) and fetishisation. The poems map colonisation of many kinds through intergenerational, indigenous domesticity, sex, image and disjunction." (Adapted from Catalogue)