**UPDATE: this competition finished on 05 November 2020″**
The Wonderful Verb festival starts in just a few days' time–and what a fabulous line up the Verb team have put together for us this year! To give you a flavour of what's on offer, we've listed just a few of the many events that have caught our fancy. And to celebrate this literary cornucopia, we've got some Verb Wellington tickets to give away!
To go into the draw, simply tell us which Verb event excites you the most this year and why.
All answers need to be sent via enquiries@wcl.govt.nz. Winners will be picked on Thursday, 5 November and digital tickets will be sent out via email. Good luck!
Below are just a few of the events we are really excited about. For full details of all Verb events click here.
---
Sprigs: Brannavan Gnanalingam
We're looking forward to a lively conversation between Wellington author Brannavan Gnanalingam and comedian James Nokise at Verb Festival 2020. They will be covering some of the huge and essential topics that come up in Brannavan's brilliant new novel, Sprigs. (Click here for event details.)
Sprigs / Gnanalingam, Brannavan
"It is Saturday afternoon and two boys' schools are locked in battle for college rugby supremacy. Priya – a fifteen year old who barely belongs – watches from the sidelines. Then it is Saturday night and the team is partying. Priya's friends have evaporated and she isn't sure what to do. In the weeks after 'the incident' life seems to go on. But when whispers turn to confrontation, the institutions of wealth and privilege circle the wagons." (Adapted from catalogue Catalogue)
---
Finding Adventure with Jonathan King
Film maker and comics writer Jonathan King is running a workshop to help you create your adventure story! Limited places so get in quick for this Verb Festival event. (Click here for event details.)
---
Movement & Poetry with Rata Gordon
Get your body and brain moving in this creative writing workshop with poet Rata Gordon! (Click here for event details.)
Second person / Gordon, Rata
"The only thing to bring this frozen world to life is an imagination. Who has one? Do I? Let me check. Rata Gordon's first poetry collection is both graceful and restless, sorrowful and witty. In poems about childhood, travelling, the body and the earth, Gordon describes the freedom and disorientation we find in unfamilar places, and the way that our longings and imaginings animate our lives." (Adapted from Catalogue)
---
Not that I'd Kiss a Girl: Lil O'Brien
Emily Writes is going to talk with writer Lil O'Brien about her brilliant memoir of her coming out journey: funny, frank and refreshing! (Click here for event details.)
---
Spontaneous Storytelling Workshop for Families
Bring the whānau young and old for this interactive storytelling workshop with Derek & Michi! (Click here for event details.)
---
Dara McAnulty: Diary of a Young Naturalist
Calling all young nature lovers! At the age of 16 Dara McAnulty is an international nature writing superstar. Join Dara for a digital conversation about this life as a writer, conservationist and teenager with Asperger's. (Click here for event details.)
Diary of a young naturalist / McAnulty, Dara
"An astonishing, evocative exploration of the natural world and all its wonders, by 15-year-old conservationist and rising literary star Dara McAnulty Diary of a Young Naturalistchronicles the turning of 15-year-old Dara McAnulty's world. From spring and through a year in his home patch in Northern Ireland, Dara spent the seasons writing. These vivid, evocative and moving diary entries about his connection to wildlife and the way he sees the world are raw in their telling.'" (Adapted from Catalogue)
---
Wild at Heart: Miriam Lancewood
Miriam's Lancewood's wild life is adventurous and inspiring. Join Susie Ferguson (RNZ) and Miriam for an hour of entertaining stories of living in the wilderness of Aotearoa. (Click here for event details.)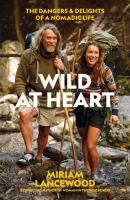 Wild at heart / Lancewood, Miriam
"Gripping sequel to the international bestseller Woman in the Wilderness, Miriam Lancewood's story of the quest for a simple life, unfettered by society's norms." (Catalogue)
---
Hiakai: Monque Fiso
Come and hear Chef Monique Fiso talk about her stunning new book, Hiakai, celebrating kai Māori, at Verb Festival 2020! (Click here for event details.)
Hiakai = Modern Maori cuisine / Fiso, Monique
"Monique Fiso is a modern-day food warrior, taking Maori cuisine to the world. After years overseas in Michelin-star restaurants, Monique returned to Aotearoa to begin Hiakai, an innovative pop-up venture that's now a revered, award-winning restaurant in Wellington. This book is Monique's personal journey of self-discovery, it tells the story of kai Maori, provides foraging and usage notes, an illustrated ingredient directory, and over 30 breathtaking recipes that give this ancient knowledge new life. Hiakai offers up food to behold, to savour, to celebrate." (Adapted from Catalogue)
---
Rules for entry
This competition is open to all Wellington City Libraries' adult members.
Only one entry per person will be accepted.
Entries close on Thursday 5 November 2020. Only entries received before this date will be considered.
Wellington City Libraries will make reasonable attempts to contact the winner. Another winner will be drawn if contact cannot be made.
Judges' decisions are final and no correspondence will be entered into.
Libraries' staff are not permitted to enter this competition.