Need some relaxing weekend reading? Or need some inspiration for your next weekend home, garden and DIY project? Have a browse of the latest home, garden and DIY eBooks and eMagazine issues below!
eBooks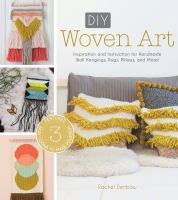 DIY woven art : inspiration and instruction for handmade wall hangings, rugs, pillows and more! / Denbow, Rachel
(eBook Overdrive)
"Get crafty with DIY Woven Art. These 14 fabulous fiber art projects–from colorful pillows and rugs to dramatic wall hangings–will add a pop to any room in your house. No loom? No worries. Rachel Denbow shows you how to fabricate 3 simple, portable looms… (adapted from Overdrive)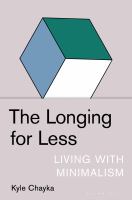 The longing for less : living with minimalism / Chayka, Kyle
(eBook Overdrive)
"…The popular term for this brand of upscale austerity, "minimalism," has mostly come to stand for things to buy and consume. But minimalism has richer, deeper, and altogether more valuable gifts to offer. Kyle Chayka is one of our sharpest cultural observers. After spending years covering minimalist trends for leading publications, he now delves beneath this lifestyle's glossy surface, seeking better ways to claim the time and space we crave… (adapted from Overdrive)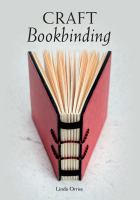 Craft bookbinding / Orriss, Linda
(eBook Overdrive)
"Craft Bookbinding introduces some of the numerous binding styles that can be achieved with little or no experience, from simple structures that can be made with folded paper to the classic case binding. …Lavishly illustrated with 73 colour photographs and 17 diagrams." (adapted from Overdrive)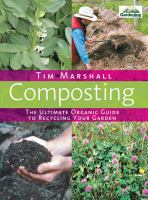 Composting : / Marshall, Tim
(eBook Borrowbox)
"As landfill and waste disposal are increasingly on the global agenda, more and more people are turning to ways of recycling in their own backyards. Composting is an easy, rewarding and profitable activity, with multiple benefits for you and your garden. A comprehensive listing of all compostible materials – from ash to algae, human hair to shredded newspaper – shows how the materials for composting can go much further than kitchen and green waste… (adapted from Borrowbox)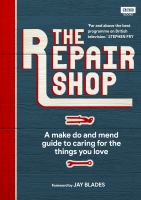 The repair shop : a make do and mend guide to caring for the things you love / Farrington, Karen
(eBook Overdrive)
"Direct from the Repair Shop's 'Workshop of Dreams', this 'make do and mend' guide collects advice and stories from each of the show's experts, to help you understand and care for those aging treasures and heirlooms around your house or gathering dust in the garage. Whether it's wood, ceramics, leather or silverware, you will get to know your materials, tools and terms from Britain's best…" (adapted from Overdrive)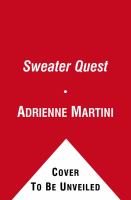 Sweater quest : my year of knitting dangerously / Martini, Adrienne
(eBook Overdrive)
"For Adrienne Martini, and countless others, knitting is the linchpin of sanity. As a working mother of two, Martini wanted a challenge that would make her feel in charge. So she decided to make the Holy Grail of sweaters–her own Mary Tudor, whose mind-numbingly gorgeous pattern is so complicated to knit that its mere mention can hush a roomful of experienced knitters. …can be found only in a rare, out-of-print book of Fair Isle-style patterns, "Tudor Roses," and requires a discontinued, irreplaceable yarn. The sweater, Martini explains, "is a knitter's Mount Everest, our curse, and our compulsion. I want one more than I can begin to tell you." (adapted from Overdrive)
Green housekeeping : recipes and solutions for a cleaner, more sustainable home / Strutt, Christina
"Christina Strutt of Cabbages & Roses reveals how to have a calmer, healthier, eco-friendly home. Saving the planet for future generations is a laudable aim, but what about the current populace? Why wait when even quite small lifestyle changes can make a big difference now? Green Housekeeping is full of advice and information to help you take a more sustainable path…" (adapted from Catalogue)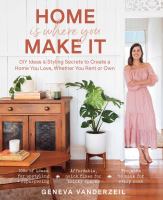 Home is where you make it : DIY ideas & styling secrets to create a home you love, whether you rent or own / Vanderzeil, Geneva
"Home Is Where You Make It is a simple, practical, and affordable craft and styling book that offers tried and tested design advice and top hints and tricks for key spaces… Channeling the simplicity and beauty of modern living, this is a room-by-room guide to making and DIYing your own place, with hundreds of smart styling hacks, repurposing and upstyling ideas, and easy weekend projects to create the home of your dreams." (adapted from Catalogue)
eMagazines
Browse these titles from RBDigital — same day access to full-page replicas of magazines. More information about RBDigital.
25 Beautiful Homes
Your life made easier – every day. 25 Beautiful Homes is a magazine for readers with a sense of personal style. Aspire to your dream house and enjoy looking at other people's homes, designs and styles for inspiration.
Gardening Australia
Australia's number one monthly gardening resource, ABC Gardening Australia magazine is packed with step-by-step advice and stunning design ideas from its popular team of experts. Whether you are a novice gardener or have a green thumb and years of experience, you'll find the advice you need.
Gardens Illustrated Magazine
Widely regarded as the Vogue of the gardening press, Gardens Illustrated aims to inspire you with an eclectic and international editorial mix of remarkable places, plants and people. With superb photography, authoritative journalism and exceptional design, this award-winning magazine is a style bible for garden designers, garden lovers and enthusiasts alike.
Dwell
Dwell is the unique modern architecture and design magazine for people who believe that good design is an integral part of real life.