"A library of books is the fairest garden in the world, and to walk there is an ecstasy."

― E. Powys Mathers, The Arabian Nights
Historical fantasy is a genre of fantasy where fantastic elements such as magic are incorporated into a realistic often historical narrative. The genre is one of the oldest forms of fiction around with many early examples such as One Thousand and One Nights and spans a wide diversity of cultures and time periods. These days the genre itself is split into numerous sub genres from wuxia (a martial arts version of historical fantasy) to gunpowder fantasy (an offshoot of Steampunk), prehistoric fantasy to Celtic fantasy.
If you are unfamiliar with this genre just a few recommended titles are Diana Wynne Jones' Castle in the Air, Alan Garner's The Weirdstone of Brisingamen, The Mists of Avalon by Marion Zimmer Bradley, Fullmetal Alchemist by Hiromu Arakawa and the Earth's Children series by Jean M. Auel.
And this month's newly acquired selection of science fiction and fantasy titles have two very fine examples of this genre – She Who Became the Sun by Shelley Parker-Chan, set in China in 1345, and A Radical Act of Free Magic by the fabulous Aotearoa / New Zealand author H.G. Parry, set during the time of the Napoleonic war (you can hear H.G. Parry talk exclusively to us about this novel by clicking the link below.) We also have a very small selection of  non historical fantasy newly-acquired science fiction and fantasy titles as well.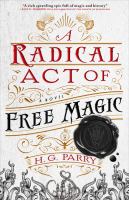 A radical act of free magic : a novel / Parry, H. G.
"The Concord has been broken, and a war of magic engulfs the world. In France, the brilliant young battle-mage Napoleon Bonaparte has summoned a kraken from the depths, and under his command the Army of the Dead have all but conquered Europe. Britain fights back, protected by the gulf of the channel and powerful fire-magic, but Wilberforce's own battle to bring about free magic and abolition has met a dead end in the face of an increasingly fearful and repressive government. But there is another, even darker war being fought beneath the surface: the first vampire war in hundreds of years…" (Adapted from Catalogue)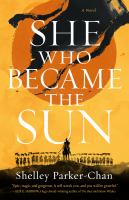 She who became the sun / Parker-Chan, Shelley
" In 1345, China lies under harsh Mongol rule. For the starving peasants of the Central Plains, greatness is something found only in stories. When the Zhu family's eighth-born son, Zhu Chongba, is given a fate of greatness, everyone is mystified as to how it will come to pass. The fate of nothingness received by the family's clever and capable second daughter, on the other hand, is only as expected. When a bandit attack orphans the two children, though, it is Zhu Chongba who succumbs to despair and dies. Desperate to escape her own fated death, the girl uses her brother's identity to enter a monastery as a young male novice. ….." (Adapted from Catalogue)
A song of flight / Marillier, Juliet
"After a violent encounter with masked men and the sinister Crow Folk, Prince Aolu of Dalriada disappears without a trace, and his companion Galen is seriously injured. Liobhan and the Swan Island warriors seek answers to the prince's abduction. For Liobhan this mission is personal, as Galen is her beloved brother. While she and her team investigate, Liobhan's younger brother Brocc is in serious trouble. Brocc's secret attempt to communicate with the Crow Folk triggers a shocking incident, and sends him on a path which endangers the one he loves above all else. What brought the Crow Folk to Erin? And who plots to use them in an unscrupulous bid for power? " (Adapted from Catalogue) Also available as an eBook.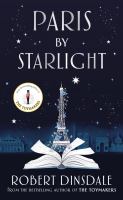 Paris by starlight / Dinsdale, Robert
"Every night on their long journey to Paris from their troubled homeland, Levon's grandmother has read to them from a very special book. Called The Nocturne, it is a book full of fairy stories and the heroic adventures of their people who generations before chose to live by starlight. And with every story that Levon's grandmother tells them in their new home, the desire to live as their ancestors did grows. And that is when the magic begins…" (Adapted from Catalogue)
Thread needle / Thomas, Cari
"Within the boroughs of London, nestled among its streets, hides another city, filled with magic. Magic is the first sin. It must be bound. Ever since Anna can remember, her aunt has warned her of the dangers of magic. She has taught her to fear how it twists and knots and turns into something dark and deadly. It was, after all, magic that killed her parents and left her in her aunt's care. It's why she has been protected from the magical world and, in one year's time, what little magic she has will be bound. ……….." (Adapted from Catalogue)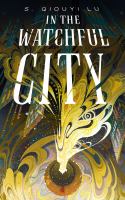 In the watchful city / Lu, S. Qiouyi
"The city of Ora is watching. Anima is an extrasensory human tasked with surveilling and protecting Ora's citizens via a complex living network called the Gleaming. Although ær world is restricted to what æ can see and experience through the Gleaming, Anima takes pride and comfort in keeping Ora safe from harm. When a mysterious outsider enters the city carrying a cabinet of curiosities from around with the world with a story attached to each item, Anima's world expands beyond the borders of Ora to places–and possibilities–æ never before imagined to exist. But such knowledge leaves Anima with a question that throws into doubt ær entire purpose: What good is a city if it can't protect its people?" (Adapted from Catalogue)
The past is red / Valente, Catherynne M.
" The future is blue. Endless blue… except for a few small places that float across the hot, drowned world left behind by long-gone fossil fuel-guzzlers. One of those patches is a magical place called Garbagetown. Tetley Abednego is the most beloved girl in Garbagetown, but she's the only one who knows it. She's the only one who knows a lot of things: that Garbagetown is the most wonderful place in the world, that it's full of hope, that you can love someone and 66% hate them all at the same time. But Earth is a terrible mess, hope is a fragile thing, and a lot of people are very angry with her. Then Tetley discovers a new friend, a terrible secret, and more to her world than she ever expected." (Adapted from Catalogue)
Notes from the burning age / North, Claire
"Ven was once a holy man, a keeper of ancient archives. It was his duty to interpret archaic texts, sorting useful knowledge from the heretical ideas of the Burning Age–a time of excess and climate disaster. For in Ven's world, such material must be closely guarded so that the ills that led to that cataclysmic era can never be repeated. But when the revolutionary Brotherhood approaches Ven, pressuring him to translate stolen writings that threaten everything he once held dear, his life will be turned upside down. Torn between friendship and faith, Ven must decide how far he's willing to go to save this new world–and how much he is willing to lose" (Adapted from Catalogue)