At night, here in the library, the ghosts have voices.
Welcome to another of our monthly round ups of our recently acquired science fiction and fantasy titles. It's another month of rich variety, well demonstrated by the most recent title that caught our particular attention — a new horror anthology called Ghosts from the library : lost tales of terror and the supernatural.
Haunted libraries are a bit of thing, so we have taken this golden opportunity to look at some supposedly real-life haunted libraries!
First up is St. John's College Library in Cambridge in the UK — this ancient library dates back to 1624. St John's is said to be haunted by the headless ghost of Archbishop William Laud who supposedly terrifies readers by kicking his ghostly head along the floor — he was beheaded in 1645. It has been a very long time since anyone has reported seeing him doing this, though the sounds of unaccompanied footsteps have been reported in more recent times.  As the Deputy Librarian said of the hauntings  "we do know that Laud cared passionately about his library, and we like to think he has a friendly presence here."
Felbrigg Hall library in Norfolk is haunted by its former owner who is said to return periodically to finish off reading books he didn't have a chance to read when he was alive (we know that feeling well!). People report seeing his ghost seated at a library table or in a reading chair, and there is even one report that he can be summoned when a certain selection of his favourite books are put out.
One of the most haunted libraries in the world  is Senate House Library in London, which holds The famous Harry Price Collection of Magical Literature. This huge collection was amassed by paranormalist Harry Price 1881-1948 and focusses on work about witchcraft, occult, magic and the paranormal, as well as prophecies and spiritual phenomena. Many of the books in the collection are ultra-rare. Reported ghostly activity includes whispering when no one is around, floating books, loud laughter and even a mysterious spectral 'Blue Lady.'
The State Library of Victoria in Melbourne dates back to 1854 and is said to be haunted by numerous ghosts, including a former librarian called Grace — said to be a benevolent elderly spirit. The library's music room is also supposedly haunted by a snazzily dressed moustachioed ghost. In fact, there have been so many reports of hauntings in The State Library that several clairvoyants have been brought in to investigate.
Here in New Zealand, we can also lay claim to a library ghost — The Parliament Library built in 1883 and continued in 1899 is rumoured to be haunted, amongst others, by the ghost of former Dunedin MP William Larnach. William Larnach tried his hand at gold-digging, farming and then  worked as a banker before  eventually entering  Parliament as an MP in 1875. Records of the time report that he was known in parliament for his practical jokes as well as his 'robustious egotism' and 'rough and blundering modes of speech'. Sadly he took his own life after financial and relationship troubles, however his ghost is alleged to cause disturbances in the library to this day.
Ghosts from the library : lost tales of terror and the supernatural
"It is said that books are written to bring sunshine into our dull, grey lives – to show us places we want to escape to, lives we want to live, people we want to love. But there are also stories that can only be found in the deepest, darkest corners of the library. Stories about the unexplained, of lost souls, of things that go bump before the silence. Before the screaming. And some stories just disappear. Stories printed in old newspapers, broadcast live on the wireless, sometimes not even published at all – these are the stories you cannot find on even the dustiest of library shelves.
Ghosts from the Library
resurrects forgotten tales of the supernatural by some of the most acclaimed mystery authors of all time." (Adapted from Catalogue)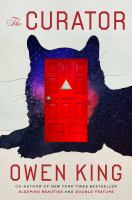 The curator : a novel / King, Owen
"Dora, a former domestic servant at the university has a secret desire — to find where her brother went after he died, believing that the answer lies within The Museum of Psykical Research, where he worked when Dora was a child. With the city amidst a revolutionary upheaval, where citizens like Robert Barnes, her lover and a student radical, are now in positions of authority, Dora contrives to gain the curatorship of the half-forgotten museum only to find it all but burnt to the ground, with the neighboring museums oddly untouched. Robert offers her one of these, The National Museum of the Worker. However, neither this museum, nor the street it is hidden away on, nor Dora herself, are what they at first appear to be." (Adapted from Catalogue)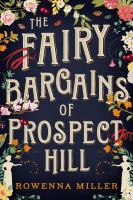 The fairy bargains of Prospect Hill / Miller, Rowenna
"On Prospect Hill, you can get nearly anything you want from the Fae — if you know how to ask and if you can pay the price. Generations ago, the first farmers on Prospect Hill learned to bargain small trades to make their lives a little easier — Alaine Fairborn's family, however, was always superstitious, and she still hums the rhymes to find her lost shoe and ensure dry weather on her sister Delphine's wedding day. But when Delphine confides her new husband is not the man she thought he was, Alaine will stop at nothing to help her sister escape his abuse… " (Adapted from Catalogue)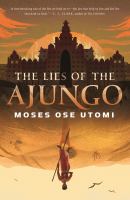 The lies of the Ajungo / Utomi, Moses Ose
"The Lies of the Ajungo, follows one boy's epic quest to bring water back to his city and save his mother's life. They say there is no water in the City of Lies. They say there are no heroes in the City of Lies. They say there are no friends beyond the City of Lies. But would you believe what they say in the City of Lies? In the City of Lies, they cut out your tongue when you turn thirteen, to appease the terrifying Ajungo Empire and make sure it continues sending water. Tutu will be thirteen in three days, but his parched mother won't last that long. So Tutu goes to his oba and makes a deal: she provides water for his mother, and in exchange he will travel out into the desert and bring back water for the city…" (Adapted from Catalogue)
Flux : a novel / Chong, Jinwoo
"A blazingly original and stylish debut novel about a young man whose reality unravels when he suspects his mysterious new employers have inadvertently discovered time travel — and are using it to cover up a string of violent crimes…" (Adapted from Catalogue) Also available, Flux eBook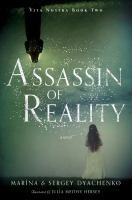 Assassin of reality : a novel / Di︠a︡chenko, Marina
"In Vita Nostra, Sasha Samokhina, a third-year student at the Institute of Special Technologies, was in the middle of taking the final exam that would transform her into a part of the Great Speech. After defying her teachers' expectations, Sasha emerges from the exam as Password, a unique and powerful part of speech. Accomplished and ready to embrace her new role, she soon learns her powers threaten the old world, and despite her hard work, Sasha is set to fail. However,  dark mentor, finds a way to bring her out of the oblivion and back to the Institute for his own selfish purposes…" (Adapted from Catalogue)
The ten percent thief / Lakshminarayan, Lavanya
"A bold, bitingly satirical near-future mosaic novel about a city run along 'meritocratic' lines, the injustice it creates, and the revolution that will destroy it" (Adapted from Catalogue)
Feed them silence / Mandelo, Lee
"What does it mean to "be-in-kind" with a nonhuman animal? Or in Dr. Sean Kell-Luddon's case, to be in-kind with one of the last remaining wild wolves? Using a neurological interface to translate her animal subject's perception through her own mind, Sean intends to chase both her scientific curiosity and her secret, lifelong desire to experience the intimacy and freedom of wolfishness. To see the world through animal eyes; smell the forest, thick with olfactory messages; even taste the blood and viscera of a fresh kill. And, above all, to feel the belonging of the pack.  Her research methods threaten her mind and body. And the attention of her VC funders could destroy her subject, the beautiful wild wolf whose mental world she's invading." (Adapted from Catalogue) Also available, Feed them Silence eBook