It's no secret that food costs are rising in Aotearoa and budgets are tightening for many people.  Whether you're a traditional family household, a single person on your own, a house full of flatties, or any other configuration, keeping the food bills down while also feeding everyone nutritious and delicious meals is hard work.  The good news is, we have plenty of resources to help you find ways to fill bellies on a budget.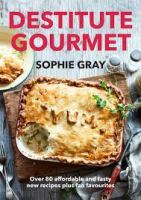 Destitute gourmet : over 80 affordable and tasty new recipes plus fan favourites / Gray, Sophie
"Packed with tips and tricks, this new book from Sophie includes 20 fan favourites from her earlier books, voted for by her loyal followers, plus over 80 new recipes. One-pan dinners, vegetarian recipes, meaty meals, salads and snacks plus baking and desserts -there's something for everyone. Stick within your budget, but eat well and enjoy!"  (Adapted from Catalogue)
Eat well for less New Zealand / Van de Elzen, Michael
"The New Zealand version of Eat Well for Less was a big hit and had a huge impact on the families involved. This book gives all the recipes from series 1 and series 2, plus tips and tricks on tasty, easy and economical cooking from the hosts Michael Van de Elzen and Ganesh Raj. With nearly 70 recipes from light meals and snacks, to main meals and sweet treats…Includes ideas on smart shopping, nutrition, kitchen tips, and a peek at the participants from series 1 and how they fared after the cameras stopped rolling. Did the lessons they learned stick?!" (Adapted from Catalogue)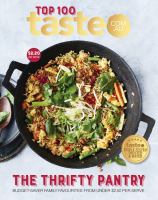 The thrifty pantry : budget-saver family favourites from under $2.50 per serve
"With 100 recipes using cupboard and freezer staples and each recipe costed, this will be your go-to cookbook for cooking on a budget. Chapters are organised into cost per serve, starting from just $2, plus there's a handy recipe key for gluten free, vegetarian and freeze-ahead meals. Festive recipes get a budget overhaul as well, with recipes for Christmas on a shoestring. We also list our top 50 healthy pantry foods and include insider tips on how to organise your pantry. Triple tested, easy and delicious, this is budget family cooking at its best." (Catalogue)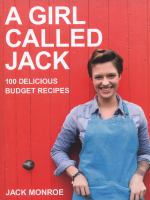 A girl called Jack : 100 delicious budget recipes / Monroe, Jack
"Jack is a woman of our times, facing head-on the realities of recession-hit Britain and responding with a 'make do and mend' way of thinking that we should all consider. When she found herself unemployed and with a food budget of just 10 pounds a week, she decided to address the situation by adapting her weekly shop and embracing the value range of her local supermarket. Keeping to her budget, she created recipe after recipe of nutritious food for herself and her son, which she then posted on her blog, A Girl Called Jack. In her first cookbook, Jack shows you how to adapt the way you shop to be less wasteful, and to value the techniques of inexpensive but good cooking." (adapted from catalogue)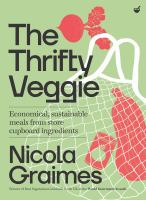 The thrifty veggie : economical, sustainable meals from store-cupboard ingredients / Graimes, Nicola
"Harness every season's flavours with recipes combining fresh produce with lasting staples – clever and delectable vegetarian recipes that can make a real difference to your household budget. Seasonal eating – when done right – is wonderful for your tastebuds, your mind, and your bank account." (Adapted from Catalogue)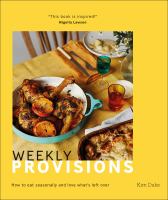 Weekly provisions : how to eat seasonally and love what's left over / Duke, Kim "Weekly Provisions is packed with recipes for 12 complete menus – each with a starter, main, side dish and dessert – followed by more than 60 creative ideas for turning what's left into new meals and snacks during the week. In today's world, where money is tight and people are busy, taking some time at the weekend to cook and share a truly delicious meal that's full of comforting goodness can help you to forget your worries, restore balance, and reconnect with loved ones. Best of all, it won't fill you up for just one day, but leave enough for quick and cheap platefuls later in the week, with zero food waste.  (Adapted from Catalogue)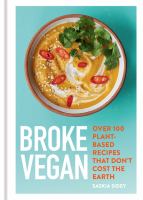 Broke vegan : over 100 plant-based recipes that don't cost the earth / Sidey, Saskia
"Easy, affordable vegan recipes everyone will enjoy.  We all want to help do our bit to save the planet by moving towards a plant-based diet, but let's face it: eating vegan can be expensive. With over 100 plant-based recipes using supermarket staples along with hints and tips for making your food go further, Broke Vegan will have you cooking meals time after time that save money and save the planet. " (Adapted from Catalogue)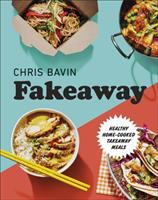 Fakeaway : healthy home-cooked takeaway meals / Bavin, Chris
"Join TV's Chris Bavin for a fakeaway feast in over 120 simple recipes! Treat yourself and put takeaway food back on the menu with low-calorie curries, stir-fries, pasta dishes, pizzas, as well as good-old fish and chips. If you are vegan, vegetarian, dairy or gluten-free there are plenty of choices for you here. In this book, he shares his healthy ingredient swaps and savvy shopping ideas to buy everything you'll need for a fakeaway feast.  Refreshingly practical, Fakeaway contains all the inspiration you need to make delicious meals for your family from scratch and on a budget. So put away the takeaway menus and recreate the meals you love but make them better for you." (Adapted from Catalogue)
These are just some of the recent titles we have in our collection.  To browse some more, click here.  Bon apetit!